Mayo del 68 y sus interpretaciones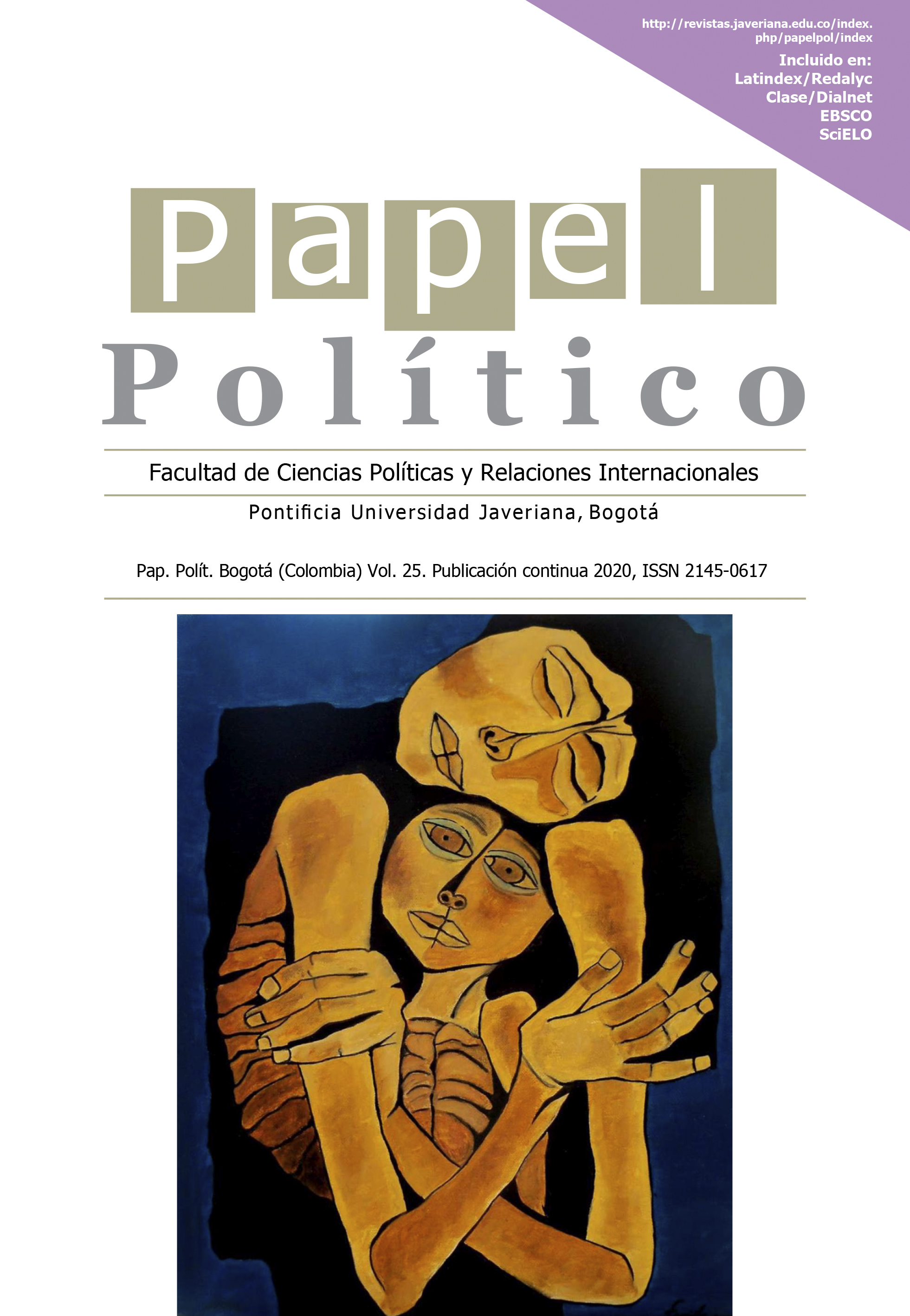 Publicado ene 22, 2021
##plugins.themes.bootstrap3.article.details##
Resumen
Mayo del 68 ha sido caracterizado e interpretado de muchas maneras. En este artículo doy cuenta de tres de las caracterizaciones más importantes: una crisis política, un psicodrama y un carnaval, así como una crisis de la civilización. También señalo las razones por las cuales creo que Raymond Aron tiene razón en la mayoría de sus planteamientos acerca de lo ocurrido hace 50 años y hago referencia a las razones por las cuales el legado de Mayo del 68 sería imposible de reclamar. Sin embargo, sostengo que la crítica antijerárquica de los estudiantes parisinos requiere ser tomada mucho más seriemente. Para ello, reflexiono sobre los planteamientos del neurocientífico Henri Laborit.
Keywords
Mayo del 68, crisis política, psicodrama, crisis de la civilización, Raymond Aron, Henri LaboritMay '68, political crisis, psychodrama, crisis of civilization, Raymond Aron, Henri Laborit
References
Abidor, M. (2018). May Made Me: An Oral History of the 1968 Uprising in France. Pluto Press.
Alvaredo, F., Chancel, L., Piketty, T., Saez, E., y Zucman, G. (2018). World Inequality Report. https://wir2018.wid.world/files/download/wir2018-summary-english.pdf

Aron, R. (1968a, 13 de junio). Raymond Aron analyse Mai 68. YouTube. https://www.youtube.com/watch?v=_DzyjeuaDd4

Aron, R. (1968b). La Révolution introuvable : Réflexions sur les événements de mai. Fayard.

Aron, R. (1977). Plaidoyer pour l'Europe Décadent. Éditions Robert Laffont.

Aron, R. (2005). Le Spectateur Engagé. Éditions de Fallois.

Aron, R. (2010). Mémoirs. Éditions Robert Laffont.

Babiak, P., y Hare. R. D. (2007). Snakes in Suits: When Psychopaths Go to Work. Harper Collins.

Bakan, J. (2004). The Corporation: The Pathological Pursuit of Profit and Power. Free Press.

Bénéton, P., y Touchard, J. (1970). Les interprétations de la crise de mai-juin 1968. Revue Française de Science Politique, 20(3), 503-544.

Besançon, J. (1968). "Les murs ont la parole", journal mural, Mai 68. Tchou Éditeur.

Boddy, C. R., Ladyshewsky, R., y Galvin, P. (2010). Leaders without Ethics in Global Business: Corporate Psychopaths. Journal of Public Affairs, 10, 121-138.

Bourges, H. (1968). La révolte étudiante : les animateurs parlent. Éditions du Seuil.

Bowles, S., y Gintis, H. (1987). Democracy & Capitalism: Property, Community, and the Contradictions of Modern Social ought. Basic Books.

Castoriadis, C. (1986). Les mouvements des années soixante. Pouvoirs, 39, 108-116.

Ciepley, D. (2013). Beyond Public and Private: Toward a Political Theory of the Corporation. American Political Science Review, 107(1), 139-158.

Cohn-Bendit, D. (1968). Obsolete Communism: The Left-Wing Alternative. McGraw Hill.

Cohn-Bendit, D. (2013). Pour supprimer les partis politiques !? Réflexions d'un apatride sans parti. Indigène Editions.
Cohn-Bendit, D., Giraud, A., y Wiewiorka, M. (2018). El movimiento devorado por ideologías militantes. Debate entre Daniel Cohn-Bendit y Alain Geismar. Revista Mexicana de Ciencias Políticas y Sociales, 63(234), 343-357.

De Gaulle, C. (1968). Allocution radiodiffusée du 30 mai 1968. http://fresques.ina.fr/de-gaulle/fiche-media/Gaulle00366/allocution-radiodiffusee-du-30-mai-1968.html

Deetz, S. (2007). Corporate Governance, Corporate Social Responsibility, and Communication. En S. May, C. Cheney, y J. Roper (eds.), The Debate over Corporate Social Responsibility (pp. 267-278). Oxford University Pres.pp. 267-278.

Departamento de Estado de los Estados Unidos. (1968, 31 de mayo). Intelligence Memorandum. Foreign Relations of the United States, 1964-1968 (volumen XII). https://history.state.gov/historicaldocuments/frus1964-68v12/d80

Dogan, M. (1984). How Civil War Was Avoided in France. International Political Science Review, 5(3), 245-277.
Downs, A. (1957). An Economic Theory of Democracy. Basic Books.

Ferry, L. (1986). Interpréter Mai 68. Pouvoirs, 39, 5-13.

Ferry, L., y Renaut, A. (1990). French Philosophy of the Sixties: An Essay on Antihumanism. University of Massachusetts Press.


Flacks, R., y Lichtenstein, N. (eds.). (2015). The Port Huron Statement: Sources and Legacies of the New Left's Founding Manifesto. University of Pennsylvania Press.

Freeman, E. (1984). Strategic Management: A Stakeholder Approach. Cambridge University Press.

Freeman, E., Harrison, J., Wicks, A., Parmar, B., y de Colle, S. (2010). Stakeholder Theeory: The State of the Art. Cambridge University Press.

Freeman, E., y Reed, D. (1983). Stockholders and Stakeholders: A New Perspective on Corporate Governance. California Management Review, 25(3), 88-106.

Glucksman, A., y Glucksman, R. (2008). Mayo del 68: Por la Subversión Permanente. Taurus.

Golec de Zavala, A., Cichocka, A., Eidelson, R., y Jayawickreme, N. (2009). Collective Narcissism and Its Social Consequences. Journal of Personality and Social Psychology, 97(6), 1074-1096.

Gómez Albarello, J. G. (2019). Liderazgo sin líderes. Blogs El Espectador. http://blogs.elespectador.com/politica/cosmopolita/liderazgo-sin-lideres

Gregory, D. W. (2014). Unmasking Financial Psychopaths: Inside the Minds of Investors in the Twenty-First Century. Palgrave Macmillan.
Guerrero, A. (2014). Against Elections: The Lottocratic Alternative. Philosophy & Public Affairs, 42(2), 136-178.

Jamail, D. (2019). The End of Ice: Bearing Witness and Finding Meaning in the Path of Climate Disruption. The New Press.

Julliard, J. (2013). Les gauches francaises 1762-2012. Flammarion.

Khodyakov, D. M. (2007). e Complexity of Trust-Control Relationships in Creative Organizations: Insights from

a Qualitative Analysis of a Conductorless Orchestra. Social Forces, 86(1), 1-22.

Kolbert, E. (2014). The Sixth Extinction: An Unnatural History. Henry Holt and Company.

Korten, D. C. (2015). When Corporations Rule the World (3.. ed.). Berrett-Koehler Publishers.

Kuhn, T. R., y Deetz, S. (2009). Critical Theory and Corporate Social Responsibility: Can-Should We Get Beyond Cynical Reasoning. En A. Crane (ed.), The Oxford Handbook of Corporate Social Responsibility (pp. 174-203). Oxford University Press. pp. 174-203.

Laborit, H. (1976). Éloge de la fuite. Éditions Robert Laffont.

Le Goff, J. P. (2002). Mais 68, l'héritage impossible. La Découverte.

Lipovetsky, G. (1986a). La Era del Vacío: Ensayos sobre el Individualismo Contemporáneo. Anagrama.

Lipovetsky, G. (1986b). 'Changer la vie' ou l'irruption de l'individualisme transpolitique. Pouvoirs, 39, 71-79.

Lynd, S. (2010). The Cold War Expulsions and the Movement of the 1960s. En A. Grubacic (ed.), From Here to There: The Staughton Lynd Reader (pp. 96-107). PM Press.

Mair, P. (2013). Ruling the Void: The Hollowing of Western Democracy. Verso Books.

Malraux, A. (1968). Discours du 20 juin 1968 prononcé au Parc des expositions à Paris. Asamblée National. http://www.assemblee-nationale.fr/histoire/andremalraux/discours_politique_culture/parc_expositions.asp

Margalit, A. (1998). The Decent Society. Harvard University Press.

Mason, P. (2015a). Postcapitalism: A Guide to Our Future. Allen Lane.

Mason, P. (2015b, 24 de mayo). How to turn a liberal hipster into a capitalist tyrant in one evening. The Guardian. http://www.theguardian.com/commentisfree/2015/may/24/turn-a-liberal-hipster-intoglobal-capitalist-world-factory
Meadows, D. H., Meadows, D. L. Randers, J., y Behrens, W. (1972). Los límites del crecimiento: Informe al Club de Roma sobre el Predicamento de la Humanidad. Fondo de Cultura Económica.

Mendel, A. P. (1969). Why the French Communists Stopped the Revolution? Review of Politics, 31(1), 3-27.

Minces, J. (1970). Réflexions autour du « journal de la Commune étudiante ». Sociologie et contestation, 16(1), 149-159.

Morin, E. (1986). Mai 68 : complexité et ambiguïté. Pouvoirs, 39, 71-79.



Mujica, J. (2015). Jose's interview, Uruguay. Human, the movie. YouTube. https://www.youtube.com/watch?v=4GX6a2WEA1Q

Post, J. (2015). Narcissism and Politics: Dreams of Glory. Cambridge University Press.

Rich, N. (2019). Losing Earth: A Recent History. Farrar, Strauss and Giroux.
Rihoux, B. (2016). Green party organisations: The difficult path from amateur-activist to professional-electoral logics. En E. Van Haute (ed.), Green Parties in Europe (pp. 298-314). Routledge. pp. 298-314.

Sabaneev, L. (1928). A Conductorless Orchestra. The Musical Times, 69(1022), 307-309.

Seifter, H., y Economy, P. (2001). Leadership Ensamble: Lessons in Collaborative Management om the Only Conductorless Orchestra. Henry Holt and Company.

Singer, D. (1970). Prelude to Revolution: France in May 68. Haymarket Books.

Sintomer, Y. (2011). Petite Histoire de l'Expérimentation Démocratique. La Découverte.

Students for a Democratic Society. (1962). Port Huron Statement. https://en.wikisource.org/wiki/Port_Huron_Statement

Tafurt, J. M. (2019). ¿Los colombianos somos (des)honestos? Ariel.

The Confessions of Congressman X. (2016). Mill City Press.

Tocqueville. T. (1850). De la Démocratie en Amérique. Pagneur Èditeur.

Twenge, J. M., y Campbell, W. K. (2009). e Narcissism Epidemic: Living in the Age of Entitlement. Atria Books.
Van Reybrouck, D. (2016). Against Elections: The Case for Democracy. Vintage.

Vitali, S., Glattfelder, J. B., y Battiston, S. (2011). The Network of Global Corporate Control. PLoS ONE, 6(10), e25995. https://www.ncbi.nlm.nih.gov/pmc/articles/PMC3202517/

Volkan, V. (2004). Blind Trust: Large Groups and Their Leaders in Times of Crisis and Terror. Pitchstone Publishing.

Vredenburgh, D., y He, I. Y. (2003). Leadership Lessons from a Conductorless Orchestra. Business Horizon, 46(5),19-24.

Wallace, C. (2017). Down with Elections. C. Wallace.

Wettstein, F. (2009). Multinational Corporations and Global Justice: Human Rights Obligations of a Quasi-Governmental Institution. Stanford University Press.

Wikipedia. (2019). Soyez réalistes, demandez l'imposible. https://fr.wikipedia.org/wiki/Soyez_r
%C3%A9alistes,_demandez_l%27impossible

Cómo citar
Gómez Albarello, J. G. (2021). Mayo del 68 y sus interpretaciones. Papel Político, 25. https://doi.org/10.11144/Javeriana.papo25.mdsi
Esta obra está bajo una licencia internacional Creative Commons Atribución 4.0.