De la Ilusión de las Commodities a la Especialización Regresiva: América del Sur, China y la nueva etapa de la dependencia en el Siglo XXI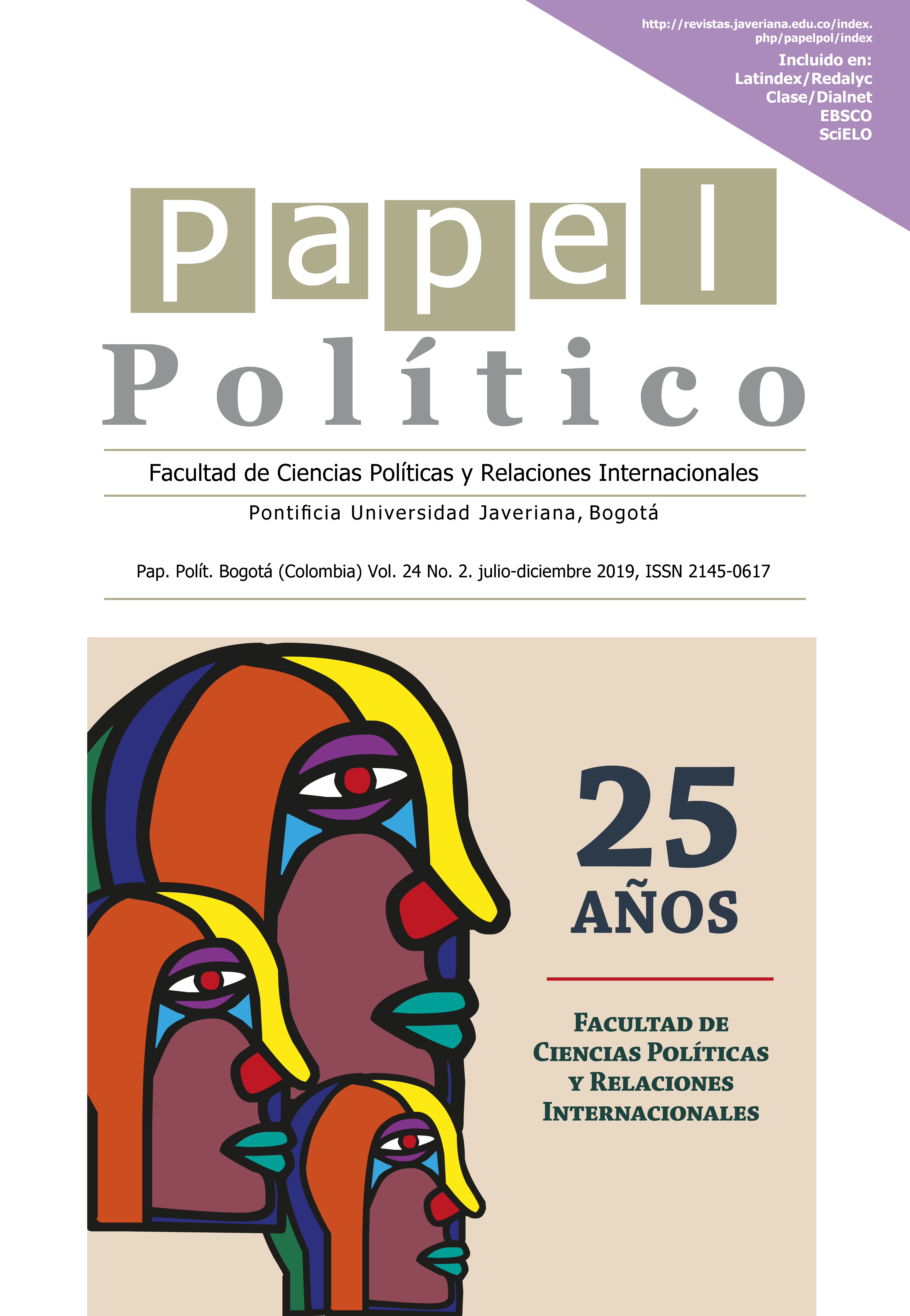 Publicado mar 17, 2020
##plugins.themes.bootstrap3.article.details##
Resumen
El presente trabajo, inspirado en aportes de la Teoría de la Dependencia y del estructuralismo, hace una investigación crítica de los vínculos entre América del Sur y China, con énfasis en la complejidad de sus regímenes productivos y en los recursos naturales estratégicos. En la presente década, asistimos a la desaceleración económica y crisis en buena parte de los países del continente, responsable por el agotamiento de los ciclos de los gobiernos progresistas y crecimiento con distribución de renta e inclusión social. La ascensión china, que años antes propició una supuesta ventana de oportunidades con su búsqueda creciente por commodities, conlleva a interpretaciones menos idílicas y más preocupantes sobre los lazos con la potencia asiática. Con tales inquietudes, vamos a construir un análisis de los datos empíricos referentes a la actuación china en la región, en el marco de las dos primeras décadas del siglo XXI, a fin de que tal radiografía pueda responder si la cooperación chino-sudamericana ha servido para aprovechar las potencialidades del continente, o si se trata de simple retórica escamoteando un patrón resignificado de dependencia.
Keywords
South America, China, dependence, natural resources, regressive specialization.América del Sur, China, dependencia, recursos naturales, especialización regresiva.
References
American Enterprise Institute. China Global Investment Tracker. Recuperado de http://www.aei.org/china-global-investment-tracker/.
Amsden, A. et al. (1996). China's Macroeconomy, Environment, and Alternative Transition Model. World Development, 24 (2), 273-286.
Bambirra, V. (2012). O capitalismo dependente latino-americano. Florianópolis : Editora Insular.
Becard, D. (2013). China's diplomacy and trade in Latin America. Estudos Internacionais, 1, 223-239.
Boschi, R. R., & Gaitán, F. (2012). Politics and Development: Lessons from Latin America. In R. R. Boschi & C. E. Santana (Eds). Development and Semi-Periphery: Post-neoliberal Trajectories in South America and Central Eastern Europe (pp.45-63). London : Anthem Press.
Bresser-Pereira, L. C. (2014). A construção política do Brasil: Sociedade, economia e Estado desde a Independência. São Paulo : Editora 34.
Calderón, A. et al. (1995). Mexico's Incorporation into the New Industrial Order: Foreign Investment as a Source of International Competitiveness. Desarrollo Productivo, 21, 1-43.
Campello, D. (2015). The Politics of Market Discipline in Latin America. Cambridge : Cambridge University Press.
Castillo, M., & Martins Neto, A. (2016). Premature deindustrialization in Latin America.
Chesnais, F. (1996). A mundialização do capital. São Paulo : Xamã.
Colomer, M. (2015, Mayo 11). Os impactos da queda do petróleo no mercado de gás natural. Recuperado de https://infopetro.wordpress.com/2015/05/11/os-impactos-da-queda-do-preco-do-petroleo-no-mercado-de-gas-natural/.
Furtado, C. (2000). Desenvolvimento e subdesenvolvimento. In R. Bielschowsky (Org.). Cinqüenta anos de Pensamento na Cepal (pp.239-262). Rio de Janeiro : Editora Record.
Gala, P. (2018, Noviembre 4). A China '"destruiu" o Brasil com dois golpes fatais. Recuperado de http://www.paulogala.com.br/evolucao-da-complexidade-economica-no-brasil-e-na-china/.
Gala, P. et al. (2018). The structuralist revenge: economic complexity as an important dimension to evaluate growth and development. Brazilian Journal of Political Economy, 38 (2), 219-236.
Hausmann, R. et al. (2014). The Atlas of Economic Complexity: Mapping Paths to Prosperity. Cambridge : The MIT Press. Recuperado de http://atlas.cid.harvard.edu/.
International Monetary Fund (2018a). IMF Primary Commodity Prices. Recuperado de https://www.imf.org/external/np/res/commod/index.aspx.
International Monetary Fund (2018b). Direction of Trade Statistics (DOTS). Recuperado de http://data.imf.org/?sk=9D6028D4-F14A-464C-A2F2-59B2CD424B85.
Jaguaribe, A. (2011). China: estratégias de modernização alternativa. Revista Desenvolvimento em Debate, 2 (2), 39-49.
Kay, C. (1989). Latin american theories of development and underdevelopment. London : Routledge.
Keohane, R.; Milner, H. (Eds). (1996). Internationalization and Domestic Politics. Cambridge : Cambridge University Press.
Kim, C-S.; & Lee, S. (2014). Different Paths of Deindustrialization: Latin American and Southeast Asian Countries from a Comparative Perspective. Journal of International and Area Studies, 21 (2), 65-81.
Marini, R. M. (1991). Dialéctica de la dependencia. (11ª ed). Cidade do México : ERA.
Marini, R. M. (2012). Subdesenvolvimento e revolução. (3ª ed). Florianópolis: Insular.
Martins, C.E. (2011). Globalização, dependência e neoliberalismo na América Latina. São Paulo : Boitempo.
McNally, C. (2014). The evolution and contemporary manifestations of Sino-capitalism. In U. Becker (Ed.). The Brics and emerging economies in comparative perspective: political economy, liberalization and institutional change (pp.53-78). London : Routledge.
Medeiros, C. (1997). Globalização e a Inserção Internacional diferenciada da Ásia e América Latina. In M. C. Tavares; & J. L. Fiori (Orgs). Poder e Dinheiro: uma economia política da globalização (pp.279-346). (1.ed). Petrópolis : Vozes.
Medeiros, C. (1999). Economia e Política do Desenvolvimento Recente na China. Revista de Economia Política, 19 (3), 93-112.
Medeiros, C. (2015). Inserção externa, crescimento e padrões de consumo na economia brasileira. Brasília: IPEA.
Medeiros, C.; & Serrano, F. (2012). Padrões monetários internacionais e crescimento. In J. L. Fiori (Org.). Estados e moedas no desenvolvimento das nações (pp.119-151). (4ª Ed.). Petrópolis : Vozes.
Mendoza, J. E. (2015). El comercio México-China: Su importancia e impacto en la economía mexicana. Revista Análisis, 4 (12), 65-91.
Ministry of Commerce of People's Republic of China (2011). 2010 Statistical Bulletin of China's Outward Foreign Direct Investment. Recuperado de http://images.mofcom.gov.cn/fec/201512/20151204090043062.pdf.
Ministry of Commerce of People's Republic of China (2016, Agosto 18). Three Gorges-led group bids for Brazil hydropower plant. Recuperado de http://english.mofcom.gov.cn/article/Companies/201608/20160801381047.shtml.
Milani, C. (2012). Aprendendo com a história: críticas à experiência da Cooperação Norte-Sul e atuais desafios à cooperação Sul-Sul. Caderno CRH, 25 (65), 211-231.
Moreno, C. (2015). O Brasil made in China: Para pensar as reconfigurações do capitalismo contemporâneo. São Paulo : Fundação Rosa Luxemburgo.
Moura, R. (2015). A desaceleração chinesa e o 'Novo Normal': implicações estruturais para a economia e o setor financeiro doméstico. Desenvolvimento em Debate, 3 (2), 79-109. Recuperado de http://desenvolvimentoemdebate.ie.ufrj.br/pdf/dd_3_2_rafael.pdf.
Naughton, B. (2015). China and the Two Crises: From 1997 to 1009. In Pempel, T.J., & K. Tsunekawa (Eds.). Two Crises, Different Outcomes: East Asia and Global Finance (pp.110-134). Ithaca : Cornell University Press.
National Bureau of Statistics (Vários años). China Statistical Yearbook. Recuperado de < http://www.stats.gov.cn/english/statisticaldata/annualdata/.
Nery, T. (2011). A Economia do Desenvolvimento na América Latina: o pensamento da Cepal nos anos 1950-1990. São Paulo : Caros Amigos.
O Globo (2017, Enero 24). Chinesa State Grid adquire controle acionário da CPFL Energia. Recuperado de https://g1.globo.com/economia/negocios/noticia/chinesa-state-grid-adquire-controle-acionario-da-cpfl-energia.ghtml.
Oreiro, J. L., & Feijó, C. (2010). Desindustrialização: conceituação, causas, efeitos e o caso brasileiro. Revista de Economia Política, 30 (2), 219-232.
Palma, J. G. (2010). Why has productivity growth stagnated in most Latin American countries since the neo-liberal reforms? The economic consequences of a rentier-dominated power structure and a narcissistic ideology. Cambridge Working Papers in Economics (CWPE), 1030, 1-54. Recuperado de http://www.econ.cam.ac.uk/dae/repec/cam/pdf/cwpe1030.pdf.
Palma, J. G. (2014). De-Industrialisation, 'Premature' De-Industrialisation and the Dutch Disease. Revista NECAT, 5 (3), 7-23.
Pecequilo, C. S. (2013). A América do Sul como espaço geopolítico e geoeconômico: o Brasil, os Estados Unidos e a China. Carta Internacional, 8 (2), 100-115.
People's Republic of China (2008, Noviembre 5). China's Policy Paper on Latin America and the Caribbean. Recuperado de http://www.gov.cn/english/official/2008-11/05/content_1140347.htm.
Pereira, L. B.; & Ribeiro, L. (2016). A nova fase do modelo chinês e as principais questões para o Brasil. In R. Bonelli, & F. Veloso (Orgs.). A Crise de Crescimento do Brasil (pp.243-281). (1ª ed.). Rio de Janeiro : Elsevier.
Perkins, D. (2013). East Asian Development: Foundations and Strategies. London : Harvard University Press.
Prebisch, R. (2011). O desenvolvimento econômico da América Latina e alguns de seus principais problemas. In R. Prebisch. O Manifesto Latino-Americano e outros ensaios (pp.95-151). Rio de Janeiro : Editora Contraponto / Centro Internacional Celso Furtado.
Ray, R., & Gallagher, K. (2017). China-Latin America Economic Bulletin. GEGI Discussion Paper. Recuperado de https://www.bu.edu/pardeeschool/files/2014/11/Economic-Bulletin.16-17-Bulletin.Draft_.pdf >.
Reuters (2017, Diciembre 5). Petrobras fecha empréstimo US$5 bi com China e acerta financiamento de petróleo. Recuperado de https://br.reuters.com/article/topNews/idBRKBN1DZ1IV-OBRTP.
Reuters (2018, Julio 3). Venezuela says it will receive $250 mln from China to boost oil imput. Recuperado de https://www.reuters.com/article/us-venezuela-china/venezuela-says-it-will-receive-250-mln-from-china-to-boost-oil-output-idUSKBN1JT2RD.
Rodrik, D. (2012). The Globalization Paradox: Democracy and the Future of the World Economy. New York : W.W.Norton & Company.
Rodrik, D. (2015). Premature Deindustrialization. NBER Working Paper Series, 20935, 1-39.
Roett, R. (2010). China's deepening ties with Latin America: a work in progress. In S. Breslin (Ed.). Handbook of China's International Relations (pp.200-208). London : Routledge.
Rühl, C. (2014, Enero 10). The five global implications of shale oil and gas. Recuperado de http://energypost.eu/five-global-implications-shale-revolution/.
Santos, T. (2011). Imperialismo y dependencia. Caracas : Fundación Biblioteca Ayacucho.
Shambaugh, D. (2013). China Goes Global: The Partial Power. New York : Oxford University Press.
Slipak, A. (2014). América Latina y China: ¿cooperación Sur-Sur o 'Consenso de Beijing'?. Nueva Sociedad, 250, 102-113.
Sutter, R. (2012). Chinese Foreign Relations: Power and Policy since the Cold War. (3. ed.). New York : Rowman and Littlefield Publishers, Inc.
Svampa, M., & Slipak, A. (2015). China en América Latina: Del Consenso de los Commodities al Consenso de Beijing. Revista Ensambles, 2 (3), 34-63.
Tsai, T-C., & Liu, T (2012). China's Relations with Latin America. In E. Kavalsky (Ed.). The Ashgate Research Companion to Chinese Foreign Policy (pp. 287-298). Surrey : Ashgate.
Vadell, J. (2011). A China na América do Sul e as implicações geopolíticas do Consenso do Pacífico. Revista de Sociologia Política, Curitiba, 19, 57-79.
Vadell, J. (2013). The North of the South: The Geopolitical Implications of 'Pacific Consensus' in South America and the Brazilian Dilemma. Latin American Policy, 4 (1), 36-56.
World Bank (2018, Noviembre 10). World Development Indicators. Recuperado de https://data.worldbank.org/.
Xinhua (2016, Noviembre 24). Full text of China's Policy Paper on Latin America and the Caribbean. Recuperado de http://www.xinhuanet.com/english/china/2016-11/24/c_135855286.htm >.
Cómo citar
Salgado Rodrigues, B., & Shoenmann de Moura, R. (2020). De la Ilusión de las Commodities a la Especialización Regresiva: América del Sur, China y la nueva etapa de la dependencia en el Siglo XXI. Papel Político, 24(2). https://doi.org/10.11144/Javeriana.papo24-2.icer
Sección
Dossier de China, editado por: Bruno De Conti, University of Campinas