Subjetividad, cotidianidad y memoria: la propuesta de documental colaborativo de José Balado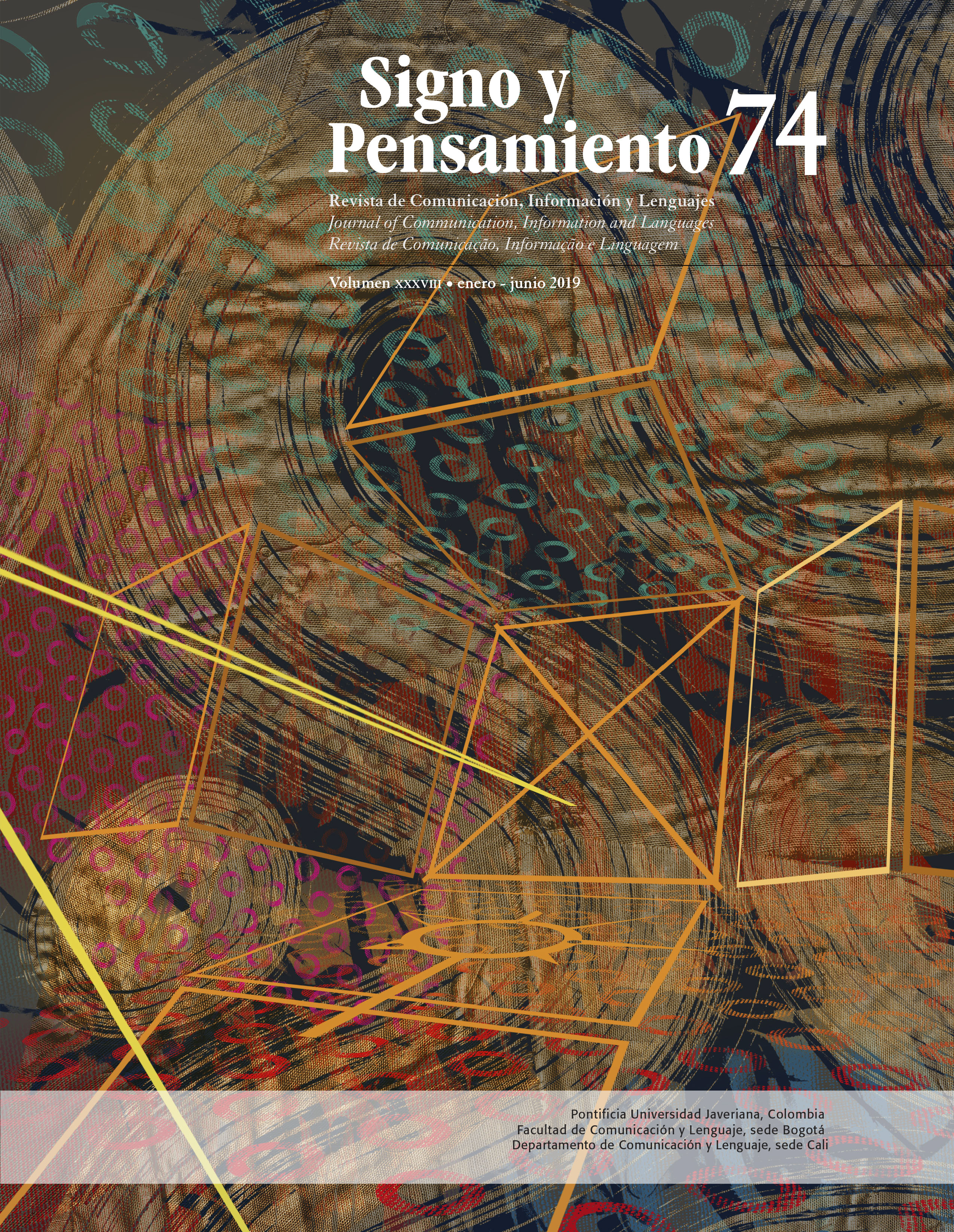 Publicado May 27, 2019
Descargas

##plugins.themes.bootstrap3.article.details##
Resumen
Este texto analiza el caso de DocuPeru, una organización de creación de contenidos audiovisuales, para reflexionar sobre el uso del documental colaborativo para la promoción de una cultura incluyente y de ciudadanía activa. Se establece que los productos diseñados por José Balado y su equipo son resultado de acciones colectivas que permiten a comunidades marginales acceder a formas de autorrepresentación, (re)construir su memoria y hablar de su cotidianidad. Primero, presentamos un marco general sobre agencia cultural; después explicamos cómo estas formas de producción de amateurs han dado lugar a un nuevo impulso del documental colaborativo. Finalmente, presentamos una entrevista con el propio Balado en la que explica los fundamentos que permiten crear esta vivencia colectiva.
Keywords
collaborative documentary, DOCUPERU, citizenship, agency, self-representationDocumental colaborativo, DocuPeru, Ciudadanía, Agencia, Autorrepresentacióndocumentário colaborativo, DOCUPERU, cidadania, agência, autorrepresentação
References
Aufderheide, P. (1995). The Video in the Villages Project: Video Making with and by Brazilian Indians, Visual Anthropology Review, 11(2), 83-93.

Ardévol, E. (2014). Cine y video indígena ¿hacia una comunicación alternativa? En E. Ardévol y N. Muntañola (Coords.), Representación y cultura audiovisual en la sociedad contemporánea (pp. 316-338). Barcelona: UOC.

Benhabib, S. (2002). The Claims of Culture: Equality and Diversity in the Global Era. Princeton: Princeton UP.

Boggs, C. (1986). Social Movements and Political Power. Philadelphia: Temple UP.

Callon, M & Rabeharisoa, V. (2003). Research 'in the wild' and the shaping of new social identities. Technology in Society, 25, 193–204.

Castells, M. (2009) Communication Power. Oxford: Oxford UP.

Córdova, A. (2011). Estéticas enraizadas: Aproximaciones al video indígena en América Latina. Comunicación y Medios, 24, 81-107.

Cusi Wortham, E. (2013) Indigenous Media in Mexico. Culture, Community, and the State [Kindle version]. Londres: Duke UP.

de Certeau, M. (2000). La invención de lo cotidiano. México: U. Iberoamericana e ITESO.

Cohen, J. (1997). Deliberation and democracy legitimacy. In J. Bohman and W. Rehg (Eds.), Deliberative democracy: Essays on reason and politics (pp.67-72). Cambridge: The MIT Press.

Contreras, F. (2013). La colaboración en la esfera pública digital. En F. Sierra (Ed.), Ciudadanía, tecnología y cultura (pp. 119-149). Barcelona: Gedisa.

Cortina, A. (1998). Ciudadanos del mundo. Hacia una teoría de la ciudadanía. Madrid: Alianza Editorial.

Chambers, S. (2003). Deliberative democratic theory. The Annual Review of Political Science, 6, 307-326.

Dryzek, J. (2009). Democratization as Deliberative Capacity Building. Comparative Political Studies, 11 (42): 1379-1402.

Emirbayer, M & Mische, A. (1998). What Is Agency? The American Journal of Sociology, 4 (103), 962-1023.

Elster, J. (Comp.). 2001. La democracia deliberativa. Barcelona: Gedisa.

Flores, C. Y. (2004). Indigenous Video, Development and Shared Anthropology: a Collaborative Experience with Maya Q'eqchi'filmmakers in Postwar Guatemala. Visual Anthropology Review, 1 (20), 31-44.

Fraser, N. (1992). Rethinking the Public Sphere: A contribution to the critique of actually existing democracy. In C. Calhoun (Ed.). Habermas and the public sphere (pp. 109-142). Cambridge: MIT Press.

Fuentes, R. (2011). Pensamiento comunicacional latinoamericano y convergencia digital. Retos epistemológicos y académicos. En C. del Valle, F.J. Moreno y F. Sierra (Eds.), Cultura latina y revolución digital (pp. 41-68). Barcelona: Gedisa.

Fung, A. (2005). Deliberation before the revolution. Toward an Ethics of Deliberative Democracy in an Unjust World. Political Theory, 2 (33), 397-419.

Gumucio, A. (2014). El cine comunitario en América Latina y el Caribe. Bogotá: Fundación del Nuevo Cine Latinoamericano.

Habermas, J. (2002). Modernity – an incomplete project. In H. Foster (Ed.), The Anti-Aesthetic. Essays on Postmodern Culture (pp. 3-15). Washington: Bay Press.

Habermas, J. (1989). The structural transformation of the public sphere: An inquiry into a category of bourgeois society. Cambridge: MIT Press.

Habermas, J. (1987). The theory of communicative action. Boston: Beacon Press.

Hall, S. (1980). Encoding/decoding. In S. Hall, D. Hobson, A. Lowe & P. Willis (Eds.), Culture, media, language: working papers in cultural studies, 1972-79. London: Hutchinson & the CCCS, U. of Birmingham.

Held, David (2007). Modelos de democracia. Madrid: Alianza Editorial. Jenkins, H. (2006). Convergence Culture. New York, NYU Press.

Lafuente, A; Alonso, A. y Rodríguez, J. (2013). ¡Todos Sabios! Madrid: Cátedra.Martín-Barbero, J. (2008). Diversidad cultural y convergencia digital. I/C Revista científica
de información y comunicación, 5, 12-25.

Melucci, A. (1996). Challenging codes: collective action in the information age. Cambridge, MA: Cambridge UP.

Navarro, V., & Rodríguez, J. C. (Eds.). 2014. New Documentaries in Latin America. New York: Palgrave McMillan.

Ostrom, E. (2000). Crowding out citizenship. Scandinavian Political Studies, 1 (23), 3-16.

Offe, C. (1984). Contradictions of the Welfare State. Cambridge, MA: MIT Press

Putnam, R. (2000). Bowling alone. The collapse and revival of American community [Kindle version]. New York: Simon & Schuster.

Roig, A. (2010). La participación como bien de consumo: una aproximación conceptual a las formas de implicación de los usuarios en proyectos audiovisuales colaborativos. Anàlisi: quaderns de comunicació i cultura, 40, 101-114.

Rose, M. (2014). Making publics: Documentary as do-it-with-others citizenship. In M. Boler & M. Ratto (Eds.), DIY Citizenship: Critical Making and Social Media, (pp. 201-212). Boston: MIT Press.

Singer, B.R. (2001). Wiping the War Paint off the Lens. Native American Film and Video [Kindle version]. Minneapolis: Minnesota UP.

Sommers, D. (2014). The Work of Art in the World. Civic Agency and Public Humanities. Durham, NC: Duke UP.

Sommers, D. (Ed.) (2006). Cultural agency in the Americas. Durham, NC: Duke UP.

Suárez, B. (2009). El documental social como proyecto de desarrollo frente a los intereses de las industrias culturales en la era digital. Signo y Pensamiento, 54(28), 208-227.

Velasco, J.C. (2006). Deliberación y calidad de la democracia. Claves de razón práctica, 167, 36-43.

Waugh, T., Brendan Baker, M. & Winton, E. (Eds.). (2010). Challenge for Change. Activist Documentary at the National Film Board of Canada [Kindle version]. Montreal: McGill-
Queen´s UP.

Zamorano, G., & Wammack, B. (2014). El audiovisual indígena en México y sus aportes al género documental. En A. Muñoz y C. Curiel (Eds.) Reflexiones sobre el cine Mexicano contemporáneo documental. México: Cineteca Nacional.
Cómo citar
Leetoy, S., & Zavala Scherer, D. (2019). Subjetividad, cotidianidad y memoria: la propuesta de documental colaborativo de José Balado. Signo Y Pensamiento, 38(74). https://doi.org/10.11144/Javeriana.syp38-74.scmp