¿Es financieramente viable ser verde? La relación entre las prácticas de informe ambiental y el desempeño financiero de empresas brasileras de alto impacto ambiental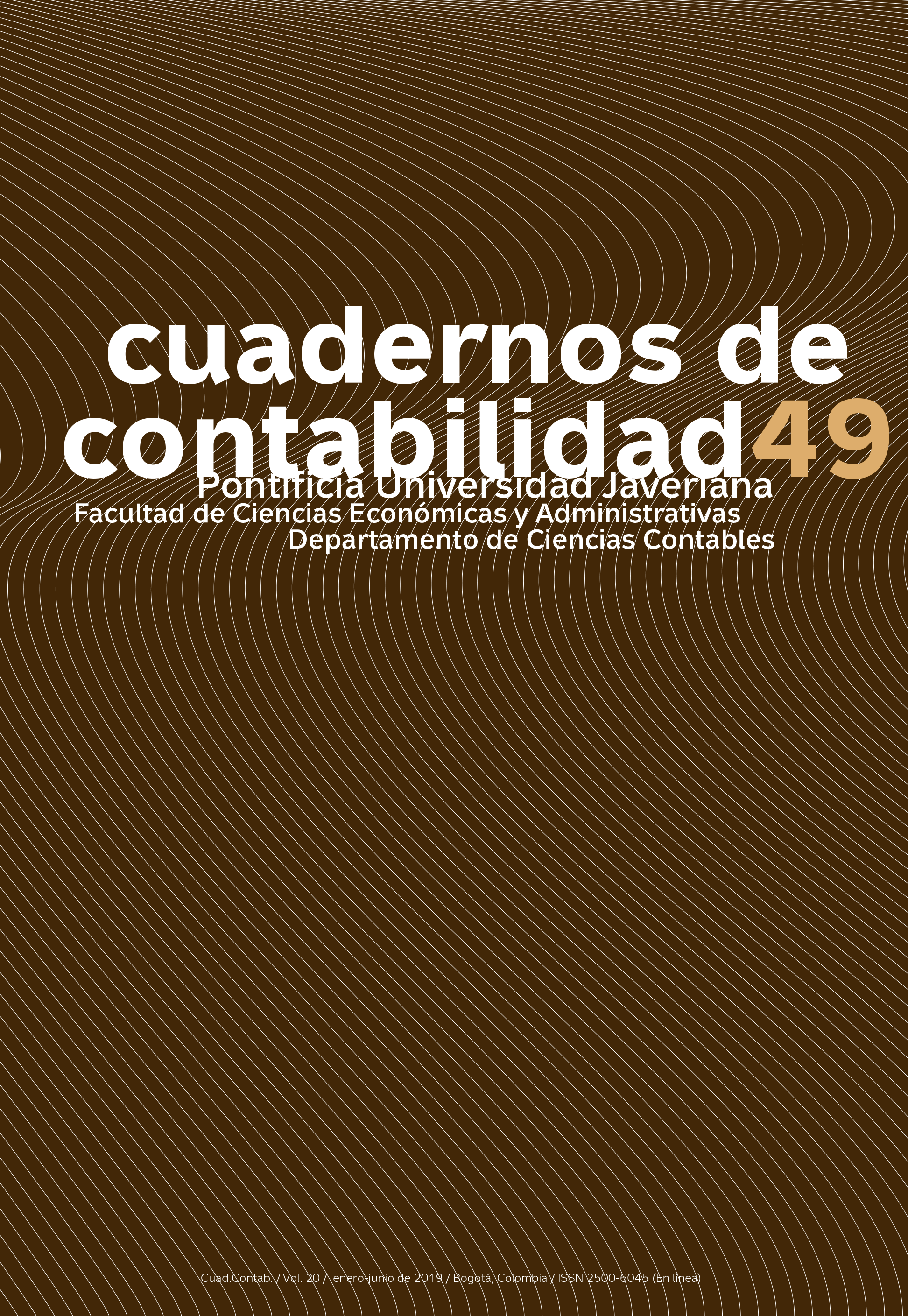 Publicado Jun 30, 2019
Descargas

##plugins.themes.bootstrap3.article.details##
Resumen
O presente estudo analisa a relação entre as práticas de divulgação ambiental e o desempenho financeiro de empresas de alto impacto ambiental listadas na Bolsa de valores brasileira. Foi selecionada uma amostra de todas as empresas de alto impacto, de acordo com o Relatório de sustentabilidade de 2016 da Global Reporting Initiative. 34 indicadores ambientais foram correlacionados com três indicadores financeiros (crescimento das vendas, o retorno sobre o patrimônio líquido e o fluxo de caixa operacional / receitas). Enquanto algumas subcategorias ambientais mostraram uma correlação positiva com os indicadores financeiros, outras revelaram correlações negativas. Além disso, os resultados demonstraram que a maioria dos indicadores não apresentaram correlações significativas. Isto pode indicar a necessidade de ações governamentais e corporativas mais efetivas no intuito de se alcançar um desempenho mais sustentável das empresas brasileiras.
Keywords
Environmental Disclosure, GRI, Theory of legitimacy, Theory of environmental disclosure, accounting, auditing, auditing, accountingDivulgación Ambiental, GRI, teoría de la legitimidad, teoría de la divulgación ambiental, contabilidad, auditoriaDivulgação Ambiental, GRI, Teoria da legitimidade, Teoria do disclosure ambiental, contabilidade, auditoria
References
Adams, C. (2002). Internal organizational factors influencing corporate social and ethical reporting: Beyond current theorizing. Accounting, Auditing and Accountability Journal, 15(2), 223-250.

Adams, C., Hill, W.-Y. & Roberts, C. (1998). Corporate social reporting practices in Western Europe: legitimating corporate behaviour? The British Accounting Review, 30(1), 1-21. doi: https://doi.org/10.1006/bare.1997.0060

Aggarwal, P. (2013). Relationship between environmental responsibility and financial performance of firm: A literature review. Journal of Business and Management, 13(1), 13-22.

Akbaş, H. & Canikli, S. (2018). Determinants of voluntary greenhouse gas emission disclosure: An empirical investigation on Turkish firms. Sustainability, 11(1), 107. doi: https://doi.org/10.3390/su11010107

Alexopoulos, I., Kounetas, K. & Tzelepis, D. (2018). Environmental and financial performance. Is there a win-win or a win-loss situation? Evidence from the Greek manufacturing. Journal of Cleaner Production, 197(1).

Chen, L., Feldmann, A. & Tang, O. (2015). The relationship between disclosures of corporate social performance and financial performance: Evidences from GRI reports in manufacturing industry. International Journal of Production Economics, 170, 445-456.

Chen, L., Tang, O. & Feldmann, A. (2015). Applying GRI reports for the investigation of environmental management practices and company performance in Sweden, China and India. Journal of Cleaner Production, 98(1), 36-46.

Cho, C., Laine, M., Roberts, R. & Rodrigue, M. (2015). Organized hypocrisy, organizational façades, and sustainability reporting. Accounting, Organizations and Society, 40, 78-94. doi: https://doi.org/10.1016/j.aos.2014.12.003.

Chung, K. & Pruitt, S. (1994). A simple approximation of Tobin's Q. Financial Management, 23(3), 70-74.

Deegan, C. & Gordon, B. (1996). A study of the environmental disclosure practices of Australian corporations. Accounting and Business Research, 26(3), 187-199. doi: https://doi.org/10.1080/00014788.1996.9729510.

Deegan, C. & Rankin, M. (1997). The materiality of environmental information to users of annual reports. Accounting, Auditing & Accountability Journal, 10(4), 562-583. doi: https://doi.org/10.1108/09513579710367485

Deegan, C. (2002). Introduction: The legitimising effect of social and environmental disclosures – A theoretical foundation. Accounting, Auditing & Accountability Journal, 15(3), 282-311. doi: https://doi.org/10.1108/09513570210435852.

Dobre, E., Stanila, G. & Brad, L. (2015). The influence of environmental and social performance on financial performance: Evidence from Romania's listed entities. Sustainability, 7, 2513-2553. doi: https://doi.org/10.3390/su7032513.

Dragomir, V. (2010). Environmentally sensitive disclosures and financial performance in a European setting, Journal of Accounting & Organizational Change, 6(3), 359-388.

Ferreira N., J., da Silva G., S., Bruni, A. & Dias F., J. (2017). Do Environmental Disasters Impact on the Volume of Socio-Environmental Investment and Disclosure of Brazilian Companies? Advances in Environmental Accounting & Management: Social and Environmental Accounting in Brazil, 159-187. doi: https://doi.org/10.1108/s1479-359820160000006006

Field, A. (2009). Descobrindo a Estatística usando o SPSS. Porto Alegre: Artmed, 2 ed.

Gallego-Alvarez, I., Lozano, M. & Rodríguez-Rosa, M. (2018). An analysis of the environmental information in international companies according to the new GRI standards. Journal of Cleaner Production 182, 57-66.

Gri (2018). Pioneer of Sustainability Reporting. Disponível em: https://www.globalreporting.org/information/about-gri/Pages/default.aspx (acesso em 01.09.18).

Guthrie, J. & Parker, L. (1989). Corporate social reporting: A rebuttal of legitimacy theory. Accounting and Business Research, 19(76), 343-352. doi: https://doi.org/10.1080/00014788.1989.9728863.

Hair, J., Anderson, R., Tatham, R. & Black, W. (1998). Multivariate Data Analysis, 5th ed. Prentice Hall, New Jersey.

Hart, S. & Ahuja, G. (1996). Does it pay to be green? An empirical examination of the relationship between emission reduction and firm performance. Business Strategy and the Environment, 5, 30-37.

Hofer, C., Cantor, D. & Dai, J. (2012). The competitive determinants of a firm's environmental management activities: Evidence from US manufacturing industries. Journal Oper. Manag. 30 (1-2), 69-84.

Hummel, K. & Schlick, C. (2016). The relationship between sustainability performance and sustainability disclosure – Reconciling voluntary disclosure theory and legitimacy theory. Journal of Accounting and Public Policy, 35(5), 455-476. doi: https://doi.org/10.1016/j.jaccpubpol.2016.06.001

Itawa, H. & Okada, K. (2011). How does environmental performance affect financial performance? Evidence from Japanese manufacturing firms. Ecol. Econ. 2011, 70, 1691-1700.

Klassen, R. & McLaughlin, C. (1996). The Impact of Environmental Management on Firm Performance. Manag. Sci., 42, 1199-1214.

Knebel, S. & Seele, P. (2015). Quo vadis GRI? A (critical) assessment of GRI 3.1 A+ nonfinancial reports and implications for credibility and standardization, Corporate Communications. An International Journal, 20(2), 196-212.

Lo, C., Yeung, A. & Cheng, T. (2012). The impact of environmental management systems on financial performance in fashions and textile industries. Int. J. Prod. Econ., 135, 561-567.

Magness, V. (2006). Strategic posture, financial performance and environmental disclosure: an empirical test of legitimacy theory. Accounting, Auditing & Accountability Journal, 19(4), 540-563.

Moneva, J. & Cuellar, B. (2009). The value relevance of financial and non-financial environmental reporting. Environmental and Resource Economics, 44(3), 441-456.

Montabon, F., Sroufe, R. & Narasimhan, R. (2007). An examination of corporate reporting, environmental management practices and firm performance. J. Oper. Manag., 25(5), 998-1014.

Patten, D., Ren, Y. & Zhao, N. (2015). Standalone Corporate Social Responsibility Reporting in China: An Exploratory Analysis of its Relation to Legitimation. Social and Environmental Accountability Journal, 35(1), 17-31. doi: https://doi.org/10.1080/0969160x.2015.1007467

Russo, M. & Fouts, P. (1997). A resource-based perspective on corporate environmental performance and profitability. Acad. Manag. J., 40, 534-559.

Silva, M. et al. (2015). Determinantes do disclosure ambiental nos relatórios de empresas listadas na Bovespa. Revista Ambiente Contábil., 7(2), jul./dez.

Simionescu, L. & Dumitrescu, D. (2018). Empirical Study towards Corporate Social Responsibility Practices and Company Financial Performance. Evidence for Companies Listed on the Bucharest Stock Exchange. Sustainability, 10, 3141.
Cómo citar
Silva, M. N. D., Nonato Rodrigues, R., & Teixeira Lagioia, U. C. (2019). ¿Es financieramente viable ser verde? La relación entre las prácticas de informe ambiental y el desempeño financiero de empresas brasileras de alto impacto ambiental. Cuadernos De Contabilidad, 20(49), 1–20. https://doi.org/10.11144/Javeriana.cc20-49.ffgr