Negociación a la francesa: un enfoque cualitativo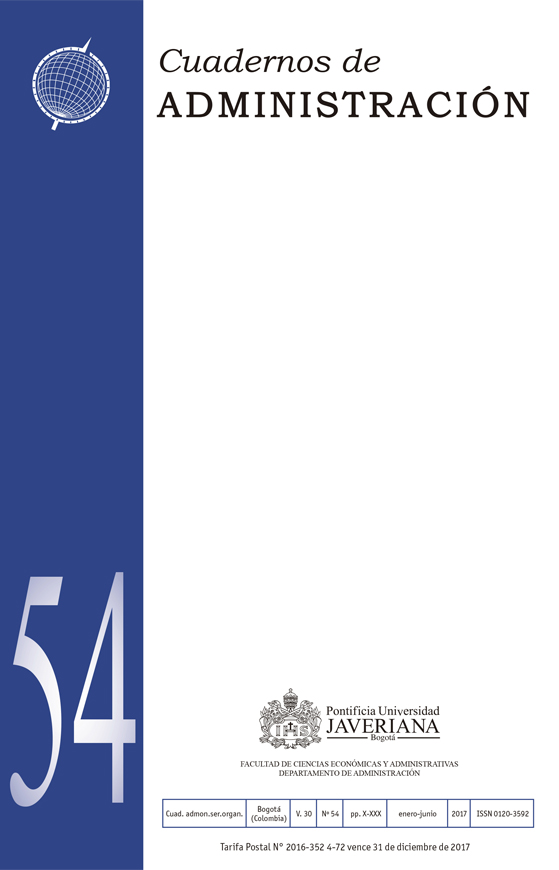 Publicado Apr 10, 2018
Descargas

##plugins.themes.bootstrap3.article.details##
Resumen
Con base en las teorías de Hall, Hofstede y el estudio Globe, este artículo analiza, de un lado, la manera de negociar de los franceses y una interpretación de por qué negocian así, y de otro, los retos que afrontan personas de otras culturas al negociar con ellos. Se utilizan metodologías cualitativas inductivas y comparativas, sobre experiencias concretas de negociación con franceses: un grupo focal y tres estudios con entrevistas semiestructuradas con 244 negociadores de cinco continentes. A quienes van a negociar con los franceses, se recomienda preparar la negociación con datos y argumentos sólidos, buscar un acercamiento gradual, ser asertivo pero flexible y mantener la formalidad y las buenas maneras.
Keywords
Francia, negociación, cultura, método cualitativo, Latinoamérica.
References
Adair, W., Brett, J., Lempereur, A., Okumura, T., & al. (2004). Culture and negotiation strategy. Negotiation Journal, 20(1), 87–111.
Agar, M., & MacDonald, J. (1995). Focus groups and ethnography. Human Organization, 54(1), 78–86. https://doi.org/10.17730/humo.54.1.x102372362631282
Bazeley, P., & Jackson, K. (2013). Qualitative data analysis with NVivo (2nd ed.). Thousand Oaks, Calif.: SAGE Publications Ltd.
Bourdieu, P. (1977). Outline of a Theory of Practice (Vol. 16). Cambridge university press.
Brett, J. M. (2007). Negotiating globally: How to negotiate deals, resolve disputes, and make decisions across cultural boundaries. San Francisco, CA: Jossey-Bass.
Brett, J. M., Adair, W., Lempereur, A., Okumura, T., Shikhirev, P., Tinsley, C., & Lytle, A. (1998). Culture and joint gains in negotiation. Negotiation Journal, 14(1), 61–86. https://doi.org/10.1023/A:1024610404410
Campbell, N. C. G., Graham, J. L., Jolibert, A., & Meissner, H. G. (1988). Marketing negotiations in France, Germany, the United Kingdom, and the United States. Journal of Marketing, 52(2), 49. https://doi.org/10.2307/1251264
Castel, P., Deneire, M., Kurc, A., Lacassagne, M.-F., & Leeds, C. A. (2007). Universalism and exceptionalism xceptionabusiness leadership. In J. S. Chhokar, F. C. Brodbeck, & R. J. House (Eds.), Culture and Leadership across the World: The GLOBE book of In-depth studies of 25 societies (pp. 547–582). New-York: Routledge.
Clark, P., & Stothard, M. (2015, December 12). COP21: Paris agreement formally adopted. Retrieved October 24, 2016, from https://www.ft.com/content/8677562c-a0c0-11e5-8d70-42b68cfae6e4
Cogan, C. (2003). French negotiating behavior: Dealing with La Grande Nation. Washington DC: United States Institute of Peace.
Crozier, M. (1964). The bureaucratic phenomenon. Chicago, IL: University of Chicago Press.
D'Iribarne, P. (1994). The honour principle in the "bureaucratic phenomenon." Organization Studies, 15, 81–97.
Duverger, M. (1974). La monarchie républicaine. Paris: Robert Laffont.
Gannon, M. J., & Pillai, R. K. (2012). French wine. In Understanding global cultures: Metaphorical journeys through 31 nations, clusters of nations, continents, and diversity (5th ed., pp. 227–246). Thousand Oaks, Calif: Sage.
Giles, C. (2016, October 4). UK slips below France in global economy table. Retrieved October 24, 2016, from https://www.ft.com/content/7508bf1e-8a46-11e6-8cb7-e7ada1d123b1
Glaser, B. G., & Strauss, A. L. (1967). The discovery of grounded theory: Strategies for qualitative research. New York: Aldine de Gruyter.
Graham, J. L., Mintu, A. T., & Rodgers, W. (1994). Explorations of negotiation behaviors in ten foreign cultures using a model developed in the United States. Management Science, 40(1), 72–95. https://doi.org/10.1287/mnsc.40.1.72
Hall, E. T., & Hall, M. R. (1990). Understanding cultural differences: Germans, French and Americans. Yarmouth, Me.: Intercultural Press.
Hofstede, G. (2003). Culture's consequences: Comparing values, behaviors, institutions and organizations across nations. Thousand Oaks: Sage Publications.
Hofstede, G. (2016). France. Retrieved October 28, 2016, from https://geert-hofstede.com/france.html
Hofstede, G., Hofstede, G. J., & Minkov, M. (2010). Cultures and organizations: Software of the mind (3rd ed.). New York, NY: McGraw-Hill.
Luo, Y., & Shenkar, O. (2011). Toward a perspective of cultural friction in international business. Journal of International Management, 17(1), 1–14. https://doi.org/10.1016/j.intman.2010.09.001
Malhotra, D., & Bazerman, M. H. (2008). Negotiation genius: How to overcome obstacles and achieve brilliant results at the bargaining table and beyond. New York, N. Y.: Bantam Dell.
Morrison, T., & Conaway, W. A. (2006). Kiss, bow or shake hands: The bestselling guide to doing business in more than 60 countries (2nd ed.). Avon, Mass: Adams Media Corporation.
Newson-Balle, L. (1996). Negotiating with the French. Career Development International, 1(5), 15–20.
Ogliastri, E. (1997). Una introducción a la negociación internacional (Universidad de los Andes). Bogotá.
Ogliastri, E., & Zúñiga, R. (2016). An introduction to mindfulness and sensemaking by highly reliable organizations in Latin America. Journal of Business Research, 69(10), 4429–4434. https://doi.org/10.1016/j.jbusres.2016.03.008
Perrow, C. (1999). Normal accidents: Living with high-risk technologies (2nd ed.). Princeton, N.J: Princeton University Press.
Raiffa, H. (1982). The art and science of negotiation. Cambridge, Mass.: Belknap Press of Harvard University Press.
Schwartz, S. H. (1994). Are there universal aspects in the structure and contents of human values? Journal of Social Issues, 50(4), 19–45. https://doi.org/10.1111/j.1540-4560.1994.tb01196.x
Schwartz, S. H. (1999). A theory of cultural values and some implications for work. Applied Psychology: An International Review, 48(1), 23–47. https://doi.org/10.1111/j.1464-0597.1999.tb00047.x
Ury, W. L., Fisher, R., & Patton, B. (2011). Obtenga el sí: El arte de negociar sin ceder. Gestión 2000.
van der Walt, M. (2010). French negotiation culture. ADR Bulletin, 12(1), Article 2. Available at http://epublications.bond.edu.au/adr/vol12/iss1/2.
Walton, R. E., & McKersie, R. B. (1991). A behavioral theory of labor negotiations: An analysis of a social interaction system. Cornell University Press.
Weiss, S. E., & Stripp, W. (1985). Negotiating with foreign businesspersons: An introduction for Americans with propositions on six cultures. Working Paper 85-6, New York University Graduate School of Business.
Cómo citar
Ogliastri Uribe, E., Rendón, M. I., & Fosse, S. M. (2018). Negociación a la francesa: un enfoque cualitativo. Cuadernos De Administración, 30(54), 91 - 124. https://doi.org/10.11144/Javeriana.cao30-54.nfec