China y gobernanza ambiental global: desafíos hacia el liderazgo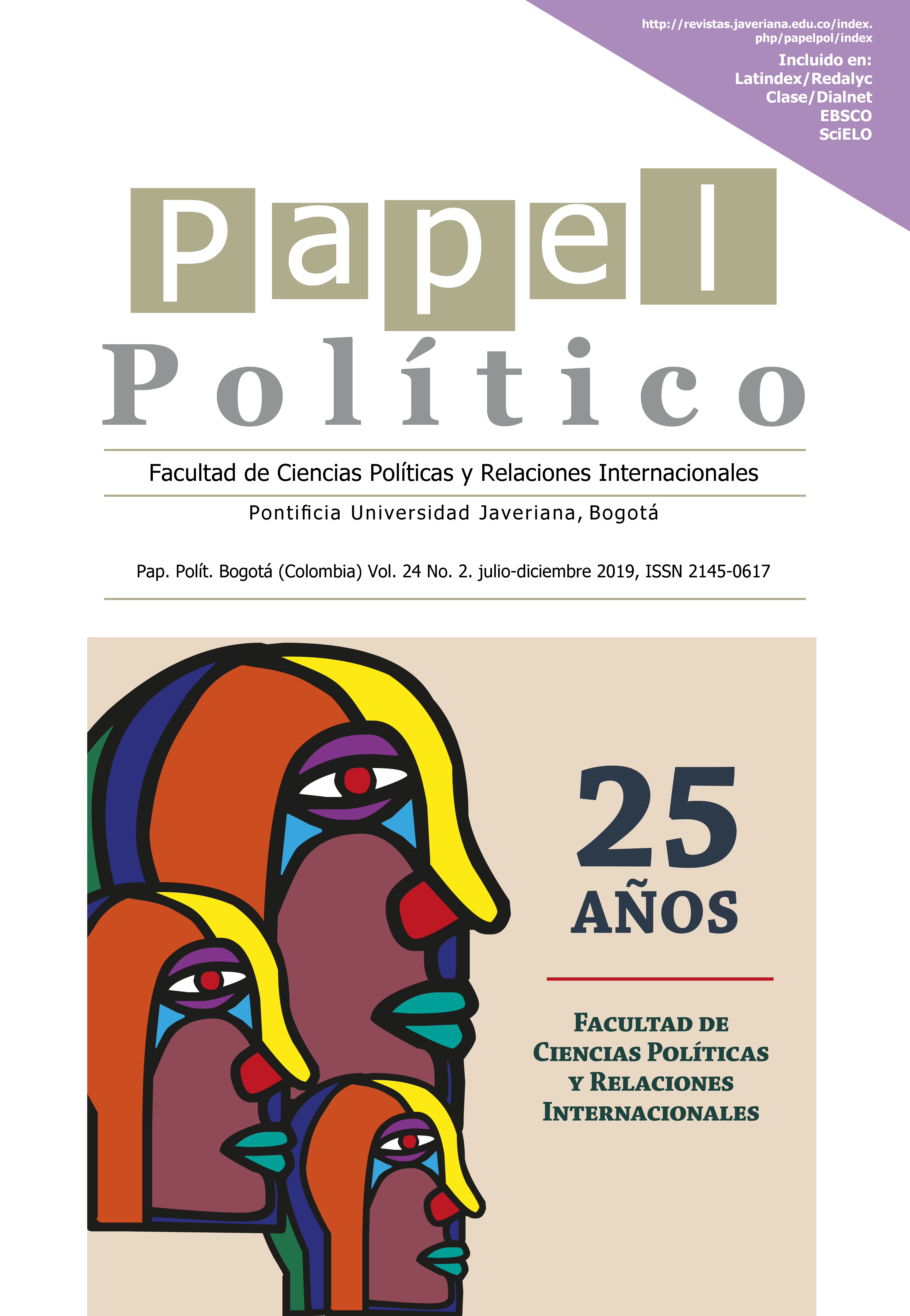 Publicado mar 18, 2020
##plugins.themes.bootstrap3.article.details##
Resumen
China, la nación con mayor emisión de gases de efecto invernadero, camina rápidamente en dirección a un liderazgo ambiental global. Este artículo busca establecer la situación ambiental del país y algunas de las medidas que pretenden combatir la degradación ambiental y la intensificación del cambio climático. La adopción de políticas nacionales y el cumplimiento de las metas establecidas internamente convierten a China en uno de los principales países efectivamente comprometidos en la lucha a favor del ambiente, aun cuando deba intensificar la implementación de leyes ambientales, modificar su matriz energética y reducir sus emisiones. El ideal de una civilización ecológica y de una sociedad armónica es un elemento capaz de dirigir la toma de decisiones, iluminando el camino a ser recorrido hasta alcanzar el equilibrio entre el hombre y la naturaleza. Rápidamente China se ha posicionado como líder en la esfera internacional, influenciando la dirección de las políticas climáticas, expandiendo su dominio económico y tecnológico, a partir del uso del llamado soft power.
Keywords
China, climate change, environmental governance, Soft Power.China, Cambio climático, Gobernanza ambiental, Soft Power.China, mudanças climáticas, governança ambiental, soft power.
References
Albert, Eleanor & Xu, Beina. (2016). China's Environmental Crisis. Council on Foreign Relations. 18 de janeiro de 2016. Disponível em https://www.cfr.org/backgrounder/chinas-environmental-crisis acesso em 12 de novembro de 2018.
Beasley, Beverly. (2014). Environmental cosmopolitanization 'with Chinese Characteristics': a possible legacy from recente environment policy developments and experimental collaborative projects? (Dissertação de Mestrado) University of Adelaide, Adelaide, Austrália.
Beck, Ulrich. (2010). Sociedade de risco: rumo a uma outra modernidade. São Paulo: Ed. 34.
Cavalcanti, C. (Org.), Acselrad, H., Brüseke, F., D'Amata, J. L., Diniz, R., Freire, P., Furtado, A., Leis, H., Leonardi, M. L., Maimon, D., Mammana, G., Magalhães, A. R., May, P., Medeiros, J., Mendes,A., Pires, E., Posey, D., Ribeiro, A., Rohde, G., Sekiguchi, C., Sevá Filho, O., Stahel, A., Stroh, P., Tolmasquim. (1994). Desenvolvimento e natureza: Estudos para uma sociedade sustentável. Recife: INPSO/FUNDAJ.
CCCCC – China Center for Climate Change Communication. (2017, november). Climate Change in the Chinese Mind Survey Report 2017. Energy Foundation China; China Green Carbon Sink Foundation.
CDIAC – Carbon Dioxide Information Analysis Center.(2014) Global, Regional, and National Fossil-Fuel CO2 Emissions. Research Institute for Environment, Energy and Economics, Appalachian State University. Disponível em: http://cdiac.ess-dive.lbl.gov/trends/emis/overview_2014.html acesso em 22 de outubro de 2018.
China. (2015). The 13th Five-Year Plan for economic and social development of the People's Republic of China (2016-2020). Beijing: Central Compilation & Translation Press.
Ding, Sheng. (2008). To Build A "Harmonious World": China's Soft Power Wielding in the Global South. Journal of Chinese Political Sciente, v. 13, n. 2.
Economy, Elizabeth. (2014). Environmental Governance in China: State Control to Crisis Management. American Academy of Arts & Sciences, v. 143, n. 2.
EFE – Agencia EFE. (2017, dezembro 26) China publica primeiro índice do "PIB verde" para promover luta antipoluição. Pequim. Disponível em https://www.efe.com/efe/portugal/sociedade/china-publica-primeiro-indice-do-pib-verde-para-promover-luta-antipolui-o/50000442-3476754 acesso em 22 de novembro de 2018.
Ferreira, Leila C. (org.). (2017). O desafio das mudanças climáticas: os casos Brasil e China. Jundiaí: Pacto Editorial.
Ferreira, Leila C. & Barbi, Fabiana. (2012). Questões ambientais e prioridades políticas na China. ComCiência, v. 137, p. 01-05.
Geall, Sam. (2016, may 17). China's Plan for Innovation Could Help It Meet Climate Goals. Chatam House. Disponível em https://www.chathamhouse.org/expert/comment/china-s-plan-innovation-could-help-it-meet-climate-goals# acesso em 22 de novembro de 2018.
Giddens, Anthony. (2005). Sociologia. Porto Alegre: Artmed, 2005.
Gil, Tamara. (2017, outubro 29) Os princípios políticos de Xi Jinping para transformar a China em uma superpotência global. BBC News. Disponível em https://www.bbc.com/portuguese/internacional-41689224 acesso em 20 de novembro de 2018.
Glaser, Bonnie & Murphy, Melissa. (2009) Soft Power with Chinese Characteristics. In: McGIFFERT, Carola (ed.). Chinese Soft Power and Its Implications for the United States. Washington: Center for Strategic and International Studies.
Huang, Jing; Pan, Xiaochuan; Guo, Xinbiao & Li, Guoxing (2018). Health impact of China's Air Pollution Prevention and Control Action Plan: na analysis of national air quality monitoring and mortality data. Lancet Planet Health, n. 2, v.7.
Hung, Ming-Te & Tsai, Tung-Chieh. (2012). Dilemma of choice: China's response to climate change. Revista Bras. De Política Internacional, v. 55 (special edition).
Hunter, Alan. (2009). Soft Power: China on the Global Stage. Journal of International Politics, v. 2.
IPCC – Intergovernmental Panel On Climate Change. (2013). Working Group I Contribution to the IPCC Fifth Assessment Report. Climate Change 2013: The Physical Science Basis. Summary for Policymakers.
IPCC – Intergovernmental Panel on Climate Change. (2018). Global warming on 1.5ºC. Summary for policymakers.
Jing, Li. (2018, september 21). Does the Chinese public care about climate change? Chinadialogue. Disponível em: https://www.chinadialogue.net/article/show/single/en/10831-Does-the-Chinese-public-care-about-climate-change- acesso em 12 de novembro de 2018
Junmei, De Fan. (2013, October 28) China gears up to battle air pollution. China.org.cn. Disponível em http://www.china.org.cn/environment/2013-10/28/content_30425833.htm acesso em 12 de novembro de 2018.
Kang, Suchul & Eltahir, Elfatih. (2018). North China Plain threatened by deadly heatwaves due to climate change and irrigation. Nature Communications, v. 9, n. 2894.
Kitagawa, Hideki (ed.). (2017). Environmental policy and governance in China. Tokyo: Springer Nature.
Klabin, Israel. (2011). A urgência do presente: biografia da crise ambiental. Rio de Janeiro: Elsevier.
Li, Anthony H. F. (2016). Hopes of Limiting Global Warming? China and the Paris Agreement on Climate Change. China Perspectives, n. 1.
Marques, Luiz. (2015). Capitalismo e colapso ambiental. Campinas: Editora Unicamp.
Martinelli, Caio B. (2016). O Jogo Tridimensional: o Hard Power, o Soft Power e a Interdependência Complexa, segundo Joseph Nye. Conjuntura Global, v. 5, n.1.
Martins, Marcos Antônio & Pianovski, Diego. (2013, jul-dez). A dimensão geopolítica da questão ambiental. Revista Eletrônica Pro-Docência/UEL, ed. 5, v. 1.
McElwee, Charlos R. (2011). Environmental Law in China. Managing risks and ensuring compliance. New York: Oxford University Press.
Miguel, Inês Pinto (2019). China acaba com o uso do carvão para aquecer casas. O Jornal Económico, 11 de março.
Moreira, Helena Margarido & Ribeiro, Wagner Costa. (2016) A China na ordem ambiental internacional das mudanças climáticas. Estudos Avançados, v. 30.
Nakano, Jane; Yang, Hong. (2014, May 30) China's War on Pollution and the Uncertain Fate of "King Coal". Center for Strategic & International Studies. Disponível em https://www.csis.org/analysis/china%E2%80%99s-war-pollution-and-uncertain-fate-%E2%80%9Cking-coal%E2%80%9D acesso em 13 de novembro de 2018.
Rosito, Tatiana. (2017). A Petrobras E As Parcerias Com A China. Carta Brasil-China, Ed.18, dezembro.
Shi, Han & Zhang, Lei. (2006). China's environmental governance of rapid industrialization. Environmental Politics, v. 15, n. 2.
Shifang, Wang. (2017) 中国首次发布绿色发展指数 强调生态文明建设"获得感. Yicai. Disponível em https://www.yicai.com/news/5386501.html acesso em 20 de novembro de 2018.
Shifflett, Susan Chan; Turner, Jennifer L; Dong, Luan; Mazzocco, Ilaria & Yunwen, Bai. (2015). China's water-energy-food roadmap: A global choque point report. Washington: Wilson Center.
Shuxiao, Wang & O'Keefe, Bob. (2016, August 18) Air Pollution from coal a major source of health burden in China. Health Effects Institute.
Strauss, Benjamin; Kulp, Scott & Levermann, Anders. (2015). Mapping Choices: carbon, climate, and rising seas. Our global legacy. Princeton: Climate Central.
Sung, Shufan. (2017). The New Path of Green GDP in China. In: Kilinc-Ata, Nurcan (ed.) The effects of environmental policies on sustainability: theory and methods. Foster City: OMICS International eBooks.
Tartaruga, Iván G. Peyré. (2017). Inovações tecnológicas na China: lições e perspectivas. Panorama Internacional, v. 2, n. 3.
Uruguay Round. (1994, April 15). Acto final que consagra os resultados das negociações comerciais multilaterais do Uruguay Round. Marráquexe.
Veiga, José Eli. (2009). Indicadores socioambientais: evolução e perspectivas. Rev. Economia Política, v. 29, n. 4.
Viola, Eduardo (2010). A dinâmica das potências mundiais e o acordo de Copenhague. Boletim da Sociedade Brasileira de Economia Ecológica. N. 23.
Wang, Hongying & Lu, Yeh-Chung (2008). The conception of soft power and its policy implications: a comparative study of China and Taiwan. Journal of Contemporary China, v. 17, n. 56.
Weigelin-Schwiedrzik, Susanne. (2017). Doing things with numbers: Chinese approaches to the Anthropocene. Int. Commun. Chin. Cult, v. 5, n. 1.
Weiwei, Zhang. (2012). The China Wave. Rise of a civilizational state. Hackensack: World Century Publishing Corporation.
Xue, Ming; Shen, Huizhang & Zhao, Jidi. (2018) Risk fator influencing environmental protest severity in China. International Journal of Conflict Management.
Yixiu, Wu. (2018, August 23). Winter is coming, but how can communicator keep climate change in the News? Chinadialogue. Disponível em https://www.chinadialogue.net/article/show/single/en/10790-Winter-is-coming-but-how-can-communicators-keep-climate-change-in-the-news- acesso em 12 de novembro de 2018.
Zhang, Kunmin; Wen, Zongguo & Peng, Liying (2007). Environmental policies in China: evolvement, features and evaluation. China population, resources and environment, v. 17, n. 2.
Zhenhua, Xie & Jiahua, Pan. (2018). China's Road of Green Development. Beijing: Foreign Languages Press.
Cómo citar
Delgado Barbieri, M., & Ferreira, L. C. (2020). China y gobernanza ambiental global: desafíos hacia el liderazgo. Papel Político, 24(2). https://doi.org/10.11144/Javeriana.papo24-2.cgag
Sección
Dossier de China, editado por: Bruno De Conti, University of Campinas