Capartogramma crucicula (Grunow ex Cleve) Ross, first record of the genus for Colombia.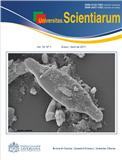 Published Jan 1, 2011
Downloads

##plugins.themes.bootstrap3.article.details##
Abstract
Objective. To report for the first time the occurrence in Colombia of the genus Capartogramma and the species Capartogramma crucicula (Grunow ex Cleve) Ross. Materials and methods. This diatom is described based on epiphyton samples collected during the years 2006-2009 in the Ayapel swamp in Cordoba. Results. We describe the morphology of the studied materials and present some aspects related to their geographical distribution and the physicochemical conditions of the aquatic environment where they were collected. Conclusion. The confirmation of the presence of this species in Colombia broadens its geographic distribution in South America.
Key words: Carpatogramma crucicula, diatom, tropical, periphyton,  Colombia.
How to Cite
Montoya-Moreno, Y., Sala, S., Vouilloud, A., & Aguirre, N. (2011). Capartogramma crucicula (Grunow ex Cleve) Ross, first record of the genus for Colombia. Universitas Scientiarum, 16(1), 70–76. https://doi.org/10.11144/javeriana.SC16-1.ccge
Section
Ecología / Ecology / Ecologia