Residues of anabolic drugs in meat intended for human consumption.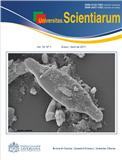 Published Jan 1, 2011
Downloads

##plugins.themes.bootstrap3.article.details##
Abstract
The production of meat for human consumption is one of the important items in the economy of a country. This activity has great socio economic importance as it serves as a basis for development, employment generation and sustainability of a country. The demand for animal protein is one of the most precious and necessary factors to maintain a proper biological development of human beings in active growth as well as being a source of growth and tissue regeneration. Consumption has increased because populations continue to grow and there is continuous migration to the cities, which makes the offer insufficient, and therefore it is necessary to accelerate, introduce technology and improve the meat production process. Industry also seeks a reduction in production costs by producers in this sector of the economy, leading to the use and incorporation of technology and cutting-edge knowledge to improve yield production of meat. Such knowledge comprises the scientific basis of the use of growth hormones and promoters (anabolic steroids and others) to accelerate and increase the production of meat. Although there has been an increase in production, residual substances can remain in the meat intended for human consumption which can lead to changes in the health of consumers.
Key words: growth promoter, meat, animal production
How to Cite
Fajardo-Zapata, Álvaro L., Méndez-Casallas, F. J., & Molina, L. H. (2011). Residues of anabolic drugs in meat intended for human consumption. Universitas Scientiarum, 16(1), 77–91. https://doi.org/10.11144/javeriana.SC16-1.road
Section
Química de Alimentos / Food Chemistry / Química dos Alimentos