Isolation and characterization of mesenchymal stem cells from human bone marrow according to the criteria of the International Society for Cellular Therapy.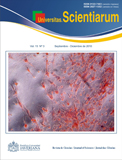 Published Nov 1, 2010
Downloads

##plugins.themes.bootstrap3.article.details##
Abstract
Bone marrow (BM) is an important source for isolating mesenchymal stem cells (MSC) useful in immunomodulation and tissue regeneration therapies. Objective. To isolate and characterize mesenchymal stem cells obtained from BM meeting the requirements of the International Society for Cellular Therapy. Materials and methods. BM samples were collected from volunteer donors attending the Orthopedics Service of the San Ignacio University Hospital (Bogotá, Colombia). Morphological characteristics were evaluated by inverted microscopy and the immunophenotype was determined by flow cytometry.  Protocols were developed for adipogenic, osteogenic and chondrogenic differentiation using the Oil Red O, alkaline phosphatase and safranin stains, respectively. Results. We collected 24 samples of BM from patients with total hip replacement (volume of BM sample: 5-45 ml). Cells with a fibroblastoid morphology were isolated from 21 BM samples (isolation efficiency: 87.5%). No statistical significant differences were found between the hematopoyetic antigens (CD34 and CD45, p>0.05) in the immunophenotypic evaluation (of MSC from BM); on the contrary, there were differences (p=0.006) between the hematopoyetic antigen CD45 and the mesenchymal antigens (CD13, CD44, CD73, CD90, CD105, HLA-I, and HLA-DR). Oil Red O stain revealed the presence of multilocular adipocytes, in the osteogenic induction we observed localized mineralization nodules, and chondrogenesis was positive as revealed by the safranin stain. Conclusion. MSC were satisfactorily isolated from BM and characterized according to the international standards.
Key words: stem cells, mesenchymal cells, flow cytometry, bone marrow, cell differentiation
How to Cite
Rodríguez-Pardo, V. M., Fuentes-Lacouture, M. F., Aristizabal-Castellanos, J. A., & Vernot Hernandez, J. P. (2010). Isolation and characterization of mesenchymal stem cells from human bone marrow according to the criteria of the International Society for Cellular Therapy. Universitas Scientiarum, 15(3), 224–239. https://doi.org/10.11144/javeriana.SC15-3.iaco
Section
Biología Celular, Fisiología, Morfología