Trees of ecological services in the Brazilian Amazon.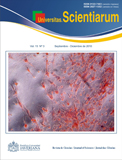 Published Nov 1, 2010
Downloads

##plugins.themes.bootstrap3.article.details##
Abstract
The metabolism of rhizospheres of plants that accumulate phosphorus (P) as Neea macrophylla and Cecropia palmata can exert certain influence on soil dynamics as a tolerance against environmental stresses, mostly in relation to phosphorus (P), aluminum (Al) and organic matter (MO) concentrations. The objective of this work was to characterize the profiles of the rhizospheres of selected species and to determine wood, leaf and total biomass as an alternative to the increment of the carbon produced. Materials and methods. We selected individual trees in two secondary forests (capoeiras), one enriched and another one only with natural vegetation in the Igarapé-Açú City, state of Pará, for measuring the concentrations of phosphorus (P), aluminium (Al) and organic matter (MO). Results. Soil adjacent to the rhizosphere of Neea showed higher concentrations of phosphorus and organic matter than Cecropia, however low concentrations of aluminium had been observed in soil under the influence of Cecropia. Conclusions. Trends of a reduction on phosphorus and organic matter concentrations in a potential scale with the increase of aluminium concentrations had been observed in all the rhizospheres. Leaf biomass did not differ between species, while wood biomass did differ between species.
Key words: ecological service, aluminium, forest.
How to Cite
Chaves de Oliveira, P., Reis de Carvalho, C. J., & Abreu Sá, T. (2010). Trees of ecological services in the Brazilian Amazon. Universitas Scientiarum, 15(3), 265–277. https://doi.org/10.11144/javeriana.SC15-3.toes
Section
Ecología / Ecology / Ecologia