PVL positive methicillin-resistant Staphylococcus aureus (MRSAs) strains isolated from healthy individuals in Montería, Córdoba.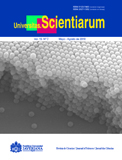 Published Jun 10, 2010
##plugins.themes.bootstrap3.article.details##
Abstract
Objective. To study SARM and PVL producing strains in healthy individuals of Montería city. Materials and methods. This was a descriptive, prospective and transversal study. A total of 253 samples from pharyngeal swabs in three communities were studied: 91 prisoners of the jail of Montería (19-58 years old), 100 young adult students of the University of Cordoba (17-30 years old) and 62 children in school age (4-9 years old) of the primary school of the University of Cordoba. Individuals analyzed had not been hospitalized, had not received any antimicrobial treatment and did not show any clinical signs or symptoms in the last months. The isolates were identified by conventional microbiological tests and the antimicrobial susceptibility was determined for different antibiotics with MicroScan™ kit 1A (SIMENS). For the detection of the nuc, mecA and PVL genes, we followed the protocols of Brakstad et al., Oliveira et al. and Gerard et al. respectively. Results. Of the 253 analyzed samples, 62 (24.5%) were positive for S. aureus, out of those 4 (6.45%) were resistant to methicillin and 2 (25%) of them were PVL positive; 58 (93.54%) were sensitive to methicillin and 6 (75%) positive for PVL. Conclusions.  Results obtained in this study show the colonization by SARM-AC of healthy individuals. Colonization was higher in young adults and children in school-age.
Key words. Staphylococcus aureus, resistance, methicillin, PVL, community, Colombia.
How to Cite
Lozano, D., Díaz, L., Echeverry, M., Pineda, S., & Mattar, S. (2010). PVL positive methicillin-resistant Staphylococcus aureus (MRSAs) strains isolated from healthy individuals in Montería, Córdoba. Universitas Scientiarum, 15(2), 159–165. https://doi.org/10.11144/javeriana.SC15-2.ppmr
Section
Microbiología Clínica / Clinical Microbiology / Microbiologia Clinica