Densidad y estatus poblacional de monos aulladores rojos en un guadual, fragmento aislado, La Tebaida, Quindío, Colombia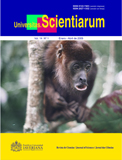 Published Jan 1, 2009
Downloads

##plugins.themes.bootstrap3.article.details##
Abstract
Gran parte de los remanentes boscosos alrededor de 1000 m de altitud en el eje cafetero Colombiano, son guaduales, bosques con predominio de bambú espinoso Guauda spp. Estos remanentes sostienen las últimas poblaciones de monos aulladores rojos en la franja entre 800 y 1300 m de altitud en la Cordillera Central Colombiana. Objetivo: Evaluar el estado poblacional de aulladores en un fragmento de guadua de 51,4 ha a 1100 m en el Quindío. Métodos y resultados: Se estimó por conteo directo una densidad ecológica de 163,4 individuos y 16,9 grupos/km2, la cual es superior a la normalmente reportada para la especie en bosques continuos, pero similar a la estimada en fragmentos aislados de bosques de montaña. A pesar de la alta densidad, los grupos presentaron un tamaño y composición similar a los registrados para la especie, con mayor número de individuos inmaduros que de hembras adultas 1,13:1; sugiriendo que la población se encuentra en condiciones estables. Se estimó una abundancia de solo 84 aulladores en el fragmento. El guadual, angosto y alargado, se encuentra aislado entre sistemas productivos y es poco diverso. Sin embargo, la guadua ofrece la estructura necesaria para el desplazamiento y refugio de los aulladores. Conclusión: Estos resultados demuestran la tolerancia de esta especie a la fragmentación y su flexibilidad para persistir en ambientes alterados. Sin embargo, la alta densidad de individuos, baja diversidad vegetal, aislamiento del bosque, efecto de borde y estrecho contacto con sistemas productivos antrópicos son posibles amenazas para la persistencia de esta población.
Palabras clave: Alouatta seniculus, bosque premontano, densidad y tamaño de grupos, Guadua spp, Valle de Maravélez
Abstract
Density and population status of red howler monkeys in an isolated bamboo forest fragment in La Tebaida, Quindío, Colombia. The majority of forest remnants in the coffee growing region in Colombia are guaduales, forests with a predominance of thorny bamboos (Guadua spp.). These remnants support the last remaining populations of red howler monkeys found between 800 and 1,300 m of altitude in the Central Cordillera of Colombia. Objective: To assess the population status of howler monkeys in a 51.4 ha-bamboo forest fragment at 1,100 m of altitude. Methods and results: The estimated howler population density in the fragment, based on direct counts, was of 163.4 individuals and 16.9 groups per km2, which is higher than that commonly reported for this species in continuous forests, although similar to the estimated density in isolated fragments of mountain forests. In spite of the high density, the group size and composition are similar to those usually reported for this species, with more immature individuals than female adults (1.13:1). This finding suggests that the population is under a stable condition. We estimated an abundance of just 84 howlers in the fragment. The guadual, narrow and elongated, is isolated by surrounding productive systems and has a low plant diversity. Nevertheless, guadua plants provide a suitable structure for the displacement and shelter of howlers. Conclusion: Our results demonstrate the tolerance of this species to the fragmentation and its plasticity in persisting in altered environments. However, the high density of individuals, low plant diversity, forest isolation, edge effect, and close contact with anthropic productive systems, are all possible threats to the persistence of this population.
Key words: Alouatta seniculus, group size and density, Guadua spp., Maravélez valley, pre-montane forest
Resumo
Densidade e estado populacional de macacos guariba vermelho num bambusal, fragmento isolado, "La Tebaida, Quindío", Colômbia. Grande parte dos remanentes de floresta próximos a 1000m de altitude na região cafeteira da Colômbia são bambusais, florestas com predomínio de bambu espinhoso Guauda spp. Estes remanentes mantêm as últimas populações de macacos guariba vermelho entre 800 e 1300m de altitude na Cordilheira Central Colombiana. Objetivo: Avaliar o estado populacional de guaribas num fragmento de bambu de 51,4ha a 1100m em Quindío. Métodos e resultados: Estimou-se por contagem direta uma densidade populacional de 163,4 indivíduos e 16,9 grupos/km2, a qual é superior à reportada normalmente para a espécie em florestas contínuas, mas semelhante à estimada em fragmentos isolados de floresta de montanha. Apesar da alta densidade, os grupos apresentaram tamanhos e composição similar a aqueles registrados para a espécie, com maior número de indivíduos imaturos do que de fêmeas adultas 1,13:1; sugerindo que a população está em condições estáveis. Estimou-se a abundância em apenas 84 guaribas no fragmento. O bambusal, estreito e alongado, encontra-se isolado entre sistemas produtivos e é pouco diverso. No entanto, o bambu fornece a estrutura necessária para o deslocamento e refúgio para os guaribas. Conclusão: Estes resultados demonstram a tolerância desta espécie à fragmentação e à sua flexibilidade para persistir em ambientes perturbados. No entanto, a alta densidade de indivíduos, a baixa diversidade de plantas, o isolamento da floresta, o efeito de borda e o estreito contacto com sistemas produtivos antrópicos são possíveis ameaças para a persistência dessa população.
Palavras chave:
Alouatta seniculus
, floresta pré-montana, densidade e tamanho dos grupos,
Guadua
spp, Valle de Maravélez
How to Cite
Gómez- Posada, C., Álvarez, Z., & Giraldo-Chavarriaga, P. (2009). Densidad y estatus poblacional de monos aulladores rojos en un guadual, fragmento aislado, La Tebaida, Quindío, Colombia. Universitas Scientiarum, 14(1), 8–15. https://doi.org/10.11144/javeriana.SC14-1.dyep
Section
Biología / Biology / Biologia