Implicaciones de las proteínas de choque térmico (sHsp/HSPB) en el desarrollo de enfermedades degenerativas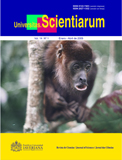 Published Jan 1, 2009
Downloads

##plugins.themes.bootstrap3.article.details##
Abstract
Las proteínas de choque térmico pertenecen al grupo de proteínas de estrés y son moléculas presentes en todas las células, se unen a los péptidos nacientes para dirigir su plegamiento,  garantizando su estructura tridimensional y con ello su funcionamiento correcto. Dentro de éste grupo de moléculas se encuentran las proteínas de choque térmico pequeñas (sHsp/HSPB), también,  capaces de unirse a péptidos y proteínas dañadas por diversos tipos de agresiones, facilitando su reparación o degradación. En células expuestas a situaciones adversas se produce un rápido aumento en las concentraciones de estas proteínas. Aunque inicialmente se asoció la expresión de las proteínas de estrés a aumentos bruscos de temperatura, hoy día es conocido que existen en condiciones  fisiológicas normales y sus concentraciones se aumentan en respuesta a un amplio espectro de agresiones ambientales como: infecciones virales, inflamaciones, cuadros febriles, exposición a compuestos citotóxicos, acidificación del pH, anoxia o shock térmico. La producción de este tipo de moléculas constituye un mecanismo de defensa que permite a la célula adaptarse a condiciones anómalas y aumentar su capacidad de supervivencia. Se presenta en este trabajo, una breve reseña histórica de las proteínas de choque térmico pequeñas, su asociación con algunas patologías y se discute el estado actual del conocimiento  de este tipo de moléculas y los posibles mecanismos implicados en las enfermedades conformacionales o proteinopatías, en donde existen alteraciones en la conformación nativa de las proteínas.
Palabras clave: Proteínas de choque térmico pequeñas (sHsp/HSPB), cuerpos de inclusión, enfermedades degenerativas, miopatías, mutaciones.
Abstract
Implication of stress proteins in degenerative diseases. Stress proteins are present in all the cells and participate in the synthesis of proteins binding their selves to the newly formed peptides to direct their folding, thus ensuring their three-dimensional structure and appropriate functioning. Besides, stress proteins are able to bind to damaged peptides and proteins due to diverse types of aggressions, enabling their repair or degradation. When cells are exposed to adverse situations, a rapid increase in concentration of stress proteins occurs. Stress protein expression had been associated to heat shocks only, but nowadays we know that stress proteins are induced as a response to a wide array of physiological and environmental aggressions such as: viral infections, inflammations, febrile responses, cell exposure to cytotoxic compounds, pH acidification, anoxia, and heat shock. The production of this type of molecules is a defense mechanism that allows the cell to adapt to anomalous situations and increase its survival capacity. In our study we present a brief historical account on stress proteins, their association with some pathologies, and discuss the current state of knowledge about this type of molecules and the possible mechanisms involved in protein conformational disorders or proteopathies.
Key words: Heat shock proteins (Hsp), body inclusion, degenerative diseases, myopathies, mutations.
Resumo
Envolvimentos das proteínas de estresse em doenças degenerativas. As proteínas do estresse são moléculas presentes em todas as células e estão envolvidas no processo de síntese protéica, ligando-se aos peptídeos nascentes para dirigir o seu dobramento, o que garante sua estrutura tridimensional e, consequentemente, o seu bom funcionamento. Além disso, são capazes de se ligar a peptídeos e proteínas danificadas por diferentes tipos de agressão, facilitando a sua reparação ou degradação. Quando as células ficam expostas a situações adversas aumentam rapidamente as concentrações dessas proteínas. Embora no inicio associou-se a expressão das proteínas de estresse com uma mudança brusca de temperatura, atualmente é conhecido que elas são induzidas como resposta a um amplo espectro de agressões fisiológicas e ambientais, tais como: infecções virais, inflamações, febres, exposição das células a compostos citotóxicos, a acidificação do pH, anoxia ou choque térmico. A produção de tais células é um mecanismo de defesa que permite à célula se adaptar a condições anormais e aumentar a sua capacidade de sobrevivência. Neste trabalho se apresenta um breve histórico das proteínas de estresse, a sua associação com certas doenças e se discute o estado atual do conhecimento sobre este tipo de moléculas e os possíveis mecanismos envolvidos nas doenças conformacionais ou proteinopatias.
Palavras chave: proteínas de choque térmico (Hsp), corpos de inclusão, doenças degenerativas, miopatias, mutações
How to Cite
Chávez-Zobel, A. T., & Sáenz-Suárez, H. (2009). Implicaciones de las proteínas de choque térmico (sHsp/HSPB) en el desarrollo de enfermedades degenerativas. Universitas Scientiarum, 14(1), 29–40. https://doi.org/10.11144/javeriana.SC14-1.idlp
Section
Bioquímica / Biochemistry / Bioquímica