Reversibilidad mandibular de la rigidez cadaverica por medios químicos en un modelo de rata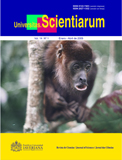 Published Jan 1, 2009
Downloads

##plugins.themes.bootstrap3.article.details##
Abstract
El principal problema que recae sobre el odontólogo en la toma de evidencias postmortem es la apertura bucal, limitada por el fenómeno de rigidez cadavérica el cual inicia a las 3 horas después de la muerte, siendo este un fenómeno que persiste hasta ser destruido por los procesos autolíticos tardíos de descomposición, a partir de las 36 horas postmortem. Objetivo. Se estudio la posibilidad de acelerar la reversión de la rigidez cadavérica mandibular por medio de sustancias químicas para facilitar la apertura bucal. Materiales y métodos. Se encamino al uso de sustancias que produzcan la alteración del pH, quelación del calcio intramuscular o proteólisis del complejo actina-miosina de los músculos masticatorios que presenten rigidez cadavérica en ratas Wistar. Resultados. Se determinó que el tiempo de establecimiento de la rigidez cadavérica mandibular en el modelo de rata, fue de 2,5 horas. A las 3,5 horas, una vez establecida la rigidez, se realizaron infiltraciones con EDTA (20 mM), NaHCO3 (50 µM), Na2CO3 (50 µM) y papaína (10 µM) encontrándose que las soluciones de NaHCO3 y Na2CO3 incrementaron significativamente (p3 y se preparouna mezcla de NaHCO3 y Na2CO3 (1:1) sin encontrar diferencias significativas con los ensayos con NaHCO3 y Na2CO3.Conclusión. La solución de NaHCO3 (50 µM) logro revertir la apertura bucal suficiente para la toma de evidencia entre las 5- 5,5 horas.
Palabras clave: apertura bucal, músculos masticatorios, reversibilidad cadavérica, rigor mortis.
Abstract
Mandibular reversibility of the cadaverous stiffness by chemical means in a rat model. The main problem that a dentist faces when collecting postmortem evidence is the buccal opening, which is limited by the cadaverous stiffness phenomenon that begins 3 hours after death. This phenomenon persists until it is destroyed by the late autolytic processes of decomposition, after 36 hours postmortem. Objective. To analyze the feasibility of accelerating the reversion of the mandibular cadaverous stiffness by means of chemical substances to facilitate the buccal opening. Materials and methods. We assessed substances capable of altering the pH, chelating intramuscular calcium or inducing proteolysis of the actin-myosin complex of the masticatory muscles with cadaverous stiffness in Wistar rats. Results. We found that mandibular cadaverous stiffness in Wistar rats appears after 2.5 hours of death. After 3.5 hours, once the rigidity was established, we carried out infiltrations with EDTA (20 mM), NaHCO3 (50 µM), Na2CO3 (50 µM) and papain (10 µM). NaHCO3 and Na2CO3 solutions significantly increased (p3 and assessed a 1:1 mixture of NaHCO3 and Na2CO3 without finding significant differences with the NaHCO3 and Na2CO3 prior assays. Conclusion. NaHCO3 solution (50 µM) allows a reversal of buccal opening enough to collect evidence between 5 and 5.5 hours.
Key words: buccal opening, cadaverous stiffness reversibility, masticatory muscles, rigor mortis.
Resumo
Reversibilidade mandibular da rigidez cadavérica por meios químicos num modelo de rato. O principal problema que tem o dentista na toma de evidencias post-mortem é a apertura bucal, limitada pelo fenômeno de rigidez cadavérica, o qual se inicia às 3 horas depois da morte; este fenômeno persiste hasta ser destruído pelos processos autolíticos tardios de decomposição, a partir das 36 horas post-mortem.  Objetivo. Estudou-se a possibilidade de acelerar a reversão da rigidez cadavérica mandibular através de substâncias químicas para facilitar a apertura bucal.  Materiais e métodos.  Foram empregadas substâncias que produzem alteração do pH, quelação do cálcio intramuscular ou proteólises do complexo actina-miosina dos músculos mastigatórios que apresentam rigidez cadavérica em ratos Wistar.  Resultados. Estimou-se o tempo de estabelecimento da rigidez cadavérica mandibular no modelo de rato, em 2,5 horas.  Às 3,5 horas, logo de estabelecida a rigidez, realizaram-se infiltrações com EDTA (20mM), NaHCO3 (50 µM), Na2CO3 (50 µM) e papaína (10 µM), encontrando que  as soluções de NaHCO3 e Na2CO3 incrementaram significativamente (p  A partir deste ensaio duplicou-se a concentração de NaHCO3 e preparou-se uma mistura de NaHCO3 e Na2CO3  (1:1) sem obter diferenças significativas com os ensaios com NaHCO3 e Na2CO3 . Conclusão. A solução de NaHCO3 (50 µM) reverteu a apertura bucal suficientemente para a toma de evidencias entre as 5 – 5,5 horas. 
Palavras chave
: apertura bucal, músculos mastigatórios, reversibilidade cadavérica,
rigor mortis
.
How to Cite
Tovar-Franco, J. A., Aparicio-Castellanos, D. C., & Henríquez Higuera, L. F. (2009). Reversibilidad mandibular de la rigidez cadaverica por medios químicos en un modelo de rata. Universitas Scientiarum, 14(1), 58–70. https://doi.org/10.11144/javeriana.SC14-1.rmdl
Section
Bioquímica / Biochemistry / Bioquímica