Efecto del 3-nitropropionato sobre el metabolismo del lactato y del acetato en neuronas y astrocitos crecidos in vitro en concentraciones perinatales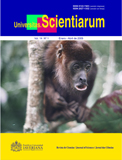 Published Jan 1, 2009
Downloads

##plugins.themes.bootstrap3.article.details##
Abstract
Las reacciones anapleróticas son un mecanismo metabólico esencial para la continuidad postnatal del desarrollo cerebral, contribuyendo en procesos que requieren sustratos sintetizados a partir de intermediarios del ciclo de Krebs, sin embargo, se desconoce su papel en el neonato durante la prelactancia. Objetivo. Estimar la capacidad anaplerótica de neuronas y astrocitos crecidos in vitro. Materiales y métodos. Se midió el efecto del 3-nitropropionato (3-NPA)(2 mM), un inhibidor de Succinato Deshidrogenasa (SDH) sobre el metabolismo oxidativo y lipogénico de 14C derivados de acetato y lactato en concentraciones perinatales. Resultados. A pesar de la presencia del 3-NPA, se mantuvieron las velocidades de oxidación del lactato en neuronas y astrocitos en un 40 y 73% respectivamente y la lipogénesis en un 53 y 52% respectivamente. Con el acetato, la oxidación en neuronas y astrocitos se mantuvo en un 15 y 63 % respectivamente, en tanto que la lipogénesis se mantuvo en astrocitos y aumentó en neuronas en un 174% (pConclusiones. Estos resultados demuestran que a pesar de la depleción de oxalacetato generada por 3-NPA, las neuronas como los astrocitos son capaces de mantener en la prelactancia el metabolismo energético y la síntesis de lípidos empleando lactato o acetato gracias a la actividad anaplerótica. Adicionalmente, los astrocitos demostraron tener mayor capacidad de amortiguar los efectos del 3-NPA sobre la oxidación que las neuronas. Las neuronas y los astrocitos demostraron una mayor capacidad de dirigir el acetato para la síntesis de lípidos, activando la vía Acetil-CoA Sintetasa citosólica.
Palabras clave: acetato, astrocito, neurona, 3-nitropropionato, lactato.
Abstract
3-Nitropropionate effect on the lactate and acetate metabolism of neurons and astrocytes grown in vitro with perinatal concentrations. Anaplerotic reactions are an essential metabolic mechanism for the postnatal continuity of the brain development, contributing in processes that require substrates synthesized from Krebs cycle intermediates; however, their role during the presuckling period in the neonate is unknown. Objective. To estimate the anaplerotic capacity of neurons and astrocytes grown in vitro under perinatal conditions. Materials and methods. The effect of 3-nitropropionate (3-NPA)(2 mM) ―an inhibitor of the succinate dehydrogenase (SDH)― on the oxidative and  lipogenic metabolism of 14C-derived from acetate and lactate in perinatal concentrations. The results were compared with its respective controls without inhibitor. Results. In spite of the presence of 3-NPA, respiratory activity with lactate was 40% in neurons and 73% in astrocytes, the lipogenesis was 53% in neurons and 52% in astrocytes. With acetate, the oxidation in neurons was 15% and 63% in astrocytes, lipogenesis was maintained in astrocytes but in neurons it increased up to 174% (pConclusions. These results demonstrate that in spite the oxalacetate depletion generated by 3-NPA, neurons as well as astrocytes are able to maintain the energetic metabolism and the lipid synthesis using lactate or acetate thanks to the anaplerotic activity in the presuckling period. Additionally, astrocytes showed a capacity of buffering the effects of 3-NPA on the oxidation process greater than the neuron capacity. Neurons and astrocytes revealed a better capacity of directing acetate for lipid synthesis, activating the cytosolic acetyl-CoA synthetase pathway.
Key words: acetate, astrocyte, neuron, 3-nitropropionate, lactate.
Resumo
Efeito do 3-nitropropionato sobre o metabolismo do lactato e do acetato em neuronios e astrocitos crescidos in vitro em concentrações perinatales. As reações anapleróticas são um mecanismo metabólico essencial para a continuidade pos-natal do desenvolvimento cerebral, contribuindo nos processos que precisam substratos sintetizados a partir de intermediários do ciclo de Krebs.  Embora, seu papel é desconhecido no neonato durante a prelactancia.  Objetivo.  Estimar a capacidade anaplerótica de neuronios e astrocitos crescidos in vitro.  Materiais e métodos.  Quantificou-se o efeito do 3-nitropropionato (3-NPA)(2 mM), um inibidor do Succinato Deshidrogenasa (SDH), sobre o metabolismo oxidativo e lipogénico de 14C derivados de acetato e lactato em concentrações perinatais.  Resultados.  A pesar da presença do 3-NPA, mantiveram-se as velocidades de oxidação do lactato em neuronas e astrocitos num 40 e 73% respectivamente e a lipogenesis em 53 e 52% respectivamente.  Com o acetato, a oxidação em neuronas e astrocitos mantive-se num 15 a 63% respectivamente, no em tanto, a lipogénesis mantive-se em astrocitos e aumento em neuronas num 174% (p<0,05).  Tudo o anterior comparado com seus respectivos controles sem inibidor.  Conclusões. Estes resultados demonstram que a pesar da depleção do oxalacetato gerada pelo 3-NPA, as neuronas como os astrocitos são capazes de manter na prelactancia o metabolismo energético e a síntese de lípidos empregando lactato ou acetato devido à atividade anaplerótica. Adicionalmente, os astrocitos demonstraram ter maior capacidade de amortecer os efeitos do 3-NPA sobre a oxidação que as neuronas.  As neuronas e os astrocitos apresentaram uma maior capacidade de dirigir o acetato para a síntese de lipídeos, ativando a via Acetil-CoA sintetasa citosólica.
Palavras chave: acetato, astrocito, neurona, 3-nitropropionato, lactato.
How to Cite
Tovar-Franco, R. A., & Criollo-Rayo, Ángel A. (2009). Efecto del 3-nitropropionato sobre el metabolismo del lactato y del acetato en neuronas y astrocitos crecidos in vitro en concentraciones perinatales. Universitas Scientiarum, 14(1), 48–57. https://doi.org/10.11144/javeriana.SC14-1.edse
Section
Bioquímica / Biochemistry / Bioquímica