Relación de la dieta con los niveles plasmáticos de lípidos y lipoproteínas en sujetos adultos con diferentes genotipos del gen de la apolipoproteina E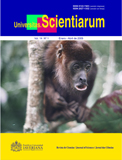 Published Jan 1, 2009
##plugins.themes.bootstrap3.article.details##
Abstract
Objetivo. Establecer la posible relación entre dieta habitual, perfil lipídico y los genotipos de ApoE. Materiales y métodos. Participaron 150 profesores de la Pontificia Universidad Javeriana, se evaluó perfil lipídico, estado nutricional y porcentaje de grasa corporal. Otras variables: edad, género, polimorfismo del gen ApoE, estado de salud y consumo de alimentos. Resultados. 76 normolipidémicos (NL) y 74 hiperlipidémicos (HL). Los valores promedio de Colesterol total (CT), LDLc y triglicéridos (TG) (mg/dl) fueron de 164,68 ± 22,57; 91,82 ± 23,39 y 89,45 ± 31,13 para el grupo NL y de 223,67 ± 20,25; 145,25 ± 19,99 y 198,74 ± 49,95 para el grupo HL. Edad promedio de 38,4±8,4 y 39,7±8,2 respectivamente; distribución por género 31 hombres y 45 mujeres en NL; 50 y 24 en HL. La frecuencia de genotipos de la ApoE, fue similar a la reportada en otras poblaciones a nivel mundial. La evaluación del consumo de energía y nutrientes mostró una ingesta mayor que la recomendación para todos los nutrientes en la población en general, excepto para el consumo de colesterol en mujeres hiperlipidémicas. Conclusión. Al relacionar el consumo, el perfil lipídico y los genotipos, no se encontraron diferencias significativas en los niveles de lípidos y lipoproteínas  pero si tendencias en el grupo con genotipo 4/3 a tener niveles más altos de CT en comparación con los otros genotipos, especialmente en el grupo de HL.
Palabras clave: Apolipoproteína E, Consumo de alimentos, Estado nutricional, Genotipo, Perfil lipídico, Polimorfismo
Abstract
Relationship between diet and serum levels of lipids and lipoproteins in adults with different apolipoprotein E genotypes. Objective. To find a possible relationship between: usual diet, lipid profile and ApoE genotypes.  Materials and methods. Assessment of lipid profile, nutritional status and body fat percentage was conducted on 150 lecturers of the Pontificia Universidad Javeriana.  Other variables were: age, gender, polymorphism of the ApoE gen, health status and food consumption. Results. 76 subjects were normolipidemic (NL) and 74 were hyperlipidemic (HL). Total cholesterol (TC), LDLc and triglycerid (TG) average values (mg/dl) were 164.68±22.57; 91.82±23.39 and 89.45±31.13 respectively for the NL group, and 223.67±20.25; 145.25±19.99 and 198.74±49.95 respectively for the HL group.  Average age was 38.4±8.4 for NL and 39.7±8.2 for HL; gender distribution was of 31 men and 45 women in NL, and 50 men and 24 women in the HL group.  ApoE genotype frequency was similar to that reported in other populations around the world.  The evaluation of energy and nutrient consumption revealed an intake higher than the overall recommendation for all the nutrients, except cholesterol in HL women.  Conclusion. When correlating consumption, lipid profile and genotypes, no significant differences were found, neither in lipid nor lipoprotein levels.  However, a tendency was observed in the 4/3 genotype to be prone to higher cholesterol levels compared to other genotypes, especially in the HL group.
Key words: Apolipoprotein E, food consumption, nutritional status, genotype, lipid profile, polymorphism.
Resumo
Relação da dieta com os níveis plasmáticos de lipídeos e lipoproteínas em indivíduos adultos com diferentes genótipos do gene da apolipoproteína E. 
Objetivo. Estabelecer a possível relação entre dieta habitual, perfil lipídeo e os genótipos ApoE.  Materiais e métodos.  Participaram 150 professores da "Pontificia Universidad Javeriana", avaliou-se o perfil lipídeo, o estado nutricional e o percentual de gordura corporal. Outras variáveis: idade, sexo, polimorfismo do gene ApoE, saúde e consumo de alimentos.  Resultados. 76 normolipidémicos (NL) e 74 hiperlipidémicos (HL). Os valores médios de colesterol total (CT), LDLc e triglicérides (TG) (mg / dl) foram 164,68 ± 22,57; 91,82 ± 23,39 e 89,45 ± 31,13 para o grupo NL e 223,67 ± 20,25; 145,25 ± 19,99 e 198,74 ± 49,95 para o grupo HL. Idade média de 38,4 ± 8,4 e 39,7 ± 8,2, respectivamente; distribuição por sexos 31 homens e 45 mulheres na NL; 50 e 24 em HL. A freqüência dos genótipos da ApoE foi semelhante ao reportado em outras populações em todo o mundo. A avaliação do consumo de energia e nutrientes apresentou maior assimilação do que a recomendação para todos os nutrientes na população em geral, exceto para o consumo de colesterol em mulheres hiperlipidémicas.  Conclusão. Relacionando o consumo, o perfil lipídeo e os genótipos, não foram observadas diferenças significativas nos níveis de lipídeos e de lipoproteínas, mas se as tendências no grupo com genótipo 4/3 para ter níveis mais elevados de CT em comparação com outros genótipos, especialmente no grupo HL.
Palavras-chave: Apolipoproteína E, Consumo de alimentos, Estado nutricional, Genótipo, Perfil lipídico, Polimorfismo
How to Cite
Tobar-Vargas, L. F., Torres, A. L., & Guerra, M. (2009). Relación de la dieta con los niveles plasmáticos de lípidos y lipoproteínas en sujetos adultos con diferentes genotipos del gen de la apolipoproteina E. Universitas Scientiarum, 14(1), 92–105. https://doi.org/10.11144/javeriana.SC14-1.rdld
Section
Nutrición y Salud / Health and Nutrition / Saúde e Nutrition