Annotations on the feeding ecology of black howler monkeys in an overcrowded fragment in Balancán, Tabasco, México.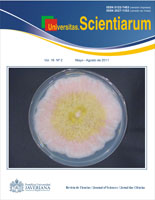 Published Jun 2, 2011
##plugins.themes.bootstrap3.article.details##
Abstract
We described the feeding behavior of Central-American black howler monkey (Alouatta pigra) in a fragment of less than one hectare of humid evergreen forest surrounded by grassland for livestock use, isolated trees and mango orchards, in the region of Balancán (Tabasco, México). Objective: To record the diet and activity of black howler monkeys in crowded conditions during the wettest month in Balancán (Tabasco, México). Methods: The behavioral observations (81 h) were made using the focal animal methodology with an A. pigra troop made up of three individuals (1 adult male, 1 adult female and 1 infant). Results: Feeding time represented 15.97%, rest 78% and locomotion 4.57% of total time. In the study area we recorded 14 plant species, with 10 being consumed by howler monkeys. 55% of feeding time was devoted to the consumption of fruits, 27% to leaves, 17% to stems, and 1% to sprouts. Spondias mombin was the tree species most consumed, with 61% of the time invested on it. Conclusion: Like other studies, we confirmed the frugivore-folivore feeding tendency of the genus Alouatta. We provide information on the black howler monkey flexibility to live and maintain themselves in extreme perturbation conditions, where their habitat is 0.1 ha with few tree species to use, forcing individuals to move around the ground.
Key words: Alouatta pigra, diet, pattern of activity, frugivory, fragmented habitat
How to Cite
Aristizábal-Borja, J., Pozo-Montuy, G., Pérez-Torres, J., & Serio-Silva, J. (2011). Annotations on the feeding ecology of black howler monkeys in an overcrowded fragment in Balancán, Tabasco, México. Universitas Scientiarum, 16(2), 140–146. https://doi.org/10.11144/javeriana.SC16-2.aotf
Section
Ecología / Ecology / Ecologia