La base de conocimiento y su impacto en la capacidad de absorción de pymes de baja tecnología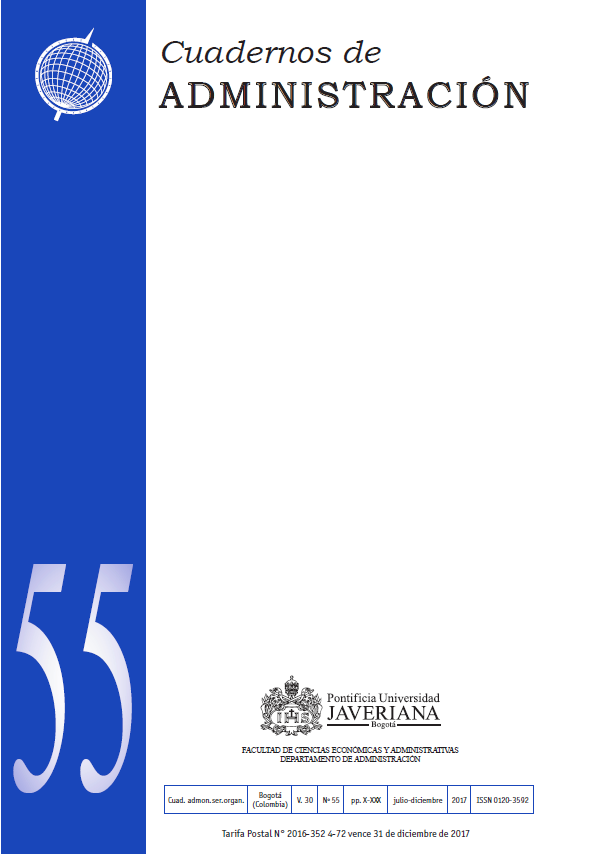 Publicado Jul 5, 2018
Descargas

##plugins.themes.bootstrap3.article.details##
Resumen
Este artículo examina los efectos de la base de conocimiento sobre la capacidad de absorción (CA) de pymes de baja tecnología, teniendo en cuenta el efecto mediador de los antecedentes organizacionales. El estudio empírico se basa en el uso de ecuaciones estructurales a partir de los datos derivados de un cuestionario aplicado a 96 empresas de los sectores agroindustrial y logístico del departamento del Atlántico, Colombia. Los resultados muestran que la base de conocimiento no es suficiente para generar impactos significativos en la CA empresarial, requiriendo de antecedentes organizacionales y, en particular, del desarrollo de redes de comunicación internas (capacidades de socialización) que capitalicen las habilidades de los empleados en beneficio de la capacidad de absorción empresarial.
Keywords
Capacidad de Absorción, Base de conocimiento, Capacidades de Socialización, Formalización, Innovación, I DAbsorptive capacity, knowledge base, socialization capabilities, formalization, innovation, R&Dcapacidade de absorção, base de conhecimento, capacidades de socialização, formalização, inovação, P D
References
Arora, A., Gambardella, A. (1994). Evaluating technological information and utilizing it: Scientific knowledge, technological capability and external linkages in biotechnology. Journal of Economic Behavior and Organization, 24, 91–114.

Becker, W., Dietz, J. (2004). R&D cooperation and innovation activities of firms-evidence for the German industry. Research Policy, 33, 209–223.

Caloghirou,Y., Kastelli, I., Tsakanikas, A. (2004). Internal capabilities and external knowledge sources: complements or substitutes for innovative performance?. Technovation, 24 (1), 29-39.

Cassiman, B., Veugelers, R. (2006). In search of complementarity in innovation strategy: internal R&D and external knowledge acquisition. Management Science 52, 68-82.

Christensen, C., Overdorf, M. 2000. Meeting the challenge of disruptive change. Harvard Business Review, 78(2): 66 –76.

Cohen,W.M., Levinthal,D.A. 1989. Innovation and Learning: The two faces of R&D. The Economic Journal, 99, 569-596.

Cohen, W. M., Levinthal, D. A. (1990). Absorptive capacity: A new perspective on learning and innovation. Administrative science quarterly, 128-152.

Coombs, J.E., Bierly, P.E. (2006). Measuring technological capability and performance. R&D Maanagment, 36 (4), 421-438.

Freel, M. S. (2005). Patterns of innovation and skills in small firms. Technovation, 25(2), 123-134.

Garcia-Granero, A; Vega-Jurado, J., Alegre-Vidal, J. (2014). Is R&D enough to take advantage fron external knowledge? Focusing on coordination Mechanisms. Journal of Technology management and Innovation, 9 (2), 118-130.

Gray, C. (2006). Absorptive capacity, knowledge management and innovation in entrepreneurial small firms. International Journal of Entrepreneurial Behavior & Research, 12(6), 345-360.

Hair, J. F., Black, W. C., Babin, B. J., Anderson, R. E. (2010). Multivariate data analysis (7 ed.). Upper Saddle River, NJ, USA: Prentice-Hall, Inc.

Kim, L. (1998). Crisis construction and organizational learning: Capability building in catching-up at Hyundai Motor. Organization science, 9(4), 506-521.

Lane, P.J., Lubatkin, M. 1998. Relative absorptive capacity and inter-organizational learning. Strategic Management Journal, 19, 461-477.

Leiponen, A. (2005). Skills and innovation. International Journal of Industrial Organization, 23(5), 303-323.

Lenox, M. and King, A. (2004) Prospects for developing absorptive capacity through internal information provision. Strategic Management Journal, 25, 331-345.

Lowe, J., Taylor, P. (1998). R&D and technology purchase through licence agreements: complementary strategies and complementary assets. R&D Management, 28 (4), 263–278.

Mowery, D.C., Oxley, J.E. (1995). Inward technology transfer and competitiveness: The role of national innovation systems. Cambridge Journal of Economics, 19, 67-93.

Nelson, R. R. y S.G. Winter, 1982. An Evolutionary Theory of Economic Change. Harvard University Press, Cambridge, Mass.

Østergaard, C. R., Timmermans, B., Kristinsson, K. (2011). Does a different view create something new? The effect of employee diversity on innovation. Research Policy, 40(3), 500-509.

Parrotta, P., Pozzoli, D., Pytlikova, M. (2014). The nexus between labor diversity and firm's innovation. Journal of Population Economics, 27(2), 303-364.

Romijn, H., Albaladejo, M. (2002). Determinants of innovation capability in small electronics and software firms in southeast England. Research policy, 31(7), 1053-1067.


Souitaris, V. (2002). Firm–specific competencies determining technological innovation: A survey in Greece. R&D Management, 32(1), 61-77.

Subramaniam, M., Youndt, M. A. (2005). The influence of intellectual capital on the types of innovative capabilities. Academy of Management journal, 48(3), 450-463.

Teece, D. (1996). Firm organization, industrial structure and technological innovation. Journal of Economic Behaviour and Organisation, 31, 193-224.

Tripsas, M., Gavetti, G. (2000). Capabilities, cognition and inertia: Evidence from digital imaging. Strategic Management journal, 21, 1147-1162.

Van Den Bosch, F. A., Volberda, H. W., De Boer, M. (1999). Coevolution of firm absorptive capacity and knowledge environment: Organizational forms and combinative capabilities. Organization science, 10(5), 551-568.

Veugelers, R. (1997). Internal R&D expenditures and external technology sourcing. Research Policy, 26(3), 303-315.

Vega‐Jurado, J., Gutiérrez‐Gracia, A., Fernández‐de‐Lucio, I. (2008). Analyzing the determinants of firm's absorptive capacity: beyond R&D. R&D Management, 38(4), 392-405.

Vinding, A.L. (2000) Absorptive capacity and innovative performance: a human capital approach. Department of Business Studies, DRUID/IKE Group. Aalborg University. Denmark.

Vinding, A.L. (2006). Absorptive capacity and innovative performance: A human capital approach. Economics of Innovation and New Technology, 15(4-5), 507-517.

Walls, J.P., Ungson, G.R. (1991). Organizational memory. Academy of Management Review, 16, 57-91.

Zahra, S. A., George, G. (2002). Absorptive capacity: A review, reconceptualization, and extension. Academy of management review, 27(2), 185-203.

Zander, U., Kogut, B. (1995). Knowledge and the speed of the transfer and imitation of organizational capabilities: An empirical test. Organization Science, 6, 76–92.
Cómo citar
VEGA JURADO, J. M., Polo-Otero, J. L., Cotes-Torres, M. A., & Vega-Cárcamo, J. C. (2018). La base de conocimiento y su impacto en la capacidad de absorción de pymes de baja tecnología. Cuadernos De Administración, 30(55), 7 - 35. https://doi.org/10.11144/Javeriana.cao30-55.bcica