La gestión de clientes: exploración sobre la practica entre un grupo de profesionales de mercadeo en Colombia.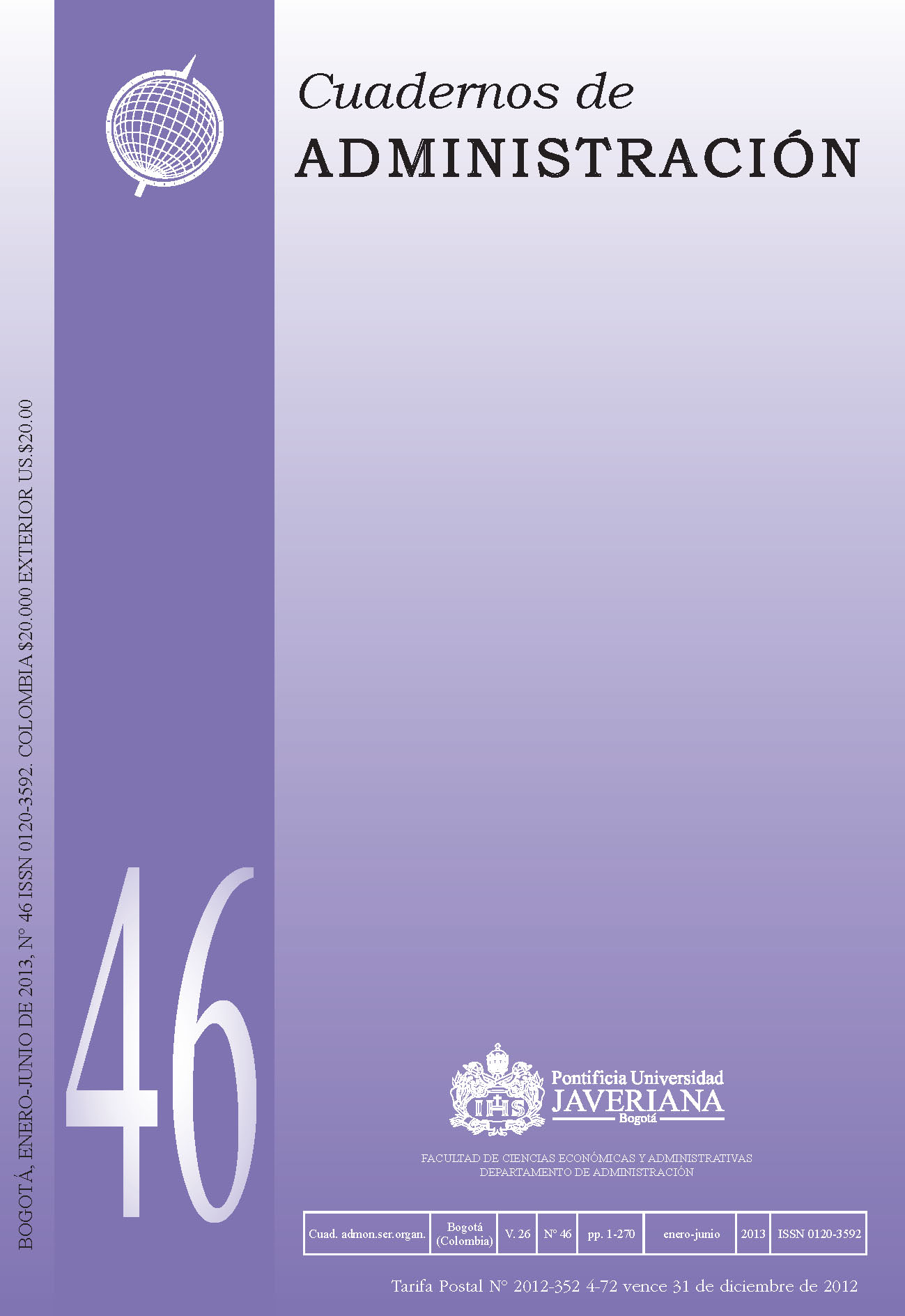 Publicado Jun 29, 2013
Descargas

##plugins.themes.bootstrap3.article.details##
Resumen
El mercadeo relacional y las nuevas tecnologías son tendencias que se imponen en la gestión de clientes. A partir de esta premisa, que surge de la revisión de la literatura, se busca responder a la pregunta sobre cómo son las prácticas de mercadeo relacional llevadas a cabo por los gestores de mercadeo de un grupo de empresas anunciantes de Colombia, y cómo se relacionan con las tendencias mundiales. Este ejercicio de carácter exploratorio indica que el uso es incipiente de nuevas tecnologías porque los gestores carecen de la experticia necesaria. Investigaciones futuras podrían ayudar a revelar qué competencias se deben desarrollar para una gestión de clientes más efectiva.
Keywords
marketing relationship, customer management, CRMgerencia de clientes, CRM, mercadeo relacionalmarketing relacional, gerência de clientes, CRM
References
Audrey, M. (2001). Profiling the chief customer officer. Recuperado el 25 de octubre de 2011, de http://www.destinationcrm.com: http://www.destinationcrm.com/Articles/Editorial/MagazineFeatures/Profiling-the-Chief-CustomerOfficer-46706.aspx.

Audrey, M. (2001). Profiling the chiel customer officer. CRM magazine. Recuperado el 6 de marzo de 2012, www.destinationcrm.com.

Baeza-Yates, R. (2010). Tendencias en minería de datos de la Web. El Profesional de la Información, 18 (1), 5-10.

Battor, M. and Battor, M. (2010). The impact of CRM capability on innovation a performance advantage: Testing and mediated model. Journal of Marketing, 26 (9-10), 842-857.

Berenson, M., Levine, D. y Timothy, K. (2001). Estadística para admnistración. Neucalpan de Juarez, Edo de México: Peardon Educación.

Date, C. (2001). Introducción a los sistemas de bases de datos. México: Pearson.

Greenberg, P. (2009). CRM- Social CRM strategies, tools and techniques for engaging your customers. New York: Mc Graw Hill.

Gummesson, E. (1998). Implementation requires a relationship marketing paradigm. Journal of the Academy of Marketing Science, 26 (3), 242-249.

Gummesson, E. (2002). Relationship marketing in the new economy. Journal of Relationship Marketing, 1 (1), 37-57.

Korsakiene, R. (2009). The innovative approach to relationships with customers. Journal of Business Economics and Management, 10 (1), 53-60.

Kotler, P. y Caslione, J. A. (2010). Caótica: administración y marketing en tiempos de caos. Bogotá: Norma.

Kotler, P., Kartajaya, H. y Setiawan, I. (2010). Marketing 3.0. New York: John Wiley & Sons.

Krasnikov, A., Jayachandran, S. and Kumar, V. (2009). The impact of customer relationship management implementation on cost and profit efficiencies: Evidence from the U.S. commercial banking industry. Journal of Marketing, 73, 61-76.

Kuo, T-H. (2011). The antecedents of CRM in e-banking industry. Journal of Computer Information Systems, 51 (3), 57-66.

Lager, M. (2010). Your community is almost enterely mute. CRM Magazine, 50.

Nejatian, H., Sentosa, I., Piaralal, S. K. and Bohari, A. M. (2010). The influence of customer knowledge on CRM performance. International Journal of Business and Management, 6 (7), 181-198.

Palfrey, J. and Urs, G. (2008). Born digital. New York: Basic Books.

Parkin, G. (2009). Digital marketing, strategies for online success. Londres: New Holland Publishers.

Reinares, P. (2009). Los cien errores del CRM. Madrid: Business & Marketing School, ESIC.

Restrepo, M. L. (2007a). Fidelizar clientes, clave para que las Pymes perduren. Universidad, Ciencia y Desarrollo , tomo II, fascículo 12.

Restrepo, M. L. (2007b). Medios, tecnologías y consumidores: perspectivas de mercado. Bogotá: Universidad del Rosario.

Reynoso, J. F. and Moores, B. (1996). Internal relationships. En F. Butle, Relationship Marketing; Theory and practice (pp. 55-73). London: Paul Chapman Publishing Ltd.

Ruiz, M. E., Gil, I. y Calderón, H. (2010). El efecto moderador de la edad en la relación entre el valor percibido, las Tic del minorista y la lealtad del cliente. Cuadernos de economía y administración de empresas (43), 65-91.

Segal, S. (2011). The relationship manager. Investment Advisor, 65-71.

Stone, M. and Ozimek, J. F. (2010). The challenge of new marketing issues. Journal of Database Marketing & Customer Strategy Management, 17, 188-200.

Su, C-H., Tsai, A. and Hsu, C-L. (2009). The TQM Extension: total customer relationship management. Total Quality Management & Business Excellence, 21, 79-92.

Valos, M. J. and Bednall, D. H. (2010). The alignment of market research with business strategy and CRM. Journal of Strategic Marketing, 18 (3), 187-199.

Wahab, S. and Ali, J. (2010). The Evolution of relationship marketing (RM) towards customer relationship management (CRM): A step towards company sustainability. Information Management and Business Review, 1 (2), 88-96.

Wakabayashi, J. L. (2010). La investigación sobre mercadeo relacional: un análisis de contenido de la literatura 2007-2008. Journal of Economics, Finance and Administration Science, 15 (29), 119-130.

Walden, S. (2011). Customer Experience Management, Executive Summary. London: Beyond Philosophy.
Wang, I-C., Huang, C-Y. and Chen, Y-C. (2010). The influence or CRM process on management performance. The International Journal of Organizational Innovation, 2 (3), 40-52.
Cómo citar
Restrepo Torres, M. L., & Parra Osorio, J. F. (2013). La gestión de clientes: exploración sobre la practica entre un grupo de profesionales de mercadeo en Colombia. Cuadernos De Administración, 26(46), 83-106. https://doi.org/10.11144/Javeriana.cao26-46.gces