A Geographical Method for Assessing Social Distancing as a Preliminary Tool for Implementation Planning. A Case Study: Chapinero, Bogota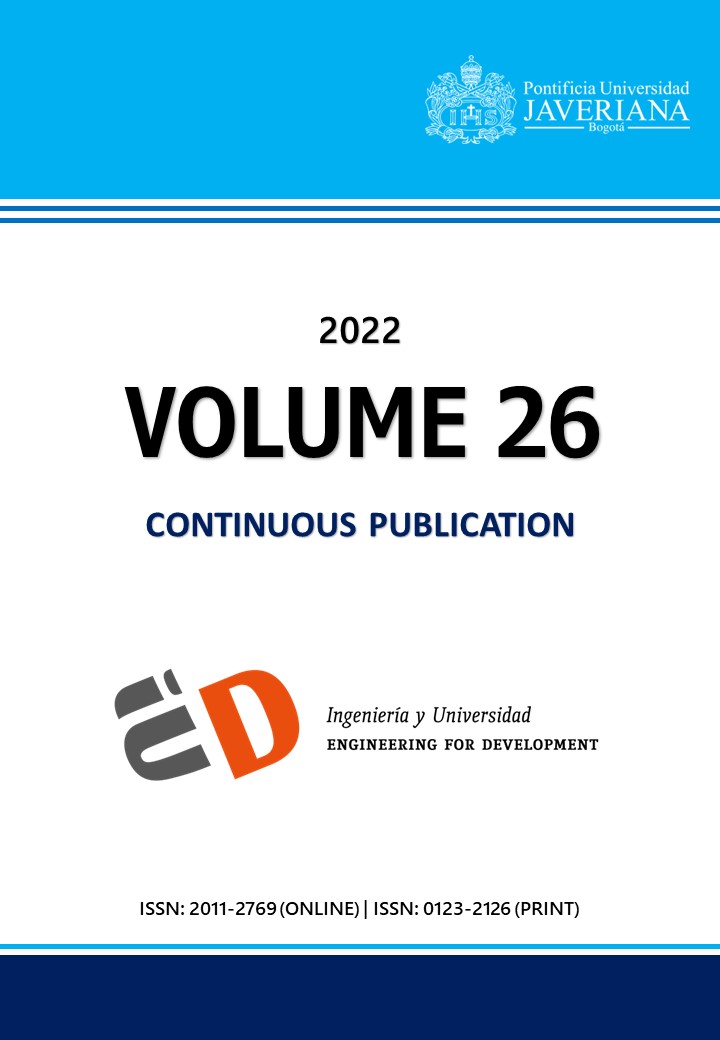 Published Dec 16, 2022
##plugins.themes.bootstrap3.article.details##
Abstract
Given the pandemic situation generated by Covid-19, it's necessary to rethink the lifestyle of society and its quality of life around public and urban spaces, researching in 2019 mobility Bogotá survey's; on average, they record trips is 14,069 of foot trips, between 10 and 20 minutes according to the travel patterns in the distinctive transport analysis areas at the zonal planning unit Chapinero Centro in the city of Bogotá. In spite of having great social and economic dynamics, this UPZ has very small platforms that make it difficult to comply with social distancing, necessary to mitigate the Coronavirus pandemic. For this reason, this article carried out a geographical analysis of this area, using the data provided by the vulnerability map of the Coronavirus website in Colombia of the Departamento Nacional de Planeación, the Instituto de Evaluación Tecnológica en Salud and the Departamento Administrativo Nacional de Estadística. This geographical analysis allowed calculating the variables of the population indicator per block, the maximum population per platform and the criterion of compliance with social distance. These variables allowed designing the vulnerability and social distancing maps. It was evident that 37% of the platforms do not comply the 2-meter distance between people, so it was
Due to the COVID-19 pandemic, rethinking lifestyle and quality of life through the appropriate use of public space is necessary. This study aims to verify the measures of social distancing in Chapinero Centro, which, according to the mobility survey 2019 of Bogota, has an average of 4,633 trips on foot between 10 and 20 minutes according to the travel patterns in the areas of transportation analysis studied. Despite having great social and economic dynamics, this area has small sidewalks that hinder compliance with social distancing, which is necessary to mitigate the coronavirus pandemic. Therefore, geographic analysis of this area was performed using data provided by the vulnerability map of the Coronavirus web in Colombia by the National Planning Department, the Institute for Health Technology Assessment, and the National Administrative Department of Statistics. This geographic analysis made it possible to calculate the variables of population indicator per block, maximum population per sidewalk, and the criterion of compliance with social distancing. When developing the vulnerability and social distancing maps, it became evident that 37% of the sidewalks do not comply with the 2 meters of social distancing between people, so we propose extending them to 3.5 meters and reducing this same value in the vehicular space to design an effective social distancing map. We concluded that the widening of the sidewalks allows flexible use of the streets oriented to a healthy distance, which could be complemented with an accessibility study and a study of vehicular traffic to measure the impact of this intervention.
Keywords
Pedestrian mobility, social distancing, coronavirusMovilidad peatonal, distanciamiento social, coronavirus
References
[1] Alcaldía local de Chapinero, "UPZ de la localidad de Chapinero", 2020. Available: http://www.chapinero.gov.co/content/UPZ-la-localidad-chapineroJ. Zhang and N. Tansu, "Optical gain and laser characteristics of InGaN quantum wells on ternary InGaN substrates," IEEE Photon. J., vol. 5, no. 2, Apr. 2013, Art no. 2600111.
[2] Secretaría Distrital de Planeación, "Boletín estadístico Dinámica Empresarial de Bogotá IV trimestre de 2019", 2020. Available: http://www.sdp.gov.co/system/tdf/repositorio-dice/dice201-dinamicaempresarial-31122019.pdf?file=1&type=node&id=22271&force=1
[3] Secretaría Distrital de Planeación, "Diagnóstico de los principales aspectos territoriales, de infraestructura, demográficos y socioeconómicos: Chapinero 2017", 2018. Available: http://www.sdp.gov.co/system/tdf/repositorio-dice/dice064-monografiachapinero-2017_vf.pdf?file=1&type=node&id=18966&force=1
[4] Secretaría Distrital de Planeación, "Boletín estadístico número 5", 2018. Available: http://www.sdp.gov.co/gestion-estudios-estrategicos/informacion-cartografia-y-estadistica/consulta?page=1
[5] Robledo Restrepo, J. M., & Galarza Molina, D, "Movilidad sostenible en acción", 2017.
[6] NACTO, "Urban Street Design Guide", 2013.
[7] Coronavirus Colombia, "Mapa de Vulnerabilidad", 2020. Available: https://coronaviruscolombia.gov.co/Covid19/estadisticas-covid-19/mapa-vulnerabilidad.html
[8] D. DeCaprio, J. Gartner, T. Burgess, S. Kothari, S. Sayed, C. McCall, "Building a COVID-19 Vulnerability Index", 2020. Available: https://doi.org/10.1101/2020.03.16.20036723
[9] Programa de las Naciones Unidas para el Desarrollo (PNUD), "UNDP GRANDATA", 2020. Available: https://covid.grandata.com/methodology
[10] Secretaría Distrital de Movilidad, "Encuesta de movilidad", 2019.
[11] Departamento Administrativo Nacional de Estadística (DANE), "Nota metodológica del Índice de Vulnerabilidad por Manzana", 2020. Available: https://www.dane.gov.co/files/comunicados/Nota_metodologica_indice_de_vulnerabilidad.pdf
[12] Secretaria de Movilidad del Gobierno de la Ciudad de México, "Plan de apertura del Centro Histórico de la CDMX - hacia la nueva normalidad en el CH", 2020. Available: https://semovi.cdmx.gob.mx/storage/app/media/200627_MovilidadJDG_NuevaMovilidadCH

How to Cite
Sánchez Gómez, J. S., & Gutiérrez Aguilar, L. A. (2022). A Geographical Method for Assessing Social Distancing as a Preliminary Tool for Implementation Planning. A Case Study: Chapinero, Bogota. Ingenieria Y Universidad, 26. https://doi.org/10.11144/Javeriana.iued26.gmas
Section
Special Section: Sustainable Development
This work is licensed under a Creative Commons Attribution 4.0 International License.