Universitas Scientiarum
Universitas Scientiarum (Univ. Sci.) (ISSN: 0122-7483; E-ISSN: 2027-1352) is a multidisciplinary, Open-Acces, peer-reviewed, first online journal devoted to the promotion of the recent progresses in all fields of exact and natural sciences. The objective of Uni. Sci. is to publish timely (three times per year: April, August and December) useful and informative results that will be of value to a general audience. All articles published in Univ. Sci. have undergone rigorous peer review by at least two international anonymous referees. Uni. Sci. was founded in 1987 by the Faculty of Sciences of the Pontificia Universidad Javeriana, Bogotá, D.C., Colombia.
PLEASE VISIT THE JOURNAL HOMEPAGE: http://ciencias.javeriana.edu.co/investigacion/universitas-scientiarum
Aims and scope
Univ. Sci. is an multi-disciplinary & inter-disciplinary journal that offers prompt publication of original theoretical and experimental papers related to all branches of science. The scope extends to, but is no restricted to: mathematics & statistics, physics, chemistry, biochemistry, biology, natural history, genetics & evolution, taxonomy & systematics, biodiversity, biogeography, ecology and conservation biology.
Univ. Sci. publishes only original research articles (theoretical and experimental) in English and, by direct invitation, topical reviews. Once it has been accepted, every paper is published as first online (free open access). We print also an issue three times a year (April, August and December).
Univ. Sci. permits the authors to use the publisher's or published PDF version on their personal or their institution´s web page or in a noncommercial repository. Univ. Sci. has no processing fees for authors (no publication charge for page, color figures, processing, hosting, or PDF use) neither for the readers, which are allowed to download the manuscripts for free.
Advantages when publishing in Univ. Sci.
-   Fast review processing. The time to first online publication is less than three months (antiplagiarism by iThenticateTM)
-   Articles published as soon as they are accepted (first online)
-   Rigorous international peer-review process (standard publication ethics, COPE)
-   Unrestricted open access
-   No pages charges
-   Color page free of charge
-   Free PDF
-   Paper citation update (analytics)
-   Univ. Sci. is registered under a Creative Commons Attribution 4.0 International Public License
Facts and figures
-   International standard serial number (ISSN): 0122-7483. E-ISSN: 2027-1352
-   Publisher: Faculty of Sciences, Pontificia Universidad Javeriana.
-   Frequency: Three times per year.
-   Subject category: Scopus (Q3), Publindex (A2), 5th in Latin America (Scimago).
Abstracting/indexed in:
Academia, AGORA, ASFA, Chemical Abstracts (CA), COPERNICUS, Directory of Open Access Journals (DOAJ), e-revist@s, Google Academic, HINARI, ISI Web of Knowledge, Latindex, LILACS, Periódica, Redalyc, SciELO, Scopus, Sherpa/Romeo and National Bibliographic Index and Publindex, Thomson Reuters, ULRICHSWEB, Zenodo, ZOOLOGICAL RECORDS,SciELO Citation Index.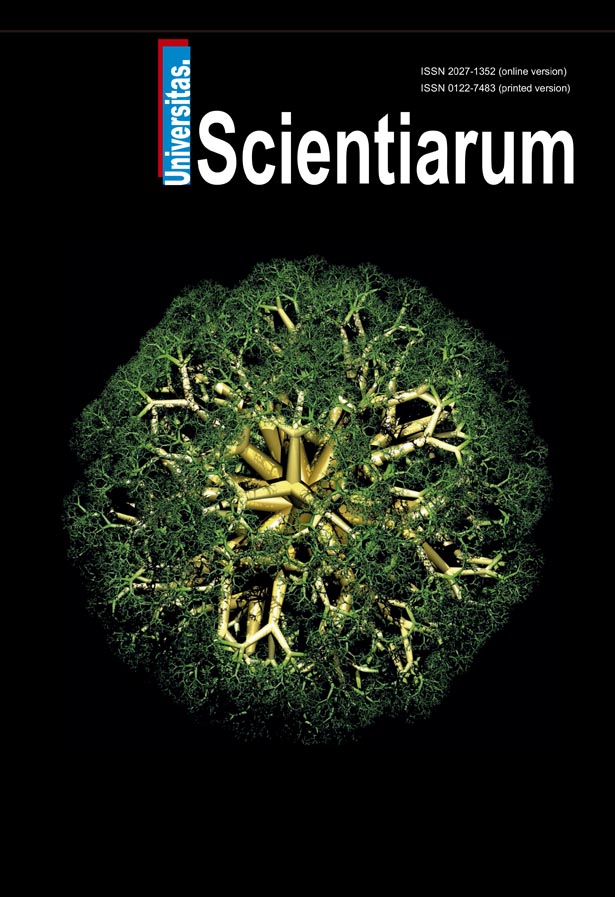 Univ. Sci. is registered under a Creative Commons Attribution 4.0 International Public License. Thus, this work may be reproduced, distributed, and publicly shared in digital format, as long as the names of the authors and Pontificia Universidad Javeriana are acknowledged. Others are allowed to quote, adapt, transform, auto-archive, republish, and create based on this material, for any purpose (even commercial ones), provided the authorship is duly acknowledged, a link to the original work is provided, and it is specified if changes have been made. Pontificia Universidad Javeriana does not hold the rights of published works and the authors are solely responsible for the contents of their works; they keep the moral, intellectual, privacy, and publicity rights. Approving the intervention of the work (review, copy-editing, translation, layout) and the following outreach, are granted through an use license and not through an assignment of rights. This means the journal and Pontificia Universidad Javeriana cannot be held responsible for any ethical malpractice by the authors. As a consequence of the protection granted by the use license, the journal is not required to publish recantations or modify information already published, unless the errata stems from the editorial management process. Publishing contents in this journal does not generate royalties for contributors.