ISSN: 2027-3444 (online) | ISSN: 0120-4319 (print)
Universitas Odontologica is an open access scientific peer-reviewed journal published by the Pontifical Xavierian University Dental School from Bogota, Colombia. The journal publishes high-quality original dental research produced in and about Iberic-America. Universitas Odontologica sections cover different application scopes: health care management and professional practice issues; bioethics; basic sciences, biotechnology, and bioinformatics; scientometrics, literature analysis, and scientific writing; dental education; dental materials and laboratory; clinical practice; buccal public health and epidemiology; and specific current topics in thematic dossiers. It is published every six months and accepts manuscripts in Spanish, English, and Portuguese.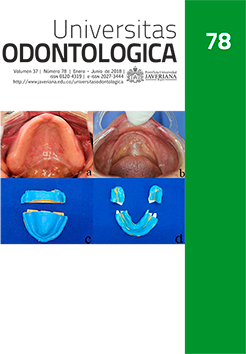 This issue includes the thematic dossier Contemporary Treatment of the Edentulous Patient, as well a other articles in our regular sections created by application scope.
Claudia Patricia Rivero Márquez, Jorge Enrique Delgado Troncoso, Sandra Cecilia Delgado Troncoso
Thematic Dossier
Johan Escolano Rivas, Silvia Barrientos Sánchez, Adriana Rodríguez Ciodaro
Dental Materials and Lab
Ligia Johanna Vásquez Domínguez, Guillermo Arreola Martínez, Jaime Larriva Loyola, Adriana Rodríguez Ciódaro, Edgar Humberto Güiza Cristancho
Public Health and Oral Epidemiology
Luis Alberto Quintana Salgado, Luis Javier Espinoza Hernández, José Javier Rodríguez Vílchez, Carlos David Guerrero Midence, Harley José Rugama Díaz