Descolonización del conocimiento local: el cine arhuaco como forma de oposición cultural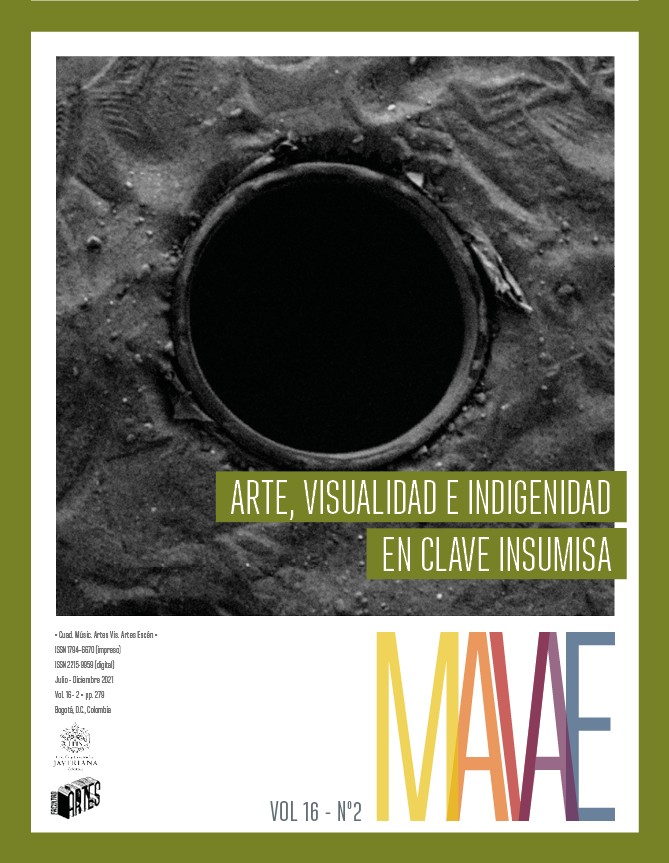 Publicado jul 4, 2021
##plugins.themes.bootstrap3.article.details##
Resumen
¿Puede el cine, como forma de comunicación intercultural, servir como un aparato para la autoidentificación y la oposición cultural a los centros de producción de conocimiento establecidos en el noroeste? A partir de un extenso trabajo de campo en Sierra Nevada y un análisis detallado de las películas arhuacas y de sus estrategias de producción y distribución, este artículo explora la posibilidad de utilizar el cine y la comunicación audiovisual como una forma de descolonizar el conocimiento local. Luego de décadas de persecuciones, hostilidad, malos tratos y violencia cultural, el trabajo de los colectivos de comunicación Zhigoneshi (y, más adelante, Yosokwi) no solo ayudó a nutrir la identidad cultural de las comunidades indígenas de la Sierra Nevada de Santa Marta, sino que también los convirtió en orgullosos embajadores de los valores indígenas a nivel internacional. Prolíficos en sus prácticas de comunicación interna y externa, recuperaron la agencia como participantes plenos del diálogo intercultural, que se centra en la importancia de la inclusión, diversidad y des-occidentalización del conocimiento local. Si bien reconoce sus propias limitaciones y la inevitable posicionalidad del autor, este artículo también reflexiona sobre los pasos adicionales que los colaboradores y las instituciones europeos y occidentales deben tomar para lograr la visión de la descolonización. Se concluye reconociendo el trabajo de los cineastas arhuacos y sus aliados al brindar una contribución invaluable para fortalecer esta discusión y permitir el cambio hacia un patrón más integral de producción y difusión del conocimiento basado en la calidad e importancia y menos en los preconceptos estereotípicos y la ubicación geográfica.
Keywords
cinematografía, descolonización, comunicación intercultural, arhuacos, autoconservación, conocimiento localfilmmaking, decolonisation, intercultural communication, Arhuacos, self-preservation, local knowledgecinematografia, descolonização, comunicação intercultural, arhuacos, autopreservação, conhecimento local
References
Bhabha, Homi. 2004. The Location of Culture. London and New York: Routledge

Bhambra, Gurminder K. 2014.
"Postcolonial and decolonial dialogues". Postcolonial Studies, 17:2, 115-121, DOI: 10.1080/13688790.2014.966414

Dicks, Bella. 2004. Culture on Display: The Production of Contemporary Visitability. (Issues in Cultural and Media Studies), London: Open University Press

Ereira, Alan. 2009. The Elder Brother's Warning.

Ereira, Alan. 1992. The Heart of the World.

Fanon, Franz. 1965. A Dying Colonialism. New York: Grove Press.

Geertz, Clifford. 2000. The Interpretation of Cultures. New York: Basic Books.

Gilbert, Helen and Gleghorn, Charlotte. 2014. Eds. Recasting Commodity and Spectacle in the Indigenous Americas. London: Institute of Latin American Studies, School of Advanced Study, University of London.

Ginsburg, Faye. 1991. "Indigenous Media: Faustian Contract or Global Village." Cultural Anthropology, Vol. 6, No.1, pp92-112, Wiley.

Gleghorn, Charlotte. 2013. "Reconciliation en minga: Indigenous Video and Social Justice in Colombia." Journal of Latin American Cultural Studies. 22:2, 169-194.

Hall, Stuart. Ed. 1997. Representation: Cultural representations and signifying practices. London: Sage Publications.

Hearne, Joanna. 2012. Native Recognition. Indigenous Cinema and the Western. New York: Suny Press, State University of New York Press.

Hendry, Joy. 2005. Reclaiming Culture. Indigenous People and Self- Representation. New York: Pelgrave Macmillan.

Leuthold, Stephen. 1998. Indigenous Aesthetics, Native Art, Media and Identity. Austin: University of Texas Press.

López Mape, Valentina. 2014. "VOSTF Entrevista a Amado Villafaña, codirector del documental Resistencia en la línea negra". October 12, 2014. Interview, 14:50. https://www.youtube.com/ watch?v=rEoY5AcN46Q

Lulkowska, Agata. 2018. "Voice of the Arhuacos: Transcending the Borders of "Indigenous" Filmmaking in Colombia." The Journal of Communication and Media Studies. Common Ground Research Network. 4(2).

Lulkowska, Agata. 2020. "The Voice of the Sierra Nevada: Intercultural Communication and De-colonial Strategies in the Arhuaco Filmmaking and Collaborations." Anthrovision Vaneasa Online Journal. Vol. 7.2.

MacDougall, David. 2006. The Corporeal Image: Film, Ethnography and the Senses. Princeton and Oxford: Princeton University Press.

MacDougall, David. 1998. Transcultural Cinema. Princeton University Press.

McLuhan, Marshall. 1964. Understanding Media. Routledge.

Mora, Pablo. Ed. 2015. Poéticas de la Resistencia. El Video Indígena en Colombia. Bogotá: Cinemateca Distrital.

Nichols, Bill. 1991. Representing Reality: Issues and Concepts in Documentary. Blooming and Indianapolis: Indiana University Press.

Nichols, Bill. 1994. Blurred Boundaries: Questions of Meaning in Contemporary Culture. Bloomington and Indianapolis: Indiana University Press.

Raheja, Michelle H. 2014. "'Will making movies do the sheep any good?' The afterlife of Native American images.|" Recasting commodity and spectacle in the indigenous Americas. London: School of Advanced Study: University of London.

Rony Tobing, Fatimah. 1996. The Third Eye: Race, Cinema and Ethnographic Spectacle. Durham and London: Duke University Press

Ruby, Jay. 2000. Picturing Culture. Explorations of Film and Anthropology. Chicago and London: The University of Chicago Press.

Russell, Catherine. 1999. Experimental Ethnography: The Work of Film in the Age of Video. Durham and London: Duke University Press.

Schiwy, Freya. 2009. Indianizing Film. Decolonization, The Andes, and the Question of Technology. New Brunswick, New Jersey, and London: Rutgers University Press.

Torres Márquez, Vicencio. 1978. Los Indios Ahuacos y "La Vida de la Civilisation." Bogotá: Libreria y Editorial America Latina.

de Vinalesa, Padre Jose. 1952. Indios Arhuacos de la Sierra Nevada de Santa Marta; Descripción geográfica - Costumbres de los Indios, Idioma Arhuaco. Bogotá: Editorial Iqueima.
Cómo citar
Lulkowska, A. (2021). Descolonización del conocimiento local: el cine arhuaco como forma de oposición cultural. Cuadernos De Música, Artes Visuales Y Artes Escénicas, 16(2), 132–149. https://doi.org/10.11144/javeriana.mavae16-2.dlka (Original work published 1 de julio de 2021)
Esta obra está bajo una licencia internacional Creative Commons Atribución 4.0.