Shekuita o el mal trueno: documental performativo, conflictos ontológicos y descolonización de lo real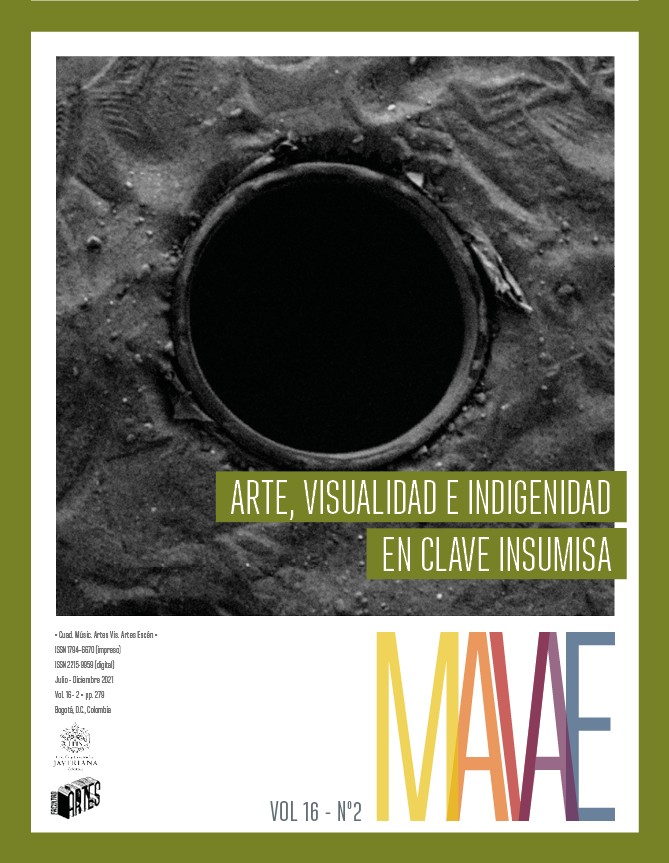 Publicado jul 4, 2021
##plugins.themes.bootstrap3.article.details##
Resumen
Este artículo analiza las implicaciones ontológicas y el carácter performativo del documental Shekuita o el mal trueno, lanzado en 2017 por un colectivo de producción audio- visual indígena wiwa en la Sierra Nevada de Santa Marta en Colombia. El documental explora las causas, dudas y consecuencias de un triste incidente ocurrido tres años antes: la caída de un rayo sobre una edificación ceremonial de los wiwas, que causó la muerte a casi una docena de líderes. A partir del contraste entre las explicaciones científicas de la tragedia y las que han investigado las autoridades espirituales de la comunidad desde sus ontologías relacionales, y basándonos en un trabajo de campo cuasietnográfico durante el proceso de filmación, buscamos dar cuenta de un caso específico de descolonización de lo real y de los esfuerzos de una comunidad indígena por la libre expresión y la representación autónoma. Encontramos que este documental abre puertas de forma artística a mundos otros, contados en clave insumisa desde una indigenidad que nos interpela. Concluimos que los wiwas performan un realidad que no necesariamente es la que vivieron, sino una que les permite estratégicamente alcanzar más fácilmente la realidad que quieren recuperar. El artículo intenta contribuir a la visibilización de otras ontologías distintas de la naturalista, a mostrar las autocríticas de esta y a manifestar cómo el audiovisual es un espacio propicio para descolonizar lo real.
Keywords
documentary, ontologies, nature, natives, Wiwasdocumental, ontologias, natureza, indígenas, wiwasdocumental, indígenas, ontologías, naturaleza, wiwas
References
Blaser, Mario. 2009. "Political Ontology". Cultural Studies 23, n.o 5-6: 873-896. Blaser, Mario. 2019. "Reflexiones sobre la ontología política de los conflictos medioambientales". América Crítica 3, n.o 2: 63-79.

Bruzzi, Stella. 2011. "Documentary, Performace and Questions of Authenticity: On British FIlmmakers Molly Dineen and Nick Broomfield". Zdok 1, n.o 1: 1-10.

Chakravartty, Anjan. 2017. Scientific Ontology: Integrating Naturalized Metaphysics and Voluntarist Epistemology. Oxford: Oxford University Press.

Davies, Caleb. 2020. "Cómo la ciencia está desentrañando el misterio de los rayos y las tormentas eléctricas". El País, 3 de noviembre. Acceso el 17 de abril de 2021. https://elpais.com/ciencia/2020-11-02/ como-la-ciencia-esta-desentranando-el-misterio-de-los-rayos-y-las- tormentas-electricas.html.

De la Cadena, Marisol y Mario Blaser. 2018. A World of Many Worlds. Durham: Duke University Press.

Dwyer, Joseph. 2008. "Do Cosmic Rays Cause Lightning?". Scientific American, 24 de enero. Acceso el 17 de abril de 2021. https://www. scientificamerican.com/article/experts-do-cosmic-rays-cause-lightning/.

Dwyer, Joseph y Martin Uman. 2014. "The Physics of Lightning". Physics Reports, n.o 534: 147-241.

Escobar, Arturo. 2012. "Cultura y diferencia: La ontología política del campo de cultura y desarrollo". Wale'keru: Revista de Investigación en Cultura y Desarrollo, n.o 2: 1-10.
Hustis, Harriett. 2017. "'The Only Survival, The Only Meaning': The Structural Integrity of Thornton Wilder's Bridge in John Hersey's Hiroshima". Assay: A Journal of Nonfiction Studies 4, n.o 1: 1-22.

Kitchin, Rob y Tracey Lauriault. 2014. "Towards Critical Data Studies: Charting and Unpacking Data Assemblages and Their Work". En Thinking Big Data in Geography New Regimes, New Research, editado por Jim Thatcher, Andrew Shears y Josef Eckert, 3-20. Nebraska University Press.

Kofman, Ava. 2018. "Bruno Latour, the Post-Truth Philosopher, Mounts a Defense of Science". New York Times, 25 de octubre. Acceso el 17 de abril de 2021. https://www.nytimes.com/2018/10/25/magazine/ bruno latour-post-truth-philosopher-science.html.

Latour, Bruno y Steve Woolgar. 1986. Laboratory Life: The Construction of Scientific Facts. Princeton: Princeton University Press.

Le Roy, Frederik y Robrecht Vanderbeeken. 2018. "The Documentary Real: Thinking Documentary Aesthetics". Foundations of Science 23, n.o 2: 197-205.

Manrique, Carlos Eduardo. 2014. "Luto en la Sierra Nevada". El Espectador, 7 de octubre. Acceso el 17 de abril de 2021. https://www.elespectador. com/noticias/nacional/luto-en-la-sierra-nevada/.

Mojica, Rafael. Shekuita o el mal trueno; 2017. Bunkuaneimun.

Mora Calderón, Pablo. 2018. Máquinas de visión y espíritu de indios: Seis ensayos de antropología visual. Bogotá: Idartes.

Romps, David, Jacob Seely, David Vollaro y John Molinari. 2014. "Projected Increase in Lightning Strikes in the United States Due to Global Warming". Science 346, n.o 6211: 851-854.

Stengers, Isabelle. 2005. "Introductory Notes on an Ecology of Practices". Cultural Studies Review 1, n.o 1: 183-196.

Ulloa, Astrid. 2016. "Justicia climática y mujeres indígenas en América Latina". LASA Forum 47, n.o 4: 12-16.

Viveiros de Castro, Eduardo. 2013. La mirada del jaguar: Introducción al perspectivismo amerindio. Buenos Aires: Tinta Limón.

Wilder, Thornton. (2004). El puente de San Luis Rey. Barcelona: Edhasa
Cómo citar
Valencia Rincón, J. C., & Restrepo Hoyos, P. A. (2021). Shekuita o el mal trueno: documental performativo, conflictos ontológicos y descolonización de lo real. Cuadernos De Música, Artes Visuales Y Artes Escénicas, 16(2), 118–131. https://doi.org/10.11144/javeriana.mavae16-2.smtd (Original work published 1 de julio de 2021)
Esta obra está bajo una licencia internacional Creative Commons Atribución 4.0.