Signos, síntomas y alteraciones posturales en pacientes diagnosticados con trastornos de la articulación temporomandibular / Signs, Symptoms, and Postural Changes in Patients Diagnosed with Temporomandibular Joint Disorders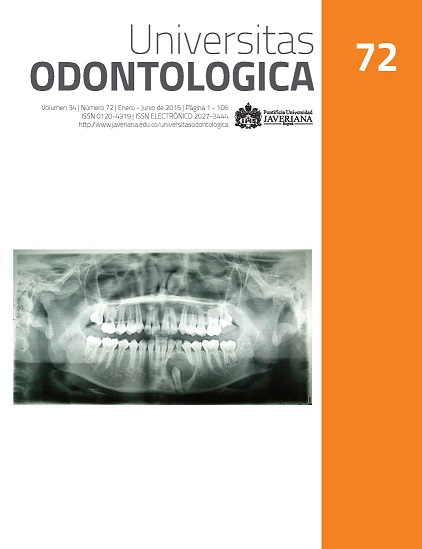 Publicado Jun 25, 2015
Descargas

##plugins.themes.bootstrap3.article.details##
Resumen
Antecedentes: Muchas investigaciones analizan la frecuencia de signos, síntomas y alteraciones posturales de cabeza en pacientes con trastornos de la articulación temporomandibular (TTM); sin embargo, existe controversia en cuanto a las frecuencias encontradas por los diferentes autores. Objetivo: Reportar la frecuencia de signos y síntomas en un grupo de personas con TTM e identificar si existe alguna relación entre los TTM y el balance postural de la cabeza y el cuello en dichos pacientes. Métodos: Se realizó un estudio de tipo observacional transversal con 27 pacientes del servicio de cirugía maxilofacial de un hospital de III nivel de la ciudad de Cali, Colombia. Se usó el formato de criterios diagnósticos para la investigación de trastornos temporomandibulares (CDI/TTM) para evaluar la presencia de signos y síntomas relacionados con los TTM, así como un programa de análisis postural por imagenología computarizada para identificar las características posturales de cabeza más comunes. Se utilizó la prueba de independencia chi cuadrado para analizar la relación entre estas variables. Resultados: El signo más frecuente fue la desviación en apertura mandibular (70 %). Los síntomas más prevalentes fueron el dolor de cabeza (96 %) y la limitación en la actividad más reportada fue la masticación (93 %). Conclusión: La postura corporal tiene una relación importante con la presencia de signos y síntomas de TTM. La cabeza adelantada presentó una relación estadísticamente significativa con el dolor a la palpación en el músculo temporal (p < 0,05).
Background: Several studies analyze the frequency of signs, symptoms, and postural changes of the head in patients with temporomandibular joint disorders (TMD). However, there is controversy around the frequencies reported by the different authors. Aim: To report the frequency of signs and symptoms in a group of patients with TMD and to identify whether TMD is related to the postural balance of the head and neck in those patients. Methods: This was a cross-sectional observational study with 27 patients from the maxillofacial surgery service of a third-level hospital in Cali, Colombia. TMD symptomatology was assessed through the research diagnostic criteria for temporomandibular disorders (RDC/TMD) method. Likewise, head postural features were studied with software for digital imagining postural analysis. Results: The most frequent sign was deviation jaw during opening (70 %). The most common symptom was headache (96 %) and the most limited activity was mastication (93 %). Conclusions: Body posture is associated with the presence of TMD signs and symptoms. Forward head showed a statistically significant association with pain during palpation of the temporal muscle.
References
1. Tjakkes GE, Reinders J, Tenvergert EM, Stegenga B. TMD pain: the effect on health related quality of life and the influence of pain duration. Health Qual Life Outcomes. 2010; 8(46): 1-8.
2. Bastos C, Medeiros A, Thomaz L, Giuseppe A, Seabra G. Quality of life and general health in patients with temporomandibular disorders. Braz Oral Res. 2013. 27(2): 116-21.
3. Corsini G, Fuentes R, Bustos L, Borie E, Navarrete A, Navarrete D, Fulgeri B. Determinación de los signos y síntomas de los trastornos temporomandibulares, en estudiantes de 13 a 18 años de un Colegio de la comuna de Temuco, Chile. Int J Morphol. 2005; 23(4): 345-52.
4. de Felicio CM, Gontijo T, da Silva MA, de Aquino AM, Junqueira C. Temporomandibular disorder: relationship between otologic and orofacial symptoms. Rev Bras Otorrinolaringol. 2004; 70(6): 786-793.
5. Bonjardim LR, Gavião M, Pereira L, Castelo PM, Garcia RC. Signs and symptoms of temporomandibular disorders in adolescent. Bras Oral Res. 2005; 19(2): 93-8.
6. Manfredini D, Guarda-Nardini L, Winocur E, Piccotti F, Ahlberg J, Lobbezoo F. Research diagnostic criteria for temporomandibular disorders: a systematic review of axis I epidemiologic findings. Oral Radiol Endod. 2011; 112(4): 453-62.
7. Feteih R. Los signos y síntomas de los trastornos temporomandibulares y parafunciones orales en adolescentes urbanos de Arabia Saudita: un informe de investigación. Head Face Med. 2006; 2: 25.
8. Grau L, Fernández L, Gonzales G, Osorio M. Algunas consideraciones sobre los trastornos temporomandibulares. Rev Cubana Estomatol. 2005; 42(3): 1-11.
9. Rakesh N, Yashoda B, Jatti D, Nagi R. Assessment of cervical spine postural disorders in patients with temporomandibular dysfunction: a radiographic evaluation. Oral Radiol. 2014; 30: 38-44.
10. Makofsky H, Sexton T, Diamond D, Margherita T. The Effect of head posture on muscle contact position using the T- Scan system of occlusal analysis. Cranio. 1991; 9(4): 316-21.
11. Üsümez S, Oshan M. Inclinometer method for recording and transferring natural head position in cephalometrics. Am J Orthod Dentofac Orthop. 2001; 120(6): 664-70.
12. Barnet R, Domínguez L, Muguercia A, Reimondo R. Frecuencia y sintomatología de las disfunciones temporomandibulares. Rev Cub Ortod. 1998; 13(1): 7-12.
13. Díaz W, Guzmán C, Ardila C. Prevalencia y necesidad de tratamiento de trastornos temporomandibulares en una población chilena. Arch Med Camagüey. 2012; 16(5): 602-9.
14. Mohammad S, Jamel M. Retrospective study of a series of 203 patients with temporomandibular joint disorders presenting at School of Dentistry, University of Sulaimani. Europ Sci J. 2014; 10(9): 218-25.
15. Bella M, Vega W, Yáñez M, Alegría L, Padilla L, Navarrete H, Marholz G. Trastornos temporomandibulares: Perfil clínico, comorbilidad, asociaciones etiológicas y orientaciones terapéuticas. Av Odontoestomatol. 2010; 26(4): 209-16.
16. Lauriti L, Motta LJ, de Godoy CH, Biasotto-Gonzalez DA, Politti F, Mesquita-Ferrari RA, Fernandes KP, Bussadori SK. Influence of temporomandibular disorder in temporal and masseter muscles and occlusal contacts in adolescents: an electromyographic study. BMC Musculoskeletal Disord. 2014; 15: 123.
17. Westcott M, Sanchez TG, Diges I, Saba C, Dineen R, McNeill C, Chiam A, O'Keefe M, Sharples T. Tonic tensor tympani syndrome in tinnitus and hyperacusis patients: A multi-clinic prevalence study. Noise Health. 2013; 15(63): 117-28.
18. Limaylla R, Villafana C. Trastornos temporomandibulares y alteraciones posturales de la columna cervical en personal hospitalario. Odontol Sanmarquina. 2008; 11(2): 66-9.
19. Saito ET, Akashi PM, Sacco ide C. Global body posture evaluation in patients with temporomandibular joint disorder. Clinicals (Sao Paulo). 2009; 64(1): 35-9.
20. Cándido A, Bigarán E, Ribeiro M, Rabelo J, Jardel L. Entrenamiento de postura en pacientes portadores de disfunciones temporo-mandibulares. Acta Odontol Venez. 2007; 45 (2): 1-6.
21. Jarmey C, Myers TW. El libro conciso del cuerpo en movimiento. 1a ed. Badalona, España: Paidotribo; 2009.
22. Farias AC, Alves VC, Gandelman H. Estudo da relação entre a disfunção da Articulação Temporomandibular e as alterações posturais. Ver Odontol UNICID. 2001; 13(2): 125-33.
23. García W, Mussolino A, Díaz V. Posture alterations and consequences to stomatognathic system. Acta Odontol Venez. 2008; 46(4): 1-6.
24. Ferraz AM Jr, Guimarães P, Rodrigues MF, Lima RH. Avaliação da prevalência das alterações posturais em pacientes com desordem temporomandibular: uma proposta terapêutica. Rev Serv ATM. 2004; 4: 25-32.
25. Yi LC, Guedes ZC, Vieira MM. Relação da postura corporal com a disfunção da articulação temporomandibular: hiperatividade dos musculos da mastigação. Fisioter Bras. 2003; 4(5): 341-7.
26. Mannheimer J, Rosenthal R. Acute and chronic postural abnormalities as related to craniofacial pain and temporomandibular disorders. Dent Clin North Am. 1991; 35(1): 185-209.
27. Del Sol M, Hunter K. Evaluación postural de individuos mapuche de la zona costera de la IX Región de Chile. Int J Morphol. 2004; 22(4): 339-42.
Cómo citar
Mera Quintero, N., Morales Mutis, L. J., Ordóñez Gómez, D. V., Gómez Cabrera, G. C., & Osorio Toro, S. (2015). Signos, síntomas y alteraciones posturales en pacientes diagnosticados con trastornos de la articulación temporomandibular / Signs, Symptoms, and Postural Changes in Patients Diagnosed with Temporomandibular Joint Disorders. Universitas Odontologica, 34(72), 57-66. https://doi.org/10.11144/Javeriana.uo34-72.ssap