Conocimiento de los profesionales sobre la salud oral durante la gestación: revisión integrativa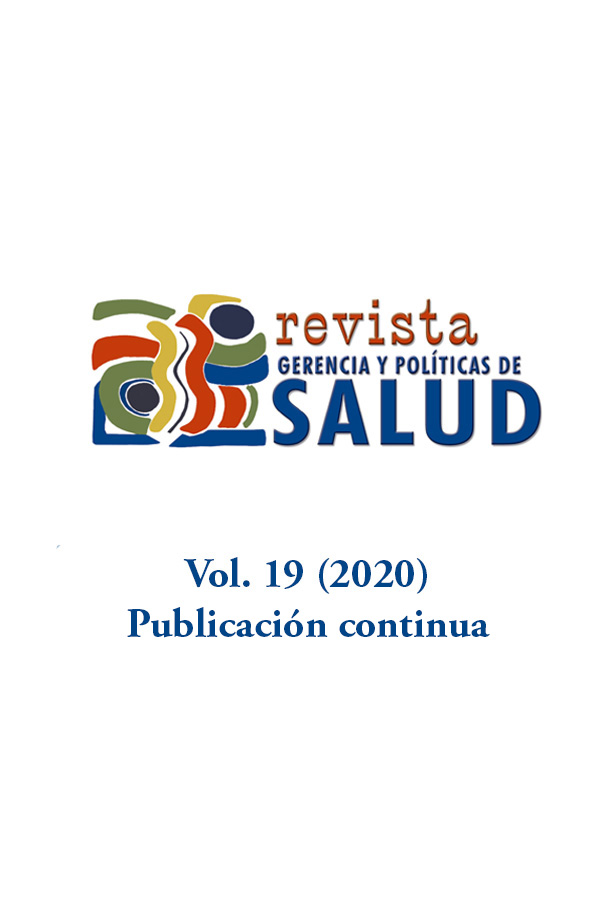 Publicado mar 31, 2020
##plugins.themes.bootstrap3.article.details##
Resumen
Objetivo: Describir el conocimiento de los profesionales involucrados en la realización de la atención prenatal de riesgo habitual (médico, enfermero y odontólogo) acerca de la salud oral en la gestión. Método: Se realizó una revisión integrativa de literatura. La revisión bibliográfica se desarrolló por medio de la búsqueda en Medline, Lilacs y SciELO en el periodo de febrero y marzo de 2019. Se utilizó la técnica PICO para formulación de la pregunta orientadora y el checklist Prisma para extraer y organizar los estudios, de tal forma que la selección fue realizada independientemente por dos autores. La revisión fue dirigida hacia artículos originales que abordaran el conocimiento de los profesionales responsables por la atención prenatal acerca de la salud oral durante la gestación. Resultados: En la búsqueda resultaron seleccionados doce artículos, que abarcaron diferentes categorías profesionales involucradas en el cuidado prenatal. La categorización posibilitó la construcción de tres grandes áreas temáticas que subsidiaron el análisis de los conocimientos descritos: salud oral bajo la perspectiva de inclusión del acompañamiento odontológico en la atención prenatal; alfabetización en salud oral y resultados adversos del embarazo; y fragilidades percibidas y soluciones potenciales. Conclusión: Se constató que hay limitaciones en el conocimiento de los proveedores de la atención prenatal en cuanto a la relación entre salud oral y gestación, lo que refleja la necesidad de estudios, discusiones y formación profesional sobre esta temática para el fortalecimiento de la interdisciplinaridad en el cuidado prenatal.
Keywords
health professionals, prenatal care, oral health, pregnancyprofesionales de la salud, cuidado prenatal, salud oral, gestaciónprofissionais da saúde, cuidado pré-natal, saúde oral, gravidez
References
1. Musskopf ML, Milanesi FC, Rocha JMD, Fiorini T, Moreira CHC, Susin C, et al. Oral health related quality of life among pregnant women: a randomized controlled trial. Braz. Oral. Res. 2018;32. http://www.doi.org/10.1590/1807-3107bor-2018.vol32.0002

2. George A, Dahlen HG, Blinkhorn A, Ajwani S, Bhole S, Ellis, S, et al. Evaluation of a midwifery initiated oral health-dental service program to improve oral health and birth outcomes for pregnant women: A multi-centre randomised controlled trial. Int. J. Nurs. Stud. 2018;82:49-57.

3. Kawar NI, Partovi E, Hildebolt C, McLeod D, Miley DD. Periodontal Disease and Preterm Birth, is There any Relationship? J Interdiscipl Med Dent Sci. 2016;4(2).

4. Faquim JPDS, Frazão P. Perceptions and attitudes on interprofessional relations in dental care during prenatal care. Saúde Em Debate. 2016;40(109):59-69.

5. Ide M, Papapanou PN. Epidemiology of association between maternal periodontal disease and adverse pregnancy outcomes-systematic review. J.Clin Periodontol. 2013;84(Sup 4):S181-194.

6. Hemalatha VT, Manigandan T, Sarumathi T, Aarthi NV, Amudhan A. Dental considerations in pregnancy-A critical review on the oral care. J Clin Diagn Res. 2013;7(5):948-953.

7. George A, Ajwani S, Johnson M, Dahlen H, Blinkhorn A, Bhole S, et al. Developing and Testing of an Oral Health Screening Tool for Midwives to Assess Pregnant Woman. Health Care Women Int. 2014;36(10):1160-1174.

8. Lorenzo-Pouso AI, Pérez-Sayáns M, Suárez-Quintanilla JA, González-Palanca S. Self-assessment of opinions, habits and oral health status by pregnant women in the south of Galicia, Spain. Semergen. 2018;44(2):138-143.

9. Parihar AS, Katoch V, Rajguru SA, Rajpoot N, Singh P, Wakhle S. Periodontal disease: a possible risk-factor for adverse pregnancy outcome. J. Int. Oral Health. 2015;7(7):137- 142.

10. Reddy JJ, Sampathkumar N, Aradhya S. Evaluation of Association between Maternal Periodontal Disease and Infant Preterm Low Birth Weight: A Case Control Study. Oral Health Dent Manage. 2015;14(6):398-404.

11. Levison L, Nanthuru D, Chiudzu G, Kazembe PN, Phiri H, Ramin SM, et al. Qualitative assessment of attitudes and Knowledge on preterm birth in Malawi and within country framework of care. BMC Pregnancy Childb. 2014;14(1):123.

12. Gupta S, Jain A, Mohan S, Bhaskar N, Walia PK. Comparative evaluation of oral health knowledge, practices and attitude of pregnant and non-pregnant women, and their awareness regarding adverse pregnancy outcomes. J Clin Diagn Res. 2015;9(11):26-32.

13. Bulut G, Olukman O, Calkavur S. Is there a relationship between maternal periodontitis and pre-term birth? A prospective hospital-based case-control study. Acta Odontol. Scand. 2014;72(8):866-873.

14. Piscoya MDBV, Ximenes RAA, Silva GM, Jamelli SR, Coutinho SB. Periodontitis-associated risk factors in pregnant women. Clinics. 2012;67(1):27-33.

15. Kamal R, Dahiya P, Puri A. Oral pyogenic granuloma: Various Concepts of Etiopathogenesis. J Oral Maxillofac Pathol. 2012;16(1):79-82.

16. Moimaz SA, Rocha NB, Garbin AJ, Garbin CA, Saliba O. Influence of oral health on quality of life in pregnant women. Acta Odontol Latinoam. 2016;29(2):186-193.

17. George A, Johnson M, Blinkhorn A, Ajwani S, Ellis S, Bhole S. Views of pregnant women in South Western Sydney towards dental care and an oral-health program initiated by midwives. Health Promot J Austr. 2013;24(3):178-184.

18. National Health Service. Are pregnant women entitled to free NHS dental treatment? [Internet]. 2016. Disponível em: http://www.nhs.uk/common-health-questions/pregnancy/are-pregnant-women-entitled-to-free-nhs-dental-treatment

19. Dental Health Services Victoria. Clinical Guideline No. CG-A019-02: Dental management of pregnant patients Version 2. Melbourne: Dental Health Services Victoria.

20. American College of Obstetricians and Gynecologits Committee. Opinion No. 569: oral health care during pregnancy and through the lifespan. Obstet Gynecol. 2013;122(2 Pt 1):417-422.

21. Oral Health Care During Pregnancy Expert Workgroup. Oral Health Care During Pregnancy: A National Consensus Statement. Washington: National Maternal and Child Oral Health Resource Center; 2012.

22. Council on Clinical Affairs. Guideline on perinatal oral health care. Chicago: American Academy of Pediatric Dentistry (AAPD); 2011.

23. Nogueira BML, Nogueira BCL, Fonseca RRDS, Brandão GAM, Menezes TODA, Tembra DPDS. Knowledge and attitudes of pregnant women about oral health. Int. J. Odontostomatol. 2016;10(2):297-302.

24. Geisinger ML, Geurs NC, Bain JL, Kaur M, Vassilopoulos PJ, Cliver SP, et al. Oral health education and therapy reduces gingivitis during pregnancy. J. Clin. Periodontol. 2013;41(2):141-148.

25. Merglova V, Koberova-Ivancakova R, Broukal Z, Dort J. The presence of cariogenic and periodontal pathogens in the oral cavity of one-year-old infants delivered pre-term with very low birthweights: a case control study. BMC Oral Health. 2014;14(1):109.

26. Leong PM, Gussy MG, Barrow SYL, Silva‐Sanigorski A, Waters E. A systematic review of risk factors during first year of life for early childhood caries. International journal of pediatric dentistry. 2013;23(4):235-250.

27. Chacko V, Shenoy R, Prasy HE, Agarwal S. Selfreported awareness of oral health and infant oral health among pregnant women in Mangalore, India: a prenatal survey. Int J Health Rehabil Sci. 2013;2(2):109-115.

28. Van Schaik SM, O'brien BC, Almeida SA, Adler S.Perceptions of interprofessional teamwork in low‐acuity settings: a qualitative analysis. Medical Education. 2014;48(6):583-592.

29. Sharif S, Saddki N, Yusoff A. Referral of pregnant women to dentists and advice for dental visit by medical nurses. Med J Malaysia. 2016;71(5):250-255.

30. Riggs E, Yelland J, Shankumar R, Kilpatrick N. 'We are all scared for the baby': promoting access to dental services for refugee background women during pregnancy. BMC Pregnancy Childb. 2016;16(1):12.

31. Jackson JT, Quinonez RB, Kerns AK, Chuang A, Eidson RS, Boggess KA, et al. Implementing a prenatal oral health program through interprofessional collaboration. J. Dent. Educ. 2015;79(3):241-248.

32. Wooten KT, Lee J, Jared H, Boggess K, Wilder RS. Nurse Practitioner's and Certified Nurse Midwives' Knowledge, Opinions and Practice Behaviors regarding Periodontal Disease and Adverse Pregnancy Outcomes. J Am Dent Hyg. 2011;85(2):122-131.

33. Vamos CA, Walsh ML, Thompson E, Daley EM, Detman L, DeBate R. Oral-systemic health during pregnancy: Exploring prenatal and oral health providers' information, motivation and behavioral skills. Matern. Child Health J. 2015;19(6):1263-1275.

34. Whittemore R, Knafl K. The integrative review: Updated methodology. J. Adv. Nurs. 2005;52(5):546-553.

35. Farrugia P, Petrisor BA, Farrokhyar F, Bhandari M. Research questions, hypotheses and objectives. J. Can Chiropr Assoc. 2010;53(4):278-281.

36. Joanna Briggs Institute. Reviewers' Manual [Internet]. 2014. Disponível em: https://joannabriggs.org/assets/docs/sumari/ReviewersManual-2014.pdf

37. Minayo MCDS. O desafio do conhecimento: pesquisa qualitativa em saúde. 14.a ed. São Paulo: Hucitec Editora LTDA; 2014.

38. Moher D, Liberati A, Tetzlaff J, Altman DG. Preferred Reporting Items for Systematic Reviews and Meta-Analyses: The PRISMA Statement. Ann Intern Med. 2009;151(4);264-269.

39. Wilson EH, Farrell C, Zielinski RE, Gonik B. Obstetric provider approach to perinatal oral health. J. Matern.-Fetal Neonatal Med. 2017;30(9):1089-1091.

40. George A, Dahlen H, Reath J, Ajwani S, Bhole S, Korda A, et al. What do antenatal care providers understand and to about oral health care during pregnancy: a cross-sectional survey in New South Wales, Australia. BMC Pregnancy Childb. 2016;16(1):382.

41. Boutigny H, de Moegen ML, Egea L, Badran Z, Boschin F, Delcourt-Debruyne E, et al. Oral Infections and Pregnancy: Knowledge of Gynecologists/Obstetricians, Midwives and Dentists. Oral Health Prev Dent. 2016;14(1):41-47.

42. López-Jonet P, Camacho-Alonso F, Sanchez-Siles M, Molina-Miñano F. Oral and dental health in pregnant women: attitudes among dentists in southeastern Spain. N Y State Dent J. 2014;80(1):38-41.

43. Lee RSY, Milgrom P, Huebner C, Conrad D. Dentists' perceptions of barriers to providing dental care to pregnant women. Women's Health Issues. 2010;20(5):359-365

44. Al-Habashneh R, Aljundi SH, Alwaeli HÁ. Survey of medical doctors' attitudes and knowledge of the association between oral health and pregnancy outcomes. Intl J Dent Hygiene. 2008;6(3):214-220.

45. Nunes-Neto RA, Frutuoso MFP. Oral health and the care of pregnant women: workshops as a strategy to problematize practices in basic health care in residents living in the peripheral areas of the hills in the city of Santos. Rev. Gaúch Odontol. 2018;66(4):305-316.

46. Salama F, Kebriaei A, McFarland K, Durham T. Prenatal counseling for pregnant women: a survey of general dentists. Int. J. Clin. Pediatr. Dent. 2010;34(4):291-296.

47. Kateeb E. Palestinian women's oral health status, knowledge, practices, and access to dental care during pregnancy: a cross-sectional study. The Lancet. 2018;391:S10.

48. May L, Suminski RR, Yeung AY, Linklater ER, Christensen C, Jahnke S. Pregnant patient knowledge of and obstetric provider advice on oral health. J Dent Oral Disord Ther. 2014;2(1):1-6.

49. Ferreira SMSP, Pinheiro ÉS, Silva RV, Silva JF, Batista LD, Fernandes CG. Pré-natal odontológico: acessibilidade e ações ofertadas pela atenção básica de Vitória da Conquista- BA. Rev. Fac. Odontol. Lins. 2016;26(2):3-16.

50. Fagoni TG, de Vasconcelos RA, Cardoso PE, Gomes APM, Camargo CHR, Gonçalves SH. Dental treatment for the pregnant patient. Brazilian Dental Science. 2014;17(3):3-10.

51. Ercan E, Eratalay K, Deren O, Gur D, Ozynuncu O, Altun B, et al. Evaluation of periodontal pathogens in amniotic fluid and the role of periodontal disease in pre-term birth and low birth weight. Acta Odontol. Scand. 2013;71(3-4):553-559.

52. Patil S, Thakur R, Madhu K, Paul ST, Gadicherla P. Oral Health Coalition: Knowledge, Attitude, Practice Behaviours among Gynaecologists and Dental Practitioners. J Int Oral Health. 2013;5(1):8.

53. Gonçalves PM, Sonza QN. Pré-natal odontológico nos postos de saúde de Passo Fundo/RS. J Oral Invest. 2018;7(2):20-32.

54. Hodgson ZG, Saxell L, Christians JK. An evaluation of Interprofessional group antenatal care: a prospective comparative Study. BMC Pregnancy Childb. 2017;17(1):297.

55. Matziou V, Vlahioti E, Perdikaris P, Matziou T, Megapanou E, Petsios K. Physician and nursing perceptions concerning interprofessional communication and collaboration. J. Interprof. Care. 2014;28(6):526-533.
Cómo citar
Rodrigues Bandeira, M. V., Macedo do Vale, T., Pinheiro Francimat, L., Bezerra dos Anjos, S. de J. S., & Rodrigues Ferreira Júnior, A. (2020). Conocimiento de los profesionales sobre la salud oral durante la gestación: revisión integrativa. Gerencia Y Políticas De Salud, 19, 1–20. https://doi.org/10.11144/Javeriana.rgps19.cpso