Asociación entre índices antropométricos y presencia de apnea obstructiva del sueño en adultos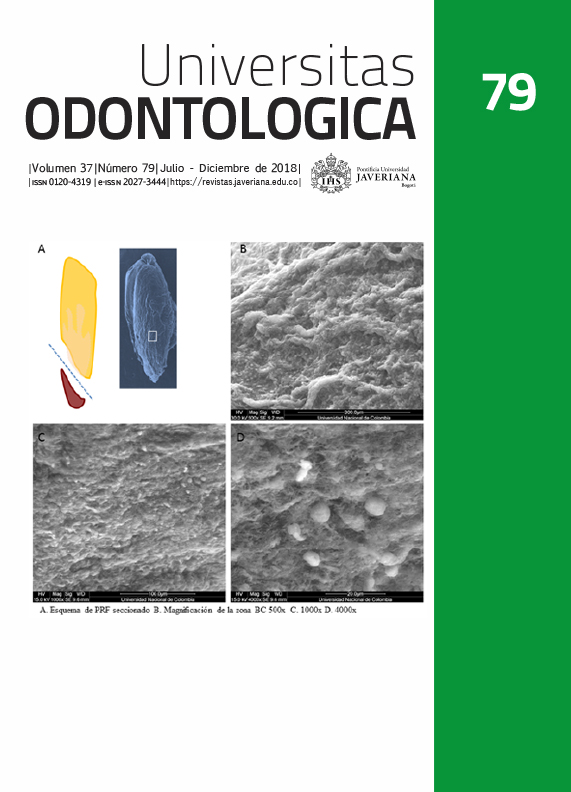 Publicado dic 29, 2018
##plugins.themes.bootstrap3.article.details##
Resumen
Antecedentes: La apnea obstructiva del sueño (AOS) es un trastorno del sueño altamente prevalente producido por una obstrucción anatómica o neuromuscular de la vía aérea superior. Propósito: Identificar la asociación entre los índices antropométricos: circunferencia de cuello (CC), perímetro abdominal e índice de masa corporal (IMC), con la presencia de AOS en adultos. Métodos: Se realizó un estudio observacional retrospectivo de casos y controles en 353 individuos entre 18 y 82 años de edad con diagnóstico polisomnográfico de AOS. Se correlacionó el índice apnea hipoapnea con los índices antropométricos y los datos demográficos. El grupo control estuvo conformado por 105 adultos sin AOS y el de estudio por 248 pacientes con diagnóstico de AOS. Para determinar la asociación entre las variables se utilizaron las pruebas de Chi cuadrado de Pearson y odds ratio. Resultados Se encontró una asociación estadísticamente significativa entre el IMC y la CC, que estaban aumentados con la presencia de AOS en adultos. La presencia de AOS fue mayor en mujeres y hombres entre 56 y 82 años. Conclusiones: Las medidas antropométricas IMC y CC son factores de riesgo de AOS en adultos.
Keywords
breathing disorders, dentistry, sleep medicine, anthropometric indexes, Body Mass Index, neck circumference, obesity, obstructive sleep apneadesórdenes de la respiración, medicina del sueño, odontología, apnea obstructiva del sueño, circunferencia de cuello, índices antropométricos, índice de masa corporal, obesidaddistúrbios respiratórios, odontologia, medicina do sono, índices antropométricos, índice de massa corporal, circunferência do pescoço, obesidade, apneia obstrutiva do sono
References
1. Chiba S, Tamura Y. Clinical features of sleep disorders in older adults. Nihon Rinsho. 2015 Jun; 73(6): 900-6.
2. Sateia MJ. International classification of sleep disorders third-edition: Highlights and modifications. Chest. 2014 Nov; 146(5): 1387-94.
3. Subramanian S, Jayaraman G, Majid H, Aguilar R, Surani S. Influence of gender and anthropometric measures on severity of obstructive sleep apnea. Sleep Breath. 2012 Dec; 16(4): 1091-5.
4. Yaggi HK, Strohl KP. Adult obstructive sleep apnea/hypopnea syndrome: definitions, risk factors, and pathogenesis. Clin Chest Med. 2010 Jun; 31(2): 179-86.
5. Paulo de Tarso M Borges, Edson Santos Ferreira Filho, Telma Maria Evangelista de Araujo, Jose Machado Moita Neto, Nubia Evangelista de Sa Borges, Baltasar Melo Neto, Viriato Campelo, Jorge Rizzato Paschoal, Li M Li. Correlation of cephalometric and anthropometric measures with obstructive sleep apnea severity. Int Arch Otorhinolaryngol. 2013 Jul; 17(3): 321-28.
6. Senaratna CV, Perret JL, Lodge CJ, Lowe AJ, Campbell BE, Matheson MC, Hamilton GS, Dharmage SC. Prevalence of obstructive sleep apnea in the general population: A systematic review. Sleep Med Rev. 2017 Aug 34: 70-81.
7. Koo SK, Ahn GY, Choi JW, Kim YJ, Jung SH, Moon JS, Lee YI. Obstructive sleep apnea in postmenopausal women: a comparative study using drug induced sleep endoscopy. Braz J Otorhinolaryngol. 2017 May - Jun 83(3): 285-91.
8. Lim YH, Choi J, Kim KR, Shin J, Hwang KG, Ryu S, Cho SH. Sex-specific characteristics of anthropometry in patients with obstructive sleep apnea: neck circumference and waist–hip ratio. Ann Otol Rhinol Laryngol. 2014 Jul; 123(7): 517-23.
9. Süleyman Ahbad, Hayriye Esra Ataoğlu, Mazhar Tuna, Levent Karasulu, Faik Çetin, Levent Ümit Temiz, Mustafa Yenigün. Neck circumference, metabolic syndrome and obstructive sleep apnea syndrome; Evaluation of possible linkage. Med Sci Monit. 2013; 19: 111-117.
10. Ahrens A, McGrath C, Hagg U. A systematic review of the efficacy of oral appliance design in the management of obstructive sleep apnoea. Eur J Orthod. 2011 Jun; 33(3): 318-24.
11. R. S. Conley. Evidence for dental and dental specialty treatment of obstructive sleep apnoea. Part 1: the adult OSA patient and Part 2: the paediatric and adolescent patient. J Oral Rehabil. 2011 Feb; 38(2): 136-56.
12. Eastwood PR, Malhotra A, Palmer LJ, Keizirian EJ, Horner RL, Ip MS, Thurnheer R, Antic NA, Hillman DR. Obstructive Sleep Apnoea: From pathogenesis to treatment: Current controversies and future directions. Respirology. 2010 May; 15(4): 587-95.
13. Onat A, Hergenc G, Yüksel H, Can G, Ayhan E, Kaya Z, Dursunoğlu D. Neck circumference as a measure of central obesity: associations with metabolic syndrome and obstructive sleep apnea syndrome beyond waist circumference. Clin Nutr. 2009 Feb; 28(1): 46-51.
14. Matthew L. Ho, Steven D. Brass. Obstructive sleep apnea. Neurol Int. 2011 Nov; 293(3): e15.
15. Maciel Santos ME, Laureano Filho JR, Campos JM, Ferraz EM. Dentofacial characteristics as indicator of obstructive sleep apnoea-hypopnoea syndrome in patients with severe obesity. Obes Rev. 2011 Feb; 12(2): 105-13.
16. Rowley JA, Sanders CS, Zahn BR, Badr MS. Gender differences in upper airway compliance during NREM sleep: role of neck circumference. J Appl Physiol. 2002; 92: 2535-541.
17. Escobar-Córdoba F, Liendo C. Trastornos respiratorios del sueño y alteraciones cardiovasculares. Rev Fac Med. 2012 Jan/Mar; 60(1) :1.
18. Genta PR, Drager LF, Lorenzi Filho G. Screening for Obstructive Sleep Apnea in Patients with Atrial Fibrillation. Sleep MedClin. 2017 Mar; 12(1): 99-105.
19. Xie J, Chahal CAA, Covassin N, Schulte PJ, Singh P, Srivali N, Somers VK, Caples SM. Periodic limb movements of sleep are associated with an increased prevalence of atrial fibrillation in patients with mild sleep-disordered breathing. Int J Cardiol. 2017 Aug 15; 241: 200-04.
20. Muza RT. Central sleep apnoea-a clinical review. J Thorac Dis. 2015 May; 7(5): 930-7.
21. Simpson L, Mukherjee S, Cooper MN, Ward KL, Lee JD, Fedson AC, Potter J, Hillman DR, Eastwood P, Palmer LJ, Kirkness J. Sex differences in the association of regional fat distribution with the severity of obstructive sleep apnea. Sleep. 2010 Apr; 33(4): 467-74.
22. Soylu AC, Levent E, Sariman N, Yurtlu S, Alparslan S, Saygi A. Obstructive sleep apnea syndrome and anthropometric obesity indexes. Sleep Breath. 2012 Dec; 16(4): 1151-8.
23. Young JW, McDonald JP. An investigation into the relationship between the severity of obstructive sleep apnoea/hypopnoea syndrome and the vertical position of the hyoid bone. Surgeon. 2004 Jun; 2(3): 145-51.
24. Tiago V. Barreira, Amanda E. Staiano, Deidre M. Harrington, Steven B. Heymsfield, Steven R. Smith, Claude Bouchard, Peter T. Katzmarzyk. Anthropometric Correlates of Total Body Fat, Abdominal Adiposity, and Cardiovascular Disease Risk Factors in a Biracial Sample of Men and Women. Mayo Clin Proc. 2012 May; 87(5): 452-60.
25. Dancey DR, Hanly PJ, Soong C, Lee B, Shepard J Jr, Hoffstein V. Gender differences in sleep apnea: the role of neck circumference. Chest. 2003 May; 123(5): 1544-50.
26. Davies RJ, Stradling JR. The relationship between neck circumference, radiographic pharyngeal anatomy, and the obstructive sleep apnoea syndrome. Eur Respir J. 1990 May; 3(5): 509-14.
27. Hoffstein V, Mateika S. Differences in abdominal and neck circumferences in patients with and without obstructive sleep apnoea. Eur Respir J. 1992; 5(4): 377-81.
28. World Health Organization. Physical status: the use and interpretation of anthropometry. Report of a WHO expert committee. Technical Report Series. 1995;854.
29. Alberti KG, Eckel RH, Grundy SM, Zimmet PZ, Cleeman JI, Donato KA, Fruchart JC, James WP, Loria CM, Smith SC Jr. Harmonizing the metabolic syndrome: a joint interim statement of the International Diabetes Federation Task Force on Epidemiology and Prevention; National Heart, Lung, and Blood Institute; American Heart Association; World Heart Federation; International Atherosclerosis Society; and International Association for the Study of Obesity. Circulation. 2009 Oct 20; 120(16): 1640-5.
30. Ardila Ardila E, Hernández Triana E. Consenso Colombiano de síndrome metabólico. Asociación Colombiana de Endocrinología. 2006.
31. Epstein LJ, Kristo D, Strollo PJ, Friedman N, Malhotra A, Patill SP, Ramar K, Rogers R, Schwab RJ, Weaver EM, Weinstein MD. Clinical guideline for the evaluation, management and long-term care of obstructive sleep apnea in adults. J Clin Sleep Med 2009; 5(3): 263-76.
32. Katz I, Stradling J, Slutsky AS, Zamel N, Hoffstein V. Do patients with obstructive sleep apnea have thick necks? Am Rev Respir Dis. 1990 May; 141(5 Pt 1): 1228-31.
33. Pinto JA, Ballester de Mello Godoy L, Pinto Brandão Marqui VW, Branco Sonego T, de Farias Aires Leal C, Spadari Ártico M. Anthropometric data as predictors of Obstructive Sleep Apnea severity. Braz J Otorhinolaryngol. 2011; 77(4): 516-21.
34. Cho JH, Choi JH, Suh JD, Ryu S, Cho SH. Comparison of Anthropometric Data Between Asian and Caucasian Patients With Obstructive Sleep Apnea: A Meta-Analysis. Clin Exp Otorhinolaryngol. 2016 Mar; 9(1): 1-7.
35. Mazzuca E, Battaglia S, Marrone O, Marotta AM, Castrogiovanni A, Esquinas C, Barceló A, Barbé F, Bonsignore MR. Gender‐specific anthropometric markers of adiposity, metabolic syndrome and visceral adiposity index (VAI) in patients with obstructive sleep apnea. J Sleep Res. 2014 Feb; 23(1): 13-21.
36. Hora F, Nápolis LM, Daltro C, Kodaira SK, Togeiro SM, Nery LE. Clinical, anthropometric and upper airway anatomic characteristics of obese patients with obstructive sleep apnea syndrome. Respiration. 2007; 74(5): 517-24.
37. Bouloukaki I, Kapsimalis F, Mermigkis C, Kryger M, Tzanakis N, Panagou P, Moniaki V, Vlachaki EM, Varouchakis G, Siafakas NM, Schiza SE. Prediction of obstructive sleep apnea syndrome in a large Greek population. Sleep Breath. 2011 Dec; 15(4): 657-64.
38. Martinez-Rivera C, Abad J, Fiz JA, Rios J, Morera J. Usefulness of truncal obesity indices as predictive factors for obstructive sleep apnea syndrome. Obesity (Silver Spring). 2008 Jan; 16(1): 113-8.
Cómo citar
Márquez Tapia, Y., Calderón Montalvo, G., Cardier González, F. B., Hidalgo Martínez, P., & Otero Mendoza, L. M. (2018). Asociación entre índices antropométricos y presencia de apnea obstructiva del sueño en adultos. Universitas Odontologica, 37(79). https://doi.org/10.11144/Javeriana.uo37-79.aiap