Aplicación clínica del Bruxchecker® en odontología para la evaluación en sueño del patrón de desgaste oclusal / Clinical Application of the Bruxchecker® in Dentistry for Evaluation during Sleep of Occlusal Wear Pattern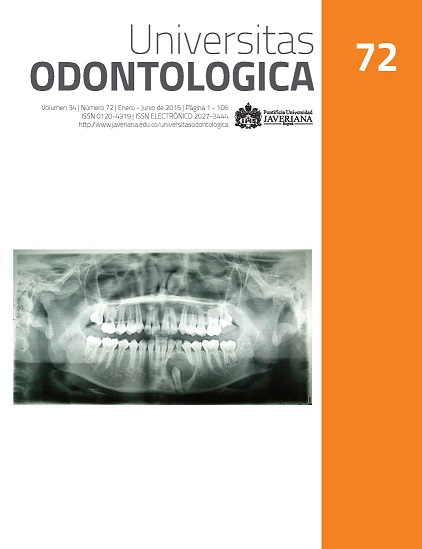 Publicado jun 25, 2015
##plugins.themes.bootstrap3.article.details##
Resumen
Antecedentes: El examen clínico es el método más utilizado para valorar los patrones oclusales. Tiene la limitante de ser realizado en vigilia, cuando una persona controla la expresión real de los contactos en sueño como consecuencia del bruxismo. El Bruxchecker® es un dispositivo novedoso que permite, por medio de inspección visual, analizar los contactos durante la dinámica mandibular en sueño sin alterar la actividad muscular y oclusal. De acuerdo con diferentes características clínicas, es de esperarse que la relación intermaxilar genere diferentes contactos y, en consecuencia, patrones oclusales individualizados. Por lo tanto, es necesario identificar los patrones de desgaste oclusal durante la dinámica del sueño para establecer su funcionalidad. Propósito: esta serie de casos describe el Bruxchecker® como una herramienta de fácil uso y eficaz en el diagnóstico del patrón oclusal en odontología.
Background: Clinical examination is the most used method for the evaluation of occlusal patterns. However, that evaluation is usually carried out during wakefulness when a person can hide the real expression of occlusal contacts that occur during sleep as a consequence of bruxism. Bruxchecker® is a new device that allows, by visual inspection, analyzing contacts of mandibular dynamics during sleep without altering the muscular and occlusal activity. Based on clinical characteristics, it could be expected that the intermaxillary relation generates different contacts and, as a result, individualized occlusal patterns. Therefore, it is necessary to identify the wear occlusal patterns during sleep dynamics to establish their functionality. Purpose: This case series report describes the Bruxchecker® as a simple-to-use tool that is effective to diagnose occlusal patterns in dentistry. 
References
1. Onodera K, Kawagoe T, Sasaguri K, Quismundo C, Sato S. The use of a bruxchecker in the evaluation of different grinding patterns during sleep bruxism. Cranio. 2006 Jun; 24(4): 292-9.
2. Park BK, Tokiwa O, Takezawa Y, Takahashi Y, Sasaguri K, Sato S. Relationship of tooth grinding pattern during sleep bruxism and temporomandibular joint status. Cranio. 2008 Jan; 26(1): 8-15.
3. American Academy of Sleep Medicine. International classification of sleep disorders. 2nd ed. Westchester, NY: la Academia; 2005.
4. Kato T, Thie NM, Montplaisir JY, Lavigne GJ. Bruxism and orofacial movements during sleep. Dent Clin North Am. 2001 Oct; 45(4): 657-84.
5. Lavigne G, Kato T, Kolta A, Sessle B. Neurobiological mechanisms involved in sleep bruxism. Crit Rev Oral Biol Med. 2003 Jan; 14(1): 30-46.
6. Barbosa TS, Miyakoda L, Pocztaruk R, Rocha C, Gavião M. Temporomandibular disorders and bruxism in childhood and adolescence: review of the literature. Int J Pediatr Otorhinolaryngol. 2008 Mar; 72(3): 299-314.
7. Slavicek R, Sato S. Bruxism-a function of the masticatory organ to cope with stress. Wien Med Wochenschr. 2004 Dec; 154(23-24): 584-9.
8. Ommerborn MA, Giraki M, Schneider C, Fuck LM, Zimmer S, Franz M, Raab WH, Schaefer R. Clinical significance of sleep bruxism on several occlusal and functional parameters. Cranio. 2010 Jan; 28(4): 238-48.
9. Lobbezoo F, Ahlberg J, Glaros AG, Kato T, K. Koyano GJ, Leeuw R, Manfredini D, Svensson P, Winocur E. Bruxism defined and graded: An international consensus. J Oral Rehabil. 2013 Jan; 40(1): 2-4.
10. Paesani DA. Bruxism. Theory and practice. London: Quintessence; 2010.
11. Pavone BW. Bruxism and its effect on the natural teeth. J Prosthet Dent. 1985 May; 53(5): 692-6.
12. Tsiggos N, Tortopidis D, Hatzikyriakos A, Menexes G. Association between self-reported bruxism activity and occurrence of dental attrition, abfraction, and occlusal pits on natural teeth. J Prosthet Dent. 2008 Jul; 100(1): 41-6.
13. Koyano K, Tsukiyama Y, Ichiki R, Kuwata T. Assessment of bruxism in the clinic. J Oral Rehabil. 2008 Mar; 35(7): 495-508.
14. Cabrera CL, Celis S, Valencia G, Castillo G, Sáenz A, Moreno S, Ruiz A. Validación de la placa Bruxchecker como medio diagnóstico de bruxismo, comparada con modelos de estudio en la clínica de la Universidad Cooperativa de Colombia, sede Bogotá, durante el periodo comprendido entre febrero y mayo del 2011. Acta Odontol Colomb. 2011 Jul; 2(2): 1-10.
15. Tokiwa O, Park BK, Takezawa Y, Takahashi Y, Sasaguri K, Sato S. Relationship of tooth grinding pattern during sleep bruxism and temporomandibular joint status. Cranio. 2008 May; 26(4): 287-93.
16. Kawagoe T, Onodera K, Tokiwa O, Sasaguri O, Akimoto S, Sato S. Relationship between sleeping occlusal contact patterns and temporomandibular disorders in the adult Japanese population. Int J Stomatol Occlusion Med. 2009 Jan; 2: 11-5.
17. Sugimoto K, Yoshimi H, Sasaquri K, Sato S. Occlusion factors influencing the magnitude of sleep bruxism activity. Cranio. 2011 Apr; 29(2): 127-37.
18. Reichardt G, Miyakawa Y, Otsuka T, Sato S. The mandibular response to occlusal relief using a flat guidance splint. Int J Stomatol Occlusion Med. 2013 May; 6: 134-9.
19. Polanía MF, Melo WA, Londoño LA. Evaluación del cambio en el patrón de bruxismo nocturno producido por el uso de dos tipos de retenedores termomoldeados. Univ Odontol. 2014 Ene; 33(70): 145-55.
20. Suwa S, Takahara M, Shirakawa S, Komada Y, Sasaguri K, Onozuka M, Sato S. Sleep bruxism and its relationship to sleep habits and lifestyle of elementary school children in Japan. Sleep Biol Rhythms. 2009 Mar; 7(2): 93-102.
21. Pameijer JHN, Glickman I, Roeber FW, Intraoral oclusal telemetry. Part II. Registration of tooth contacts in chewing and swallowing. J Prosthet Dent. 1968 Feb; 19(2): 151-9.
22. Sato S, Slavicek R. Bruxism as a stress management function of the masticatory organ. Bull Kanagawa Dent Coll. 2001 Sep; 29(2): 101-10.
23. Rinchuse D, Kandasamy S, Sciote J. A contemporary and evidence-based view of canine protected occlusion. Am J Orthod Dentofacial Orthop. 2007 Apr; 132(1): 90-102.
24. Clark JR, Evans RD. Functional occlusal relationships in a group of post-orthodontic patients: preliminary findings. Eur J Orthod. 1998 Apr; 20(2): 103-10.
25. Ash M, Ramfjord S. Oclusión. México: Interamericana; 1972.
26. Clark JR, Evans RD. Functional occlusion: I. A Review. J Orthod. 2001 Mar; 28(1): 76-81.
27. Marklund S, Wӓnman A. A century of controversy regarding the benefit or detriment of occlusal contacts on the mediotrusive side. J Oral Rehabil. 2000 Jul; 27(7): 553-62.
28. Ogawa T, Ogimoto T, Koyano K. Pattern of occlusal contacts in lateral positions: canine protection and group function validity in classifying guidance patterns. J Prosthet Dent. 1998 Jul; 80(1): 67-74.
29. Morton S, Pancherz H. Changes in functional occlusion during the postorthodontic retention period: A prospective longitudinal clinical study. Am J Orthod Dentofacial Orthop. 2009 Mar; 135(3): 310-5.
30. Sato S, Yuyama N, Tamaki K, Hori N, Kaneko M, Sasaguri K, Lee M, Onozuka M, Slavicek R. The masticatory organ, brain function, stress-release, and a proposal to add a new category to the taxonomy of the healing arts: Occlusion medicine. Bull Kanagawa Dent Coll. 2002 Sep; 30(2): 117-26.
31. Sato S. Atlas diagnóstico de la oclusión por medio del Bruxchecker. Yokosuka, Japón: Kanagawa Dental College, Research Institute of Occlusion Medicine; 2005.
32. D'Amico A. The canine teeth: normal functional relation of the natural teeth of man. J South Calif Dent Assoc. 1958; 26: 6-23.
33. Shillingburg HT, Hobo S, Whitsett LD. Fundamentals of fixed prosthodontics. Chicago: Quintessence; 1981.
34. Celic R, Jerolimov V, Panduric J. A study of the influence of occlusal factors and parafunctional habits on the prevalence of signs and symptoms of TMD. Int J Prosthodont. 2002 Jan; 15(1): 43-8.
35. Macfarlane TV, Blinkhorn AS, Davies RM, Worthington HV. Association between local mechanical factors and orofacial pain: survey in the community. J Dent. 2003 Nov; 31(8): 535-42.
36. Baba K, Yugami K, Yaka. Impact of balancing-side tooth contact on clenching induced mandibular displacements in humans. J Oral Rehabil. 2001 Aug; 28(8): 721-7.
37. Minagi S, Ohtsuki H, Sato T, Ishii A. Effect of balancing-side occlusion on the ipsilateral TMJ dynamics under clenching. J Oral Rehabil. 1997 Jan; 24(1): 57-62.
38. Minagi S, Watanabe H, Sato T, Tsuru H. Relationship between balancing-side occlusal contact patterns and temporomandibular joint sounds in humans: proposition of the concept of balancing-side protection. J Craniomandib Disord. 1990 Fall; 4(4): 251-6.
Cómo citar
Tanaka Lozano, E. M., González Carrera, M. C., Díez Jiménez, I., & López Salazar, J. P. (2015). Aplicación clínica del Bruxchecker® en odontología para la evaluación en sueño del patrón de desgaste oclusal / Clinical Application of the Bruxchecker® in Dentistry for Evaluation during Sleep of Occlusal Wear Pattern. Universitas Odontologica, 34(72), 35–46. https://doi.org/10.11144/Javeriana.uo34-72.acbo