Evaluación in vitro de la adhesión de células troncales mesenquimales a matrices dentales impresas en tercera dimensión / In Vitro Evaluation of the Adhesion of Mesenchymal Stem Cells to Three-Dimensional Printed Matrices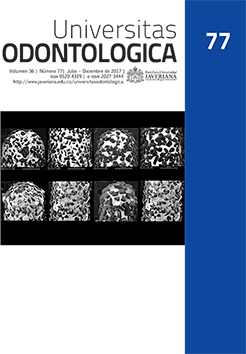 Publicado Jan 31, 2018
Descargas

##plugins.themes.bootstrap3.article.details##
Resumen
RESUMEN. Antecedentes: En la ingeniería de tejidos es fundamental estudiar el sinergismo entre las células troncales mesenquimales y el biomaterial para tener un mayor control sobre los biomiméticos. De esto depende el éxito de tratamientos de lesiones de tamaño crítico. Objetivo: Evaluar la adhesión celular in vitro de células troncales de la pulpa dental humana (hDPSCs) en matrices impresas con ácido poliláctico (APL). Métodos: Se utilizaron muestras de hDPSCs criopreservadas y expandidas, cultivadas sobre 24 matrices dentales impresas 3D en APL durante 1, 7 y 15 días. Se evaluó la fenotipificacion de la hDPSCs por citometría de flujo y la adhesión celular a la matriz por medio de microscopio electrónico de barrido (SEM). Los datos fueron reportados en porcentajes, tanto para marcador analizado, como para la cantidad de células adheridas. Resultados: hDPSCs expresaron positivamente anticuerpos CD73 y CD90 de casi 100 % y CD105 de 56,7 %. Así mismo, expresaron negativamente, anticuerpos CD34 y CD45 mayor a 98 %. Se observó en SEM que a los 15 días el 99,88 % de las hDPSCs presentaron forma fusiforme o estrellada lo que significa que estas células se adhirieron a la matriz de APL. Conclusión: El APL no es citotóxico para las hDPSCs por su composición y características biocompatibles, lo que proporcionó que las células se adhirieron y proliferaron sobre la matriz dental impresa en 3D demostrando ser un método in vitro efectivo para emplear en futuros estudios de regeneración de tejidos en odontología.
ABSTRACT. Background: The study of synergy between mesenchymal stem cells and biomaterial in tissue engineering is fundamental in order to have greater control over the biomimetics for the success of critical clinical treatments depends on this. Objective: to evaluate in vitro cellular adhesion of human dental pulp stem cells (hDPSCs) in three-dimensional printed matrices synthesized with poly-lactic acid (PLA). Method: The study used passage-expanded cryopreserved dental stem cell samples cultivated on 24 three-dimensional dental matrices of PLA during 1, 7 and 15 days. Phenotypification of the DMSC was carried out with flow cytometry and the cellular adhesion to the matrix with morphological analysis using an SEM electron microscope. Data were reported in percentages for each marker in the phenotypification as well as for the amount of adhered cells per time period. Results: The hDPSCs expressed positively, CD73 and CD 90 antibodies of almost 100 % while the CD 105 only had 56, 7 %. The cells presented negative expression of the CD34 and CD45 antibodies in more than 98 %. The SEM showed that 99, 88 % of the DMSC had a fusiform or star shape after 15 days meaning that they had adhered to the matrix. Conclusion: PLA biomaterial is not cytotoxic for the DMSC due to its composition and biocompatible characteristics, which helped the cells, adhere themselves and proliferate on the matrix. This proved to be an effective in vitro method, which may be used in future studies of critical- size tissue lesion studies in dentistry.
Keywords
diseño industrial, ingeniería tisular, odontología, ácido poliláctico, biomateriales, células madre, impresión 3D, pulpa dental, regeneración tisular
References
1. Munévar J, Becerra A, Hernández A. Biología de las células stem. NOVA - Publicación Científica 2005 Enero; 3(3): 95-108.
2. Flores E, Montesinos J, Mayani H. Células troncales mesenquimales historia, biología y aplicación clínica. Revista de investigación clínica 2006; 58(5):498-511.
3. Owen JJ, Jenkinson EJ, Kingston R. The ontogeny of T lymphocytes. Ann Immunol (Paris) 1983 Jul-Aug; 134D (1): 115-122.
4. Friedenstein AJ, Deriglasova UF, Kulagina NN, Panasuk AF, Rudakowa SF, Luriá EA, et al. Precursors for fibroblasts in different populations of hematopoietic cells as detected by the in vitro colony assay method. Exp Hematol 1974; 2(2): 83-92.
5. Nakata K, Nakahara H, Kimura T, Kojima A, Iwasaki M, Caplan AI, et al. Collagen gene expression during chondrogenesis from chick periosteum-derived cells. FEBS Lett 1992 Mar 16; 299(3): 278-28 2.
6. D'Aquino R, De Rosa A, Laino G, Caruso F, Guida L, Rullo R, et al. Human dental pulp stem cells: from biology to clinical applications. J Exp Zool B Mol Dev Evol 2009 Jul 15; 312B (5): 408-415.
7. Gaitán AJC, Velosa TC, Rodriguez AED, Rodríguez AA, Niño JCM. Células troncales mesenquimales de la papila apical y su papel prometedor en la biología radicular. Revista Mexicana de Estomatología 2017 /01/01; 3(2): 61-74.
8. Gronthos S, Mankani M, Brahim J, Robey PG, Shi S. Postnatal human dental pulp stem cells (DPSCs) in vitro and in vivo. Proc Natl Acad Sci U S A 2000 Dec 05; 97(25): 13625-13630.
9. Qian J, Xu W, Yong X, Jin X, Zhang W. Fabrication and in vitro biocompatibility of biomorphic PLGA/nHA composite scaffolds for bone tissue engineering. Mater Sci Eng C Mater Biol Appl 2014 Mar; 36(1): 95-101.
10. Tevlin R, McArdle A, Atashroo D, Walmsley GG, Senarath-Yapa K, Zielins ER, et al. Biomaterials for craniofacial bone engineering. J Dent Res 2014 Dec; 93(12): 1187-1195.
11. Duailibi MT, Kulikowski LD, Duailibi SE, Lipay MVN, Melaragno MI, Ferreira LM. Cytogenetic instability of dental pulp stem cell lines. J Mol Histol 2012 Feb; 43(1):89-94.
12. Morales D. Tissue engineering as a pillar of regenerative medicine in dentistry. Rev Cubana Estomatol 2014; 51(3): 288-304.
13. Rasperini G, Pilipchuk SP, Flanagan CL, Park CH, Pagni G, Hollister SJ, et al. 3D-printed Bioresorbable Scaffold for Periodontal Repair. J Dent Res 2015 September; 94(9): 153-157.
14. Chia HN, Wu BM. Recent advances in 3D printing of biomaterials. J Biol Eng 2015; 9(1): 4.
15. C. Mauth, A.Huwig, U. Graf-Hausner and J-F.Roulet. Restorative Applications for Dental Pulp Therapy. Topics in Tissue Engineering 2007 Enero; 3(3):1-32.
16. Rendón J, Jiménez LP, Urrego PA. Stem cells in dentistry. CES Odontología 2011; 24 (1): 51.
17. Razavi S, Zarkesh-Esfahani H, Morshed M, Vaezifar S, Karbasi S, Golozar MA. Nanobiocomposite of poly (lactide-co-glycolide)/chitosan electrospun scaffold can promote proliferation and transdifferentiation of Schwann-like cells from human adipose-derived stem cells. J Biomed Mater Res A 2015 Aug; 103(8): 2628-2634.
18. Forriol F, Esparza R. Ingeniería tisular: aplicación de las células troncales pluripotenciales en cirugía ortopédica y traumatológica. Trauma (Majadahonda) 2008 abr-jun; 19(2): 88-101.
19. Quesenberry PJ, Aliotta JM. The paradoxical dynamism of marrow stem cells: considerations of stem cells, niches, and microvesicles. Stem Cell Rev 2008 Sep; 4(3): 137-147.
20. Vohra S, Hennessy KM, Sawyer AA, Zhuo Y, Bellis SL. Comparison of mesenchymal stem cell and osteosarcoma cell adhesion to hydroxyapatite. J Mater Sci Mater Med 2008 Dec; 19(12): 3567-3574.
21. Ferlin KM, Prendergast ME, Miller ML, Kaplan DS, Fisher JP. Influence of 3D printed porous architecture on mesenchymal stem cell enrichment and differentiation. Acta Biomater 2016 Mar; 32(1): 161-169.
22. Rosales-Ibáñez R, Alvarado-Estrada KN, Ojeda-Gutiérrez F. Ingeniería Tisular en Odontología. Rev ADM 2012; 69(4): 164-167.
23. Tayton E, Fahmy S, Purcell M, Aarvold A, Smith JO, Kalra S, et al. An analysis of polymer type and chain length for use as a biological composite graft extender in impaction bone grafting: a mechanical and biocompatibility study. J Biomed Mater Res A 2012 Dec; 100(12): 3211-3219.
24. Casagrande L, Cordeiro MM, Nör SA, Nör JE. Dental pulp stem cells in regenerative dentistry. Odontology 2011 Jan; 99(1): 1-7.
Cómo citar
Rodríguez Sáenz, Álvaro A., Lozano Macías, M. A., Benedetti Canabal, A. E., Munévar Niño, J. C., Sarmiento O'Meara, J. A., & Gómez Bahamón, R. A. (2018). Evaluación in vitro de la adhesión de células troncales mesenquimales a matrices dentales impresas en tercera dimensión / In Vitro Evaluation of the Adhesion of Mesenchymal Stem Cells to Three-Dimensional Printed Matrices. Universitas Odontologica, 36(77). https://doi.org/10.11144/Javeriana.uo36-77.eact
Sección
Ciencias Básicas, Biotecnología y Bioinformática