Comparación entre el láser diodo de 940 nm y el nitrato de potasio tópico al 5 % para la desensibilización dental. Estudio clínico controlado aleatorizado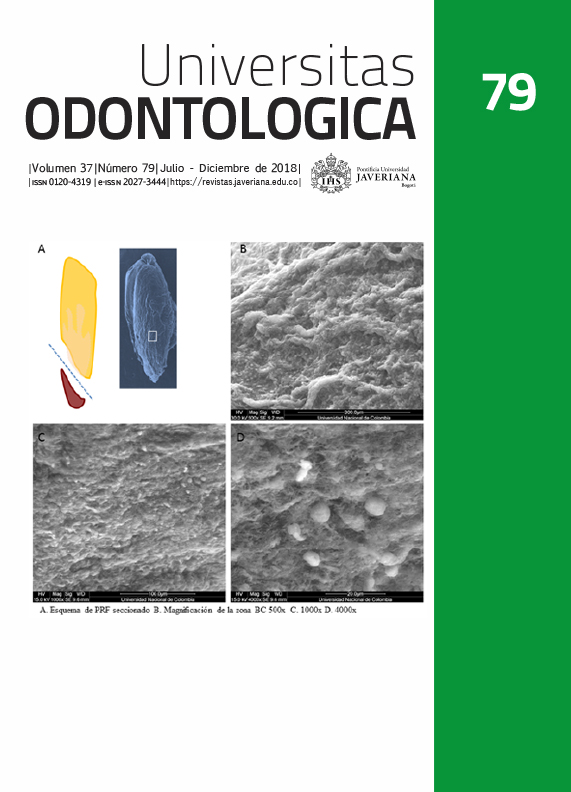 Publicado dic 31, 2018
##plugins.themes.bootstrap3.article.details##
Resumen
Objetivo: Comparar la efectividad de las terapias de sensibilización dental que usan láser diodo 940 nm y nitrato de potasio en pacientes con síntomas de hipersensibilidad dental (HD). Métodos: Este ensayo clínico aleatorizado incluyó 30 pacientes quienes habían recibido previamente terapia periodontal básica y presentaban recesiones gingivales clases I y II (Miller 1985) con síntomas de HD. La muestra fue asignada aleatoriamente a los dos grupos. Al primero (n=15) le fue aplicado láser 940 nm por 90 segundos en la superficie de la recesión, y se les suministró un tubo de glicerina para ser aplicado diariamente y evitar la generación de sesgos. El segundo grupo (n=15) recibió láser inactive como placebo y se le suministró un gel desensibilizante que contenía nitrato de potasio 0,5 g para aplicar dos veces al día durante 14 días. Se realizaron controles a los 15 minutos, 8 días, 15 días y 4 semanas. Los datos obtenidos se registraron en una table en Excel. Se emplearon U de Mann Whitney U y t Student para comparar los grupos (p=0,05). Resultados: Todos los pacientes del estudio mostraron reducción  de la HD, diferencias que fueron estadísticamente significativas (p<0,01) entre los dos grupos intervenidos. Conclusiones: Ambos, el láser diodo y el nitrato fueron efectivos en el manejo posterior a la terapia periodontal para el manejo de la HD. Sin embargo, las diferencias fueron mayores para el grupo de terapia con láser.
Keywords
dentistry, periodontics, diode laser, dentinal sensitivity, potassium nitrate, periodontal disease, gingival recessionodontología, periodoncia, enfermedades periodontales, láser diodo, nitrato de potasio, recesión gingival, sensibilidad dentinalodontologia, periodontia, laser de diodo, sensibilidade dentinária, nitrato de potássio, Doença periodontal, recessão gengival
References
1. Greenstein G (2000) Nonsurgical periodontal therapy in 2000: A literature review. J Am Dent Assoc. 13:1580–92
2. Brännström M (1966) Sensitivity of dentine. Oral Surg Oral Med Oral Pathol 21:517–526
3. Petersilka, G. J., Ehmke, B., & Flemmig, T. F (2002) Antimicrobial effects of mechanical debridement. Periodontology 2000. 28 (1): 56-71
4. Ady M (2002). Dentine hypersensivity. New perspectives and old problem. Inter Dent J. 52: 367–78
5. Bartold, P. M. (2006) Dentinal hypersensitivity: a review. Australian dental journal 51(3): 212-218
6. Fischer C, Fischer RG, Wennberg A. (1992) Prevalence and distribution of cervical dentine hypersensitivity in a population in Rio de Janeiro, Brazil. J Dent 20:272-276
7. Rees JS, Addy M. (2002) A cross-sectional study of dentin hypersensitivity. J Clin Periodontol 29:997-1003
8. Flynn J, Galloway R, Orchardson R. (1985) The incidence of "hypersensitive "teeth in the west of Scotland. J Dent 13:230-236
9. Jensen AL. (1964) Hypersensitivity controlled by iontophoresis: double-blind clinical investigation. J Am Dent Assoc 68:216-225.
10. Graf H, Galasse R. (1997) Morbidity, prevalence and intraoral distribution of hypersensitive teeth (Abstract No. 479). J Dent Res 56(Spec Iss A):162.
11. Murray LE, Roberts AJ. (1994) The prevalence of self-reported hypersensitive teeth. Arch Oral Biol 39:129S.
12. Liu HC, Lan WH, Hsieh CC. (1998) Prevalence and distribution of cervical dentin hypersensitivity in a population in Taipei, Taiwan. J Endod 24:45-47
13. Orchardson R, Gillam DG (2006) Managing dentin hypersensitivity. J Am Dent Assoc 137:990-8-9
14. Trushkowsky R, Oquendo A. (2011) Treatment of dentine hypersensitivity. Dental Clinics of North America July 55 (3): 599-608
15. Sgolastra F, Petrucci A, Gatto R, Monaco A. (2011) Effectiveness of laser in dentinal hypersensitivity treatment: A systematic review. J Endod 37:297‑303
16. Hodosh M. (1974) A superior desensitizer – potassium nitrate. J Am Dent Assoc 88:831-832
17. Pashley DH, O'Meara JA, Kepler EE, Galloway SE, Thompson SM, Stewart FP.(1984) Dentin permeability. Effects of desensitizing dentifrices in vitro. J Periodontol 55:522‑5
18. Pick, R.M., Pecaro, B.C., and Silberman, C.J. (1985). The laser gingivectomy: the use of CO2 laser for removal of phenytoin hyperplasia. J. Periodontol. 56, 492–496
19. White, J.M., Goodis, H.E. and Rose, C.L. (1987). Use of the pulsed Nd:YAG laser for intraoral soft tissue surgery. Lasers Surg. Med. 7, 207–213
20. Midda, M. (1992). The use of lasers in periodontology. Curr. Opin. in Dent. 2, 104–108
21. Aoki, A., Ando, A., Watanabe, H., and Ishikawa, I. (1996). In vitro studies on laser scaling of subgingival calculus with an Er:YAG laser. J. Periodontol. 65, 1097–1106
22. Asnaashari, M., and Moeini, M. (2013). Effectiveness of lasers in the treatment of dentin hypersensitivity. J. Lasers Med Sci 4.1, 1–7
23. Sun, G., and Tuner, J. Low-level laser therapy in dentistry. (2004). Dent. Clin. North Am. 48, 1061–1076
24. Posten, W., Wrone, D.A., Dover, J.S., Arndt, K.A., Silapunt, S., and Alam, M. (2005). Low level laser therapy for wound healing: mechanism and efficacy. Dermatol. Surg.31, 334–340
25. Brugnera Júnior A, Zanin F, Pinheiro A, Pécora J, Ladalardo TC, Campos D, Garrini, A, Donamaria E, Cruz F, Takamoto M. LLLT in treating dentinary hypersensibility: a histologic study and clinical application. Second International Conference on Near-Field Optical Analysis: Photodynamic Therapy & Photobiology Effects Houston, Texas, USA, May 31 – June 1, 2001. Proceedings of the Second International Conference on NOA, 2002: 23-31
26. Poulsen S, Errboe M, Hovgaard O, Worthington HW. (2001) Potassium nitrate toothpaste for dentine hypersensitivity. Cochrane Database Syst Rev 2:CD001476
27. Holland G.R., Narhi M.N., Addy M., Gangarosa L., and Orchardson R. (1997) Guidelines for the design and conduct of clinical trials on dentine hypersensitivity. J. Clin. Periodontol. 24: pp. 808-813
28. Collins SL, Moore RA & McQuay HJ.(1997) The visual analogue pain intensity scale: what is moderate pain in millimeters? Pain ; 72:95–97
29. Hjermstad, Marianne Jensen et al. Studies Comparing Numerical Rating Scales, Verbal Rating Scales, and Visual Analogue Scales for Assessment of Pain Intensity in Adults: A Systematic Literature Review. Journal of Pain and Symptom Management, 2011; 41(6): 1073 - 1093
30. Canakci, C.F., and Canakci, V. (2007). Pain experienced by patients undergoing different periodontal therapies. J. Am. Dent. Assoc. 138, 1563–1573.
31. Lin, Y.H., Gillam, D.G. (2012). The prevalence of root sensitivity following periodontal therapy: a systematic review. Int. J. Dent. 12 pp. 407023
32. Yui KCK, Jorge ALC, Gonçalves SEP, Rodrigues JR, Nicoló DR.(2003) Low level laser therapy for dentine hypersensitivity. Braz Oral Res 6: 17-24.
33. Gerschman, J.A., Ruben, J., and Gebart–Eaglamont, J. (1994) Low level laser therapy for dentinal tooth hypersensitivity. Aust Dent. J 39.6, 353–357
34. Corona, S.A., Nascimento, T.N, Catirse, A.B., Lizarelli, R.F., Dinelli, W., and Palma–Dibb, R.G. (2003). Clinical evaluation of low-level laser therapy and fluoride varnish for treating cervical dentinal hypersensitivity. J. Oral Rehabil. 30, 1183–1189.
35. Byrnes, K.R., Tsuchyia, K., Rochkind, S. (2002). Cellular invasion following spinal cord lesion and low power laser irradiation. Lasers Surg. Med. S14:11.
36. Marsilio, A.L., Rodrigues, J.R., and Borges, A.B. (2003). Effect of the clinical application of the GaAlAs laser in the treatment of dentine hypersensitivity. J. Clin. Laser Med. Surg. 21.5, 291–296
37. Akca AE, Gökce S, Kürkcü M, Özdemir A. (2006) A clinical investigation of low-level laser irradiation on hypersensitive dentine. Hacettepe Dişhekimliği Fakültesi Dergisi, 30 (2): 94-99
38. George VT, Mathew TA, George N, John S, Prakash SM, Vaseem MS. (2016) Efficacy of diode laser in the management of dentin hypersensitivity following periodontal surgery. Journal of International Oral Health, 8 (1): 103-108
39. Umberto R, Russo C, Palaia G, Tenore G, Del Vecchio A. (2012)Treatment of Dentine Hypersensitivity by Diode Laser: A Clinical Study. International Journal of Dentistry, DOI:10.1155/2012/858950
40. Yamaguchi M, Ito M, Miwata T. (1990) Clinical study on the treatment of hypersensitive dentin by GaAlAs laser diode using double blind test. Aichi Gakuin Daigaku Shigakkai Shi 28 (2): 703-7.
41. Groth E.B. Contribuição para o estudo da aplicação de laser de baixa potência de GaAlAs no tratamento da hipersensibilidade dentinária. São Paulo; 1993. [Dissertação de Mestrado em Dentística – Faculdade de Odontologia da Universidade de São Paulo]
42. Gerschman JA, Ruben J, Gebart-Eaglemont J.(1994) Low level laser therapy for dentinal tooth hypersensitivity. Aust Dent J 39 (6): 353-7.
43. Orhan K, Aksoy U, Can-Karabulut DC, Kalender A.(2011) low level laser therapy for dentine hypersensitivity. Lasers Med Sci. Sep; 26(5):591-8
44. Pandey, R; et al.(2017) Treatment of dentinal hypersensitivity using low-level laser therapy and 5% potassium nitrate: a randomized, controlled, three arm parallel clinical study. International journal of applied & basic medical research. 7,1, 63-66.
45. Vieira AH, Passos VF, de Assis JS, Mendonça JS, Santiago SL. (2009) Clinical evaluation of a 3% potassium oxalate gel and a GaAlAs laser for the treatment of dentinal hypersensitivity.
Cómo citar
Tocarruncho, O., Espitia Robayo, X. A., Ibáñez Pinilla, E., & Ríos-Osorio, N. R. (2018). Comparación entre el láser diodo de 940 nm y el nitrato de potasio tópico al 5 % para la desensibilización dental. Estudio clínico controlado aleatorizado. Universitas Odontologica, 37(79). https://doi.org/10.11144/Javeriana.uo37-79.cldt