Broncoespasmo severo inducido por cocaína. A propósito de un caso.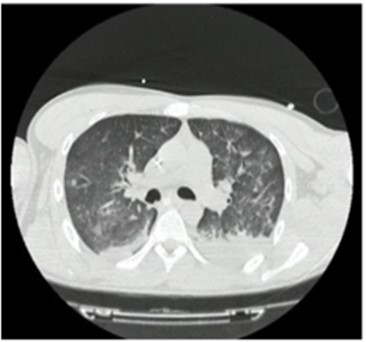 Publicado ene 8, 2022
##plugins.themes.bootstrap3.article.details##
Resumen
El consumo de sustancias psicoactivas es un problema de salud pública a nivel mundial. La cocaína ocupa un lugar importante, en cuanto a frecuencia de consumo, asociado a la necesidad de utilización de servicios médicos de urgencia por complicaciones derivadas de sobredosis e intoxicación con la exposición a la misma.  Los efectos clínicos están plenamente caracterizados, pero dentro de estos no se identifica de manera clara y común la presencia de broncoespasmo.  Entre los factores de riesgo para la generación del mismo encontramos exposición por vía inhalatoria y comorbilidad del paciente, entre las cuales el asma representa la gran mayoría de casos.  Por esto se hace importante identificar dicha complicación asociada a contacto con esta sustancia, por lo que presentamos un caso en el cual el paciente desarrolla broncoespasmo severo con requerimiento de ventilación mecánica.
Keywords
Broncoespasmo, cocaína, asma
References
1. Goldstein RA, DesLauriers C, Burda AM. Cocaine: History, Social Implications, and Toxicity-A Review. Disease-a-Month [Internet]. 2009;55(1):6–38. Available from: http://dx.doi.org/10.1016/j.disamonth.2008.10.002
2. Boghdadi MS, Henning RJ. Cocaine: Pathophysiology and clinical toxicology. Hear Lung J Acute Crit Care. 1997;26(6):466–83.
3. Departamento Administrativo Nacional de Estadistica. Boletín Técnico Encuesta Nacional De Consumo De Sustancias Boletín Técnico. 2020;1–34. Available from: https://www.dane.gov.co/files/investigaciones/boletines/encspa/bt-encspa-2019.pdf
4. Zimmerman JL. Cocaine Intoxication. Crit Care Clin [Internet]. 2012;28(4):517–26. Available from: http://dx.doi.org/10.1016/j.ccc.2012.07.003
5. Kim ST, Park T. Acute and chronic effects of cocaine on cardiovascular health. Int J Mol Sci. 2019;20(3):1–22.
6. Havakuk O, Rezkalla SH, Kloner RA. The Cardiovascular Effects of Cocaine. J Am Coll Cardiol. 2017;70(1):101–13.
7. Self TH, Shah SP, March KL, Sands CW. Asthma associated with the use of cocaine, heroin, and marijuana: A review of the evidence. J Asthma. 2017;54(7):714–22.
8. Osborn HH, Tang M, Bradley K, Duncan BR. New-onset bronchospasm or recrudescence of asthma associated with cocaine abuse. Acad Emerg Med. 1997;4(7):689–92.
9. Rome LA, Lippmann ML, Dalsey WC, Taggart P, Pomerantz S. Prevalence of cocaine use and its impact on asthma exacerbation in an urban population. Chest [Internet]. 2000;117(5):1324–9. Available from: http://dx.doi.org/10.1378/chest.117.5.1324
10. Levine M, Iliescu ME, Margellos-Anast H, Estarziau M, Ansell DA. The Effects of Cocaine and Heroin Use on Intubation Rates and Hospital Utilization in Patients With Acute Asthma Exacerbations. Chest [Internet]. 2005;128(4):1951–7. Available from: http://dx.doi.org/10.1016/S0012-3692(15)52588-9
11. Mohiuddin M, Zacharisen MC, Poulos C, Levy MB. Asthma deaths outside the hospital in an urban community from 2004 to 2008. Ann Allergy, Asthma Immunol [Internet]. 2012;108(6):412–7. Available from: http://dx.doi.org/10.1016/j.anai.2012.03.016
Cómo citar
Cañas Torres, E. E., Casas Castro, O., & Parra Cordoba, J. F. (2022). Broncoespasmo severo inducido por cocaína. A propósito de un caso. Universitas Medica, 63(1). https://doi.org/10.11144/Javeriana.umed63-1.broc
Esta obra está bajo una licencia internacional Creative Commons Atribución 4.0.