Efecto de agentes blanqueadores libres de peróxido sobre el color dental. Revisión sistemática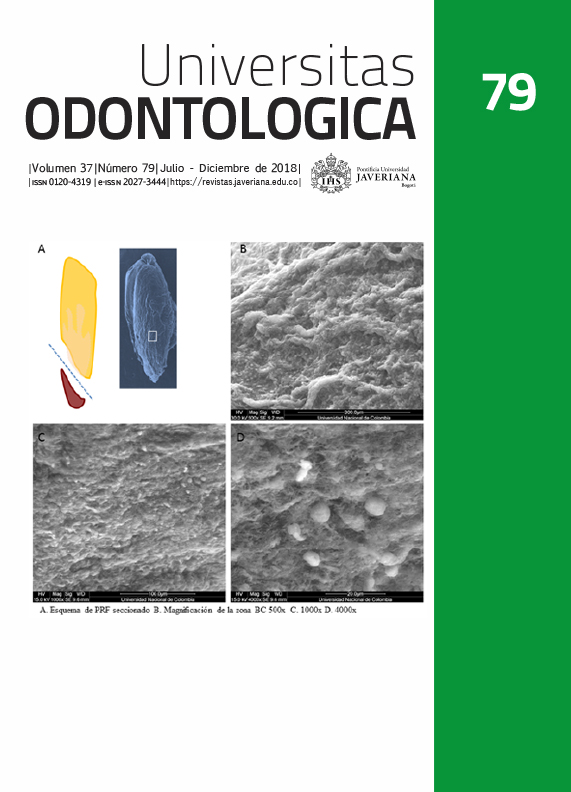 Publicado dic 30, 2018
##plugins.themes.bootstrap3.article.details##
Resumen
Antecedentes: Los agentes blanqueadores oxidantes tales como los peróxidos generan daños irreversibles en el esmalte dental y afectan químicamente el componente orgánico e inorgánico del esmalte.  Se reportan en la literatura sustancias alternativas que pueden mejorar el color del esmalte, sin causarle daño. Objetivo: Identificar las sustancias blanqueadoras tipo remineralizante reportadas en la literatura y su efecto en el color del esmalte dental. Métodos: Se consultaron las bases de datos PubMed, ScienceDirect, Embase, Scielo, Lilacs y Scopus, las palabras clave empleadas para la búsqueda fueron dental enamel, tooth bleaching, bleaching, calcium phosphate, hidroxyapatite, apatite, biomimetic, biomimetics, conectadas por el operador booleano AND  y OR de diferentes maneras. Los criterios de elegibilidad de los artículos que harían parte de la revisión fueron que no incluyeran peróxidos de hidrógeno y carbamida con adición fluoruros y fosfatos de calcio y adicionalmente que emplearan un método de medición de color. Resultados: El resultado de la búsqueda arrojó 7 artículos, las sustancias encontradas de tipo remineralizante fueron  hidroxiapatita sintética, fosfatos de calcio y el hexametafosfato de sodio. Según los criterios de evaluación definidos solo 4 de ellos tuvieron un nivel de evidencia alto, uno nivel medio y dos bajos. Todos los estudios reportan con los tratamientos probados, la capacidad de generar cambios en el color del esmalte dental. Conclusión: Las sustancias blanqueadoras remineralizantes encontradas, tienen la capacidad de producir cambios en el color del esmalte dental, lo cual se evidencia con modificación en las diferentes escalas de medición empleadas.
Keywords
color, dental materials, dentistry, biomimetic materials, biomimetics, calcium phosphate, hydroxyapatite, tooth bleaching, tooth enamelcolor, materiales dentales, odontología, biomiméticos, blanqueamiento dental, esmalte dental, fosfato de calcio, hidroxiapatita, materiales biomiméticoscor, materiais dentários, odontologia, materiais biomiméticos, biomimética, fosfato de cálcio, hidroxiapatita, branqueamento dentário, esmalte dentário
References
1. Pulido K. Sustancias blanqueadoras alternativas: Una revisión bibliográfica. Univ Nac Colomb. 2013;
2. Lewis R, Barber SC, Dwyer-Joyce RS. Particle motion and stain removal during simulated abrasive tooth cleaning. 16th Int Conf Wear Mater. 10 de septiembre de 2007; 263(1–6): 188-97.
3. Joiner A, Philpotts CJ, Alonso C, Ashcroft AT, Sygrove NJ. A novel optical approach to achieving tooth whitening. J Dent. 2008; 36, Suppl 1:S8-14
4. Joiner A. Whitening toothpastes: a review of the literature. J Dent. 2010;38 Suppl 2:e17-24.
5. Chu SJ, Trushkowsky RD, Paravina RD. Dental color matching instruments and systems. Review of clinical and research aspects. J Dent. 2010;38 Suppl 2:e2-16.
6. Sikri VK. Color: Implications in dentistry. J Conserv Dent JCD. octubre de 2010;13(4): 249-55.
7. Bersezio C, Oliveira Jr OB, Docencia L, Angel P, Estay J, Corral C. Instrumentación para el registro del color en odontología. Rev Dent Chile. 2014; 105(1): 8–12.
8. Dahl JE, Pallesen U. Tooth bleaching--a critical review of the biological aspects. Crit Rev Oral Biol Med Off Publ Am Assoc Oral Biol. 2003; 14(4): 292-304.
9. Morozov IA, Belyaev AY, Izyumov RI, Erofeeva ES, Gileva OS. Impact of whitening on the microstructure of human tooth enamel. Inorg Mater Appl Res. 2013; 4(1): 71–76.
10. Ogiwara M, Miake Y, Yanagisawa T. Changes in dental enamel crystals by bleaching. J Hard Tissue Biol. 2008;17(1):11–16.
11. Joiner A. Review of the effects of peroxide on enamel and dentine properties. J Dent. diciembre de 2007; 35(12): 889-96.
12. Rodríguez CT. Efectos microquímicos del peróxido de hidrógeno de alta concentración y el ácido fosfórico sobre la capa superficial y subsuperficial del esmalte bovino. Granada, España: Editorial de la Universidad de Granada; 2010.
13. Alexandrino L, Gomes Y, Alves E, Costi H, Rogez H, Silva C. Effects of a bleaching agent with calcium on bovine enamel. Eur J Dent. Julio de 2014; 8(3): 320-5.
14. Borges AB, Guimaräes CA, Bresciani E, Ramos CJ, Borges ALS, Rocha Gomes Torres C. Effect of incorporation of remineralizing agents into bleaching gels on the microhardness of bovine enamel in situ. J Contemp Dent Pract. abril de 2014; 15(2): 195-201.
15. Pecho OE, Ghinea R, Alessandretti R, Pérez MM, Della Bona A. Visual and instrumental shade matching using CIELAB and CIEDE2000 color difference formulas. Dent Mater. enero de 2016; 32(1): 82-92.
16. Dabanoglu A, Wood C, García-Godoy F, Kunzelmann K-H. Whitening effect and morphological evaluation of hydroxyapatite materials. Am J Dent. febrero de 2009; 22(1): 23-9.
17. Jin J, Xu X, Lai G, Kunzelmann K-H. Efficacy of tooth whitening with different calcium phosphate-based formulations. Eur J Oral Sci. 1 de agosto de 2013; 121(4): 382-8.
18. Pentapati KC, Sabnis N, Shrikhande B, Kashyap R, Kukkamalla MA. Stain Removal Efficacy of Herbal Mouth Rinses Containing Sodium Hexametaphosphate. J Res Med Educ Ethics. 2014; 4(2): 165–70.
19. Vargas-Sánchez PK, Delgado-Mejía E, Torres-Rodríguez C. Effect of a new remineralizing biomaterial on the color of dental enamel. Acta Odontol Latinoam. 2014; 27(1):3-8.
20. Guo C, Liu H, Katayama I. Effect of hydroxyapatite toothpaste on vital tooth color. J Dent Res. 2002; 81: A254-1964, San Diego Abstracts.
21. Niwa M, Sato T, Li W, Aoki H, Aoki H, Daisaku T. Polishing and whitening properties of toothpaste containing hydroxyapatite. J Mater Sci Mater Med. marzo de 2001; 12(3): 277-81.
22. Gerlach RW, Ramsey LL, Baker RA, White DJ. Extrinsic stain prevention with a combination dentifrice containing calcium phosphate surface active builders compared to two marketed controls. J Clin Dent. 2002; 13(1): 15-8.
23. Londoño M. Características cristaloquímicas de la hidroxiapatita sintética tratada a diferentes temperaturas. Rev EIA. junio de 2006;5: 109-18.
24. Dorozhkin SV. Amorphous calcium (ortho)phosphates. Acta Biomater. diciembre de 2010; 6(12): 4457-75.
Cómo citar
Suárez Fajardo, I. G., Rodríguez Godoy, M., Delgado Mejía, E., & Torres Rodríguez, C. (2018). Efecto de agentes blanqueadores libres de peróxido sobre el color dental. Revisión sistemática. Universitas Odontologica, 37(79). https://doi.org/10.11144/Javeriana.uo37-79.eabp