Tuberculosis intestinal secundaria a uso de terapia biológica: ¿puede mimetizar la enfermedad de Crohn?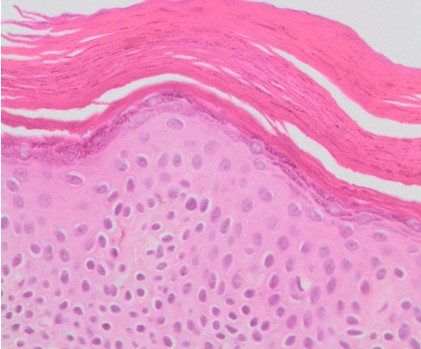 Publicado ene 18, 2021
##plugins.themes.bootstrap3.article.details##
Resumen
La Tuberculosis intestinal (TBI) y la enfermedad de Crohn (EC) son trastornos granulomatosos crónicos que podrían tener un compromiso transmural y afectar cualquier parte del tracto digestivo; en algunos casos estas entidades pueden tener una presentación similar desde el punto de vista clínico, radiológico, endoscópico e incluso histológico. presento 2 casos de pacientes con diagnóstico presuntivo inicial de EC con compromiso ileocolónico basados en los datos clínicos, hallazgos endoscópicos, serológicos, histológicos, pero con una respuesta clínica pobre a las terapias convencionales usadas en EC incluyendo esteroides; en ambos casos se descartaron inicialmente infecciones sistémicas y se iniciaron terapias inmunosupresoras con azatioprina y con anticuerpos contra factor de necrosis tumoral alfa (AntiTNFa) con lo cual desarrollaron formas diseminadas de tuberculosis, sin mejoría de las manifestaciones gastrointestinales; pero si tuvieron respuesta satisfactoria desde el punto de vista infeccioso y digestivo con los antituberculosos. En estos casos el diagnóstico es TBI mimetizando a la EC.
Keywords
Enfermedad de Crohn, tuberculosis, inmunosupresión, diagnostico diferencialCrohn´s disease, tuberculosis, inmunosuppression, diferential diagnostic.
References
1. Sood A, Midha V, Singh A. Differential diagnosis of Crohn's disease versus ileal tuberculosis. Curr gastroenterol rep 2014;16(11): 418: 1-6.
2. Epstein D, Watermeyer G, Kiresh R. The diagnosis and management of Crohn's disease in populations with high risk rates of Tuberculosis. Aliment Pharmacol Ther 2007;25(12):1373-1388.
3. Anmad R, Shafique MS, Zafar S, Mehmood S, Mehmood S, Qureshi U, Khan JS. Intestinal tuberculosis; pattern of presentation and surgical management. Professional Med J 2016;23(11):1334-1339.
4. Mosquera-Klinger G, Ucroz A. Enfermedad de crohn vs tuberculosis intestinal: un diagnóstico diferencial desafiante. Rev Colomb Gastroenterol 2018;33(4):423-430.
5. Almadi MA, Ghosh S, Aljebreen AM. Differentiating intestinal tuberculosis from Crohn's disease: a diagnostic challenge. Am J Gastroenterol. 2009;104(4):1003-1012.
6. Ma JY, Tong JL, Ran ZH. Intestinal tuberculosis and Crohn's disease: challenging differential diagnosis. Journal of digestive diseases 2016;17(3), 155-16.
7. Choi, E, Coyle, W. Gastrointestinal Tuberculosis. Microbiol spectrum 2016; 4(6):1-20.
8. DiLauro S, Crum-Cianflone N. Ileitis: When it is not Crohn's disease. Curr Gastroenterol Rep 2010;12:249-258.
9. Jin T, Fei B, Zhang Y, He X. The diagnostic value of Polymerase chain reaction for Mycobacterium tuberculosis to distinguish intestinal Tuberculosis from Crohn's disease: A Meta-Analysis. Saudi J Gastroenterol 2017;23:3‐10
10. Mouli VP, Munot K, Ananthakrishnan A, Kedia S, Addagalla S, Garg SK, Benjamin J, Singla V, Dhingra R, Tiwari V, Bopanna S, Hutfless S, Makharia G, Ahuja V. Endoscopic and clinical responses to anti-tubercular therapy can differentiate intestinal tuberculosis from Crohn's disease. Aliment Pharmacol Ther 2017; 45: 27–36.
11. Wehkamp J, Stange FF. Paneth's disease. J Crohns Colitis 2010; 4: 523–31
12. Naser SA, Ghobrial G, Romero C, Valentine JF. Culture of Mycobacterium avium subspecies paratuberculosis from the blood of patients with Crohn's disease. Lancet 2004; 364: 1039–44.
13. Thomas DC. Cows, Crohn's and more: is Mycobacterium paratuberculosis a superantigen? Med Hypotheses 2008; 71: 858–61.
14. Chamberlin W, Graham DY, Hulten K, El-Zimaity T, Schwartz MR, Naser S, Shafran I, El-Zaatari AK. Review article: Mycobacterium avium subsp. paratuberculosis as one cause of Crohn's disease. Aliment Pharmacol Ther 2001; 15: 337–46.
15. Su C, Lichtenstein GR, Krok K, Brensinger CM, Lewis JD. A meta- analysis of the placebo rates of remission and response in clinical trials of active Crohn's disease. Gastroenterology 2004; 126: 1257–69
16. McNees A, Markesich D, Zayyani N, et al. Expert Rev Gastroenterol Hepatol 2015;9(12):1523-1534. DOI:10.1586/17474124.2015.1093931.
17. Borgaonkar M, MacIntosh D, Fardy J, et al. Anti-tuberculous therapy for maintenance of remission in Crohn's disease (review). Cochrane database of systematic reviews 1999;2(1-11). DOI:10.1002/14651858.CD000299.
18. Ooi CJ, Hilmi I, Makharia GK, Gibson PR, Fock KM, Ahuja V, Ling KL, Lim WC, Thia KT, Wei SC, Leung WK, Koh PK, Gearry RB, Goh KL, Ouyang Q, Sollano J, Manatsathit S, De Silva HJ, Rerknimitr R, Pisespongsa P, Abu Hassan MR, Sung J, Hibi T, Boey CC, Moran N, Leong RW. Asia Pacific consensus statements on Crohn's disease. Part 1: definition, diagnosis, and epidemiology (Asia Pacific Crohn's Disease Consensus-Part 1). J Gastroenterol Hepatol 2016;31:45-55.
19. Gomollón F, Dignass A, Annese V, Tilg H, Assche GV, Lindsay J, Peyrin-Biroulet L, Cullen G, Daperno M, Kucharzik T, Rieder F, Almer S, Armuzzi A, Harbord M, Langhorst J, Sans M, Chowers Y, Fiorino G, Juillerat P, Mantzaris G, Rizzello F, Vavricka S, Gionchetti P. Consensus of the diagnosis and management of CD 2016 (part 1). Journal of Crohn's and colitis 2017;3-25.
Cómo citar
Mosquera-Klinger, G. (2021). Tuberculosis intestinal secundaria a uso de terapia biológica: ¿puede mimetizar la enfermedad de Crohn?. Universitas Medica, 62(1). https://doi.org/10.11144/Javeriana.umed62-1.croh
Esta obra está bajo una licencia internacional Creative Commons Atribución 4.0.