Factores de riesgo modificables e inmodificables de la periodontitis: revisión narrativa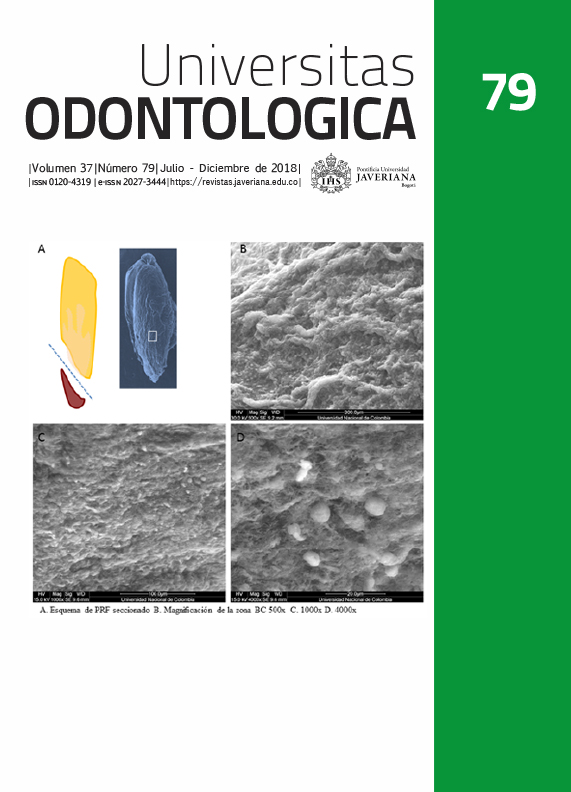 Publicado dic 27, 2018
##plugins.themes.bootstrap3.article.details##
Resumen
Antecedentes: La periodontitis crónica asociada a la placa bacteriana tiene factores de riesgo modificables e inmodificables que deben tenerse en cuenta en su prevención y control. Objetivo: Analizar la evidencia disponible sobre los factores de riesgo modificables e inmodificables de la periodontitis crónica con el fin de escribir guías de manejo clínico. Métodos: Se realizó una búsqueda sistemática de la literatura en tres bases de datos (PubMed, LiLACS y Embase) usando la siguiente combinación de términos del Medical Subejct Headings de Medline: "risk indicator OR risk factor AND chronic periodontitis". También se buscaron artículos y literatura gris en Google Académico. Se incluyeron estudios de corte transversal, casos y controles, longitudinales, ensayos clínicos controlados y revisiones generales y sistemáticas de la literatura. Se efectuó una revisión narrativa sobre el tema con las referencias más relevantes encontradas. Resultados: Se analizaron 39 artículos que cumplieron con los criterios de la búsqueda. Entre los factores de riesgo modificables se encontraron: diabetes no controlada, obesidad, estrés, tabaquismo y placa bacteriana. Los factores de riesgo inmodificables hallados fueron: cambios hormonales, infección por VIH, neutropenia, edad, sexo, raza y genética. Los dos factores de riesgo más frecuentemente asociados, además de la placa bacteriana, fueron diabetes y tabaquismo. Conclusiones: El control de la periodontitis crónica debe basarse no solo en el control de la placa bacteriana sino también en la prevención mediante la identificación temprana y el control de factores de riesgo para evitar la aparición o el avance de esta enfermedad.
Keywords
dentistry, periodontics, chronic periodontitis, diabetes, modifiable risk factor, non-modifiable risk factor, risk factor, periodontitis, smokingodontología, periodoncia, diabetes, factor de riesgo, factor de riesgo inmodificable, factor de riesgo modificable, periodontitis, periodontitis crónica, tabaquismoodontologia, periodontia, periodontite crônica, diabetes, fator de risco modificável, fator de risco não modificável, fator de risco, periodontite, fumar
References
1. Mariotti A. Dental Plaque-Induced Gingival Diseases. Ann Periodontol. 1999; 4(1):7-17.
2. Flemmig T. Periodontitis. Ann Periodontol. 1999; 4(1):32-37.
3. Oppermann R, Haas A, Rösing C, Susin C. Epidemiology of periodontal diseases in adults from Latin America. Periodontol. 2000. 2014; 67(1):13-33.
4. Botero J, Rösing C, Duque A, Jaramillo A, Contreras A. Periodontal disease in children and adolescents of Latin America. Periodontology 2000. 2014; 67(1):34-57.
5. Colombia. Ministerio de Salud. Centro Nacional de Consultoría. Estudio Nacional de Salud Bucal. Situación en salud bucal; para saber cómo estamos y qué hacemos; ENSAB IV. Bogotá, 2014; 3.5 Estado periodontal, página 77-85
6. Genco R, Borgnakke W. Risk factors for periodontal disease. Periodontology 2000. 2013; 62(1):59-94.
7. Fardal Ø, Grytten J, Martin J, Houlihan C, Heasman P. Using prognostic factors from case series and cohort studies to identify individuals with poor long-term outcomes during periodontal maintenance. J Clin Periodontol. 2016; 43(9):789-796.
8. Silness J, Löe H. Periodontal disease in pregnancy. II. Correlation between oral hygiene and periodontal condition. Acta Odontol Scand. 1964; 22: 121-35.
9. Marazita M, Burmeister J, Gunsolley J, Koertge T, Lake K, Schenkein H. Evidence for Autosomal Dominant Inheritance and Race-Specific Heterogeneity in Early-Onset Periodontitis. J Periodontol. 1994; 65(6):623-630.
10. Horning G. M., Cohen M.E. Necrotizing Ulcerative Gingivitis, Periodontitis, and Stomatitis: Clinical Staging and Predisposing Factors. J Periodontol. 1995; 66(11): 990-998
11. Zambon J, Grossi S, Machtei E, Ho A, Dunford R, Genco R. Cigarette Smoking Increases the Risk for Subgingival Infection With Periodontal Pathogens. J Periodontol. 1996; 67(10s):1050-1054.
12. Considine RV, Sinha MK, Heiman ML, Kriauciunas A, Stephens TW, Nyce MR, Ohannesian JP, Marco CC, McKee LJ, Bauer TL, et al. Serum immunoreactive-leptin concentrations in normal-weight and obese humans. N Engl J Med. 1996 Feb 1; 334(5): 292-5.
13. Gustke C, Stein S, Hart T, Hoffman W, Hanes P, Russell C y colaboradores HLA-DR Alleles are Associated with IDDM, but not with Impaired Neutrophil Chemotaxis in IDDM. J Dent Res. 1998; 77(7):1497-1503.
14. Heasman P, Lauffart B, Preshaw P. Crevicular fluid prostaglandin E2 levels in periodontitis-resistant and periodontitis-susceptible. J Clin Periodontol. 1998:25(12): 1003-1007
15. Payne J, Reinhardt R, Nummikoski P, Patil K. Longitudinal Alveolar Bone Loss in Postmenopausal Osteoporotic/Osteopenic Women. Osteoporos Int. 1999; 10(1):34- 40.
16. Genco R. J., Ho A. W., Grossi S. G., Dunford R.G., Tedesco L. A. Relationship of stress, distress, and inadequate coping behaviors to periodontal disease. J Periodontol. 1999; 70(7): 711–723
17. Johnson R, Serio F. Leptin Within Healthy and Diseased Human Gingiva. J Periodontol. 2001; 72(9):1254-1257.
18. Albandar J. Global risk factors and risk indicators for periodontal diseases. Periodontol. 2000. 2002; 29(1):177-206.
19. Ryder M, Nittayananta W, Coogan 479 M, Greenspan D, Greenspan J. Periodontal disease in HIV/AIDS. Periodontol. 2000. 2012;60(1):78-97.
20. Hugoson A., Ljungquist B., Breivik T. The relationship of some negative events and psychological factors to periodontal disease in adult Swedish population 50 to 80 years of age. J Clin Periodontol. 2002; 29(3): 247–253.
21. Merchant A. T., Pitiphat W., Ahmed B., Kawachi I., Joshipura K. A prospective study of social support, anger expression and risk of periodontitis in men. J Am Dent Assoc. 2003; 134(12): 1591–1596.
22. Loos B, Roos M, Schellekens P, Velden U, Miedema F. Lymphocyte Numbers and Function in Relation to Periodontitis and Smoking. J Periodontol. 2004; 75(4):557-564.
23. Falagas M, Kompoti M. Obesity and infection. Lancet Infect Dis. 2006;6(7):438- 446
24. Shimazaki Y, Saito T, Yonemoto K, Kiyahara Y, Iida M, Yamashita Y. Relationship of metabolic syndrome to periodontal disease in Japanese Women: the Hisayama Study. J Dent Res 2007; (8): 271-275
25. Stein J, Machulla H, Smeets R, Lampert F, Reichert S. Human leukocyte antigen polymorphism in chronic and aggressive periodontitis among Caucasians: a metanalysis. J Clin Periodontol. 2008; 35(3):183-192.
26. Friedewald V, Kornman K, Beck J, Genco R, Goldfine A, Libby P y colaboradores The American Journal of Cardiology and Journal of Periodontology Editors' Consensus: Periodontitis and 387 Atherosclerotic Cardiovascular Diseases. J Periodontol. 2009; 80(7):1021-1032.
27. Izumi A, Yoshihara A, Hirotomi T, Miyazaki H. The Relationship between Serum Lipids and Periodontitis in Elderly Non-Smokers. J Periodontol. 2009; 80(5):740-748.
28. Fernández-Riejos P., Najib S., Santos-Alvarez J., Martín-Romero C., Pérez-Pérez A., González-Yanes C. y colaboradores Role of Leptin in the Activation of Immune Cells. Mediators Inflamm. 2010; 2010:1-8
29. Nesbitt MJ, Reynolds MA, Shiau H, 418 Choe K, Simonsick EM, Ferrucci L. Association of periodontitis and metabolic syndrome in the Baltimore Longitudinal Study of Aging. Aging Clin Exp Res. 2010; 22(1): 238-242.
30. Stabholz A, Soskolne W, Shapira L. Genetic and environmental risk factors for chronic periodontitis and aggressive periodontitis. Periodontol. 2000. 2010; 53(1):138-153.
31. Meng H, Ren X, Tian Y, Feng X, Xu L, Zhang L y colaboradores Genetic study of families affected with aggressive periodontitis. Periodontol. 2000. 2011; 56(1):87-101.
32. Rai B., Kaur J., Anand S. C., Jacobs R. Salivary stress markers, stress and periodontitis: a pilot study. J Periodontol. 2011; 82 (2): 287–292
33. Shepherd S, Alcohol consumption a risk factor for periodontal disease. J Evid Based Dent Pract. 2011: 12(3): 76.
34. Suvan J, D'Ajuto F, Moles D, Petrie A, Donos N, Association between overweight/obesity and periodontitis in adults. A systematic review. Obes Rev. 2011: 12(5): 381-404.
35. Tazawa Tazawa, Pricila Setsuko;
Naves, Roberta Caetano; Dias, Rosane Borges; Bastos, Vanda Emília Monte; Tunes,
Urbino da Rocha; Ribeiro, Érica Del Peloso. Obesidade, um possvel indicador de
risco para a doenca periodontal? / obesity a posible risk indicator for
periodontal disease? Arch Oral Res. 2011: 7(3): 311-320.
36. Trivedi S, Lal N, Mahdi AA, Mittal M, Singh B, Pandey S. evaluation of antioxidant enzymes activity and malondialdehyde levels in patients with chronic periodontitis and diabetes mellitus. J Periodontol. 2014:85(5): 713-720.
37. Lang N, Suvan J, Tonetti M. Risk factor assessment tools for the prevention of periodontitis progression a systematic review. J Clin Periodontol. 2015; 42: S59- S70.
38. Hong M, Kim H, Seok H, Yeo C, Kim Y, Song J y colaboradores Prevalence and risk factors of periodontitis among adults with or without diabetes mellitus. Korean J Intern Med. 2016; 31(5):910-919.
39. Jaramillo A, Contreras A, Lafaurie G, Duque A, Ardila C, Duarte S y colaboradores Association of metabolic syndrome and chronic periodontitis in Colombians. Clin Oral Investig. 2016; 21(5):1537-1544.
40. Khorsand A, Bayani M, Yaghobee S, Torabi S, Kharrazifard MJ, Mohammadnejhad. Evaluation of Salivary Leptin Levels in Healthy Subjects and Patients with Advanced Periodontitis. J Dent (Tehran). 2016 ;(13)1:1-9.
41. Knight E, Liu J, Seymour G, and Faggion C, Cullinan M. Risk factors that may modify the innate and adaptive immune responses in periodontal diseases. Periodontol. 2000. 2016; 71(1):22-51.
42. Morales A, Bravo J, Baeza M, Werlinger F, Gamonal J. Las enfermedades periodontales como enfermedades crónicas no transmisibles: Cambios en los paradigmas. Rev Clín Periodoncia Implantol Rehabil Oral. 2016; 9(2):203-207.
43. Bouchard P, Carra M, Boillot A, Mora F, Rangé H. Risk factors in periodontology: a conceptual framework. J Clin Periodontol. 2016; 44(2):125-131.
44. Consensus Report Periodontal Diseases: Epidemiology and Diagnosis. Ann Periodontol. 1996; 1(1):216-222.
45. Söder B, Nedlich U, Jin L. Longitudinal Effect of Non-Surgical Treatment and Systemic Metronidazole for 1 Week in Smokers and Non-Smokers with Refractory Periodontitis: A 5-Year Study. J Periodontol. 1999; 70(7):761-771.
46. James J, Sayers N, Drucker D, Hull P. Effects of Tobacco Products on the Attachment and Growth of Periodontal Ligament Fibroblasts. J Periodontol. 1999; 70(5):518-525.
47. Recker R, Lappe J, Davies K, Heaney R. Bone Remodeling Increases Substantially in the Years After Menopause and Remains Increased in Older Osteoporosis Patients. J Bone Miner Res. 2004; 19(10):1628-16333
48. Seiffert K., Hosoi J., Torii H., Ozawa H., Ding W., Campton K., Wagner J. A., Granstein R. D. Catecholamines inhibit the antigen-presenting capability of epidermal Langerhans cells. J Immunol. 2002; 168(12): 6128–6135.
49. Bartold P. M., Kylstra A., Lawson R. Substance-P. An immunohistochemical and biochemical study in human gingival tissue. A role for neurogenic inflammation. J Periodontol.1994; 65 (12): 1113–1121.
50. Zhang Y, Proenca R, Maffei M, Barone 449 M, Leopold L, Friedman JM. Positional cloning of the mouse obese gene and its human homologue. Nature. 1994; 372(6505): 425-432
51. Albandar J, Brown L, Löe H. Clinical features of early-onset periodontitis. JADA. 1997; 128(10):1393-1399.
52. Dolan T, Gilbert G, Ringelberg M, Legler D, Antonson D, Foerster U y colaboradores Behavioral risk indicators of attachment loss in adult Floridians. J Clin Periodontol. 1997; 24(4):223-232.
53. Parkar M, Newman H, Olsen I. Polymerase chain reaction analysis of estrogen and androgen receptor expression in human gingival and periodontal tissue. Arch Oral Biol. 1996;41: 979–983
54. Lange RD, Jones JB. Cyclic neutropenia: review of clinical manifestations and management. Am J Pediatr Hematol Oncol. 1981; 3 (4):363–367.
55. Carlsson G, Fasth A. Infantile genetic agranulocytosis, morbus Kostmann: Presentation of six cases from the original "Kostmann family" and a review. Acta Paediatrica. 2007; 90(7):757-764.
Cómo citar
Moreno Caicedo, L. F., Amaya Sánchez, S., & Cruz Olivo, E. A. (2018). Factores de riesgo modificables e inmodificables de la periodontitis: revisión narrativa. Universitas Odontologica, 37(79). https://doi.org/10.11144/Javeriana.uo37-79.frmi